Facebook is asking for

minimum wage of USD15 per hour and 15 paid days leave per year

. This is something that Malaysia could follow. All we have now for minimum wage is RM900 per month - there is no minimum number of paid days leave demand.
In Malaysia, the hourly rate is RM4.33 = USD1.22.

[Current US minimum Wage 7.25 USD per hour (Jan 1, 2014)]

, which is about 6 times higher than that of Malaysia.
The price of Big Mac in US is USD4.79 and in Malaysia, it is about USD2.11

- that is about 2.27 times cheaper, so when US Minimum wage is USD 7.25,

Malaysian Minimum wage per hour should be USD3.19 (RM11.36)

-

[Note the

The Bic Mac index has been published annually by The Economist since 1986 and is rated as a simplified indicator of a country's individual purchasing power, and I used the 2015 figures]
Malaysian Minimum wages is basic wages, excluding any allowances or other payments:-
MINIMUM WAGES RATE
TERRITORY
Monthly
Hourly
Daily
(As per the Guidelines on the Implementation of the Minimum Wages Order 2012)
Number of days worked in a week
6
5
4
Peninsular Malaysia
RM900
RM4.33
RM34.62
RM41.54
RM51.92
Sabah, Sarawak and Labuan
RM800
RM3.85
RM30.77
RM36.92
RM46.15
The Minimum Wages Policy also applies to employees who are paid on piece-rates, tonnage, trip- or commission-based.Source:
Ministry of Human Resources(MOHR) website - http://minimumwages.mohr.gov.my/employees/about-minimum-wages-policy/
Facebook Is Wading Into the Minimum Wage Debate in a Huge Way
The company is raising its contractors' minimum wage to $15/hour
The ongoing Fight for $15 has a new hero: Facebook.
The social network is requiring some of its vendors to increase their workers' pay and benefits.
Facebook's new standard calls for contractors who do a substantial amount of work for the social network to pay their employees—janitors, security guards, food service staff—at least $15 per hour and receive at least 15 paid days off.
The rules went into effect at Facebook's largest vendors on May 1.
It's unclear how much this will raise the pay for specific workers at the company—Facebook did not immediately respond to a question about what these workers earned prior to this effort—but it's certain that $15 per hour is well above the median hourly pay these occupations garner nationally.
Those wide discrepancies serve as testament to the power that private employers can exert over raising workers' pay. Facebook's move is aimed at trying to shrink the growing economic divide in Silicon Valley, but it's similar to those made by other corporations, including Ikea, Gap, Wal-Mart, Target, and T.J. Maxx. These employers have given their hourly workers higher minimum wages amid pressure from labor advocates and in the absence of a boost to the federal minimum wage, which has stood at $7.25 since 2009. Facebook's effort to secure paid time off for its vendors' employees mimics Microsoft's announcement in March that it would require some employees at its suppliers to have at least 15 days of paid time off.
Congress to propose bill raising US minimum wage to $12 by 2020
While workers continue to demand $15 an hour, Democrats struggle to raise minimum wage that has been stuck at $7.25 an hour since 2009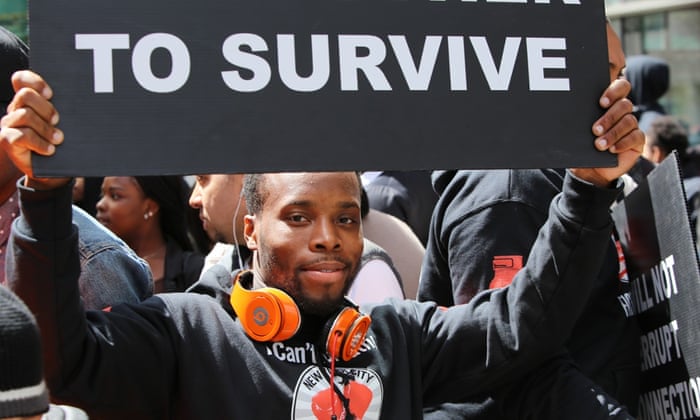 Democrats prepared another push for an increase in the minimum wage on Thursday. The Democratic leadership will join Washington senator Patty Murray and Virginia congressman Bobby Scott this afternoon as they introduce the Raise the Wage Act that would increase the US federal minimum wage to $12 an hour by 2020.
Under the proposed legislation, the federal minimum wage, which is currently $7.25 an hour, would be raised to $8 next year and then go up a dollar a year until it reaches $12 in 2020. According to the lawmakers, the bill would increase wages for nearly 38 million American workers.
Adjusting for inflation raising the minimum wage to $12 by 2020 would return the minimum wage to where it was in 1968, the Economic Policy Institute said Thursday morning. In 1968, the minimum wage was 52.1% of the median wage. Current minimum wage is about 37.1% of the median wage.
"Raising the federal minimum wage to $12.00 by 2020, under the conservative assumption of no real wage growth at the median, would leave the ratio at 54.1%, just above where it was in 1968," EPI wrote in a report released Thursday.
The proposal comes at a time when income inequality has attracted attention of the likes of the Pope and 2016 presidential candidates. Poverty wages and lack of jobs have also been at the core of the unrest in places like Ferguson and Baltimore, where protests broken out after the deaths of Michael Brown and Freddie Gray, respectively. In Gray's neighborhood in Baltimore, more than a third of households are in poverty, and 51.2% of households reported that their annual income is less than $25,000.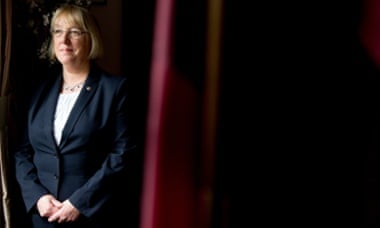 "In our country, no one who works hard in a full-time job should have to live in poverty. But for decades, families across the country have faced stagnant wages that have made it harder and harder to make ends meet," Murray told the Guardian earlier this month. "I believe raising the minimum wage to $12 by 2020 will allow more families to achieve the economic security they are working so hard for, and help build an economy that works for all families, not just the wealthiest few."
This congressional session, Murray and Scott are taking over where Senator Tom Harkin and Representative George Miller left off. Harkin and Miller, both of whom retired from US Congress this year, had in previous sessions attempted to increase the minimum wage to $10.10.

The $10.10 minimum wage has also been championed by the White House.
"To everyone in this Congress who still refuses to raise the minimum wage, I say this: if you truly believe you could work full-time and support a family on less than $15,000 a year, try it. If not, vote to give millions of the hardest-working people in America a raise," Obama said in this year's State of the Union address.
The US federal minimum wage was last raised in July 2009 and has remained at $7.25 ever since. In 2013, more than 1.5 million workers earned $7.25 an hour while more than 1.7 million workers earned less than that thanks to the tipped minimum wage. Since 1996, the federal tipped minimum wage for workers such as servers and bartenders has been $2.13. The Raise the Wage Act seeks to gradually eliminate the sub-minimum tipped wage. So far, only eight states have passed legislation eliminating this kind of sub-wage, requiring all workers to be paid a statewide minimum wage before tips.
As Congress has been slow to act, a number of states have taken the matters into their own hands and increased their state minimum wage above the federal threshold. In 2015, workers in more than 20 states were paid more than the federally mandated minimum wage.
Congress is out of step with the nationwide efforts to increase the minimum wage, said Miller. According to him, higher minimum wage is "just critical to strengthen the economy". His efforts to pass a $10.10 minimum wage were repeatedly thwarted by his Republican counterparts. The $12 an hour proposal is likely to face similar challenge.
"I don't know that the Republicans will vote for anything," he told the Guardian, adding that Republican leadership in Congress is out of touch with the needs of working Americans. "I think it's a very interesting lesson why they keep coming out against it based upon just ideology when people who have to make decisions based upon profits and losses are making decisions every day to increase the wages of their workers."
In the past few months, US companies such as Walmart, Target, Tj Maxx and even McDonald's vowed to raise the pay of their employees above the federal minimum wage. The workers, who on 15 April took to the streets in what was the largest low-wage workers protest in US history, say that a dollar or two more in pay is not enough and continue to lobby for $15 an hour.
"We are encouraged to see that our elected leaders are beginning to hear our calls for change and discussing wages and inequality in our country. While $12 by 2020 is a good first step, it still falls short of what working Americans need to raise our families," Shannon Henderson, who works at a Walmart in Sacramento, California, said in a statement emailed to the Guardian. "At just $10 an hour with no guarantee of full-time hours, I'm struggling today to care for my two young children. I simply can't wait until 2020 for a decent wage. That's why we'll keep standing up for $15 an hour and access to full-time consistent schedules at Walmart." - The Guardian, 30/4/2015
US POVERTY RATE - POVERTY LINE INCOME FOR FAMILY OF 4
So, the US Poverty Line Income is $23,834 (or RM84,897) and monthly, that will be about USD1986 (or RM7074).
Now, Malaysia claims the average poverty line income here is RM800 (and, this I believe is for a family of 4.4),

which is about 8.8 times lower than that in the US. Now, in my opinion, this figure of RM800 for Malaysia is unrealistic - when was this calculated? And how?... one way to reduce poverty in Malaysia is have an unrealisticaly low poverty line income....is that what is happening?
Why did Malaysia Implement a Minimum Wages Policy?
A study conducted in 2009 showed that 33.8% of workers in the private sector earned less than RM700 per month, relative to the country's Poverty Line Income (PLI) level of RM800. One of the key goals of the Minimum Wages Policy is to ensure that all employees in Malaysia earn more than the PLI as the country transforms into a high-income nation.
The implementation of the Minimum Wages Policy supports Malaysia's ambition to become a high-income nation by setting floor wages for all employees in Malaysia... Source:- http://minimumwages.mohr.gov.my/employees/about-minimum-wages-policy/
- Why if the Intention as stated was to make sure 't
hat all employees in Malaysia earn more than the PLI'

- clearly workers in Sabah and Sarawak was totally ignored by the Barisan National government