The company suddenly closed its doors and workers, about over 500 migrant workers and other local workers, finds themselves with no job and income - and worse they seem to have not been paid for months.
Well, most likely this was a COMPANY - and, in such cases there is no personal liability on Directors or shareholders. The Directors surely knew the financial difficulties facing the company - but one wonders whether it had any impact of their allowances, the salaries of the upper management, etc ... Probably not. Now when in comes to companies taking Bank Loans, banks are smart and they insist on a personal guarantee from the Directors. What this means is that if there insufficient monies in the company to settle debts owed to the bank, the Bank can very easily go after these Directors for the balance.
Maybe, it is time for laws to be amended, so that when it comes to monies owing to workers including also necessary compensation for early termination of workers on fixed term contracts, these Directors will also be personally liable to these worker claims.
Most of these people like the CEOs, Directors and owners may still be living happily with all their monies and wealth when their company goes down. Is this just? I think not - it is time for personal liability of all Directors, Shareholders and even CEOs (and upper management) for monies due to workers.
For migrant workers, it is even worse - because they expend a lot of monies coming to Malaysia, and if they have to prematurely be forced to return to Malaysia especially before 3 years of employment - they may really be in a worse state of affairs. They come on the basis that they will be able to work for 3-5 years - so let's talk about compensation for remaining duration of their agreed period of work.
What is Malaysia doing for these migrant workers? The Malaysian Immigration Department has the power to amend these worker passes to enable them to stay and work legally with another employer - this is what should be done for those workers at least for the remaining of period they had agreed to come to Malaysia to work with this factory. Ask the workers what they want. But alas, the solution now is to just send them back to their country of origin...
Sending them back to their country of origin also ends their right to access to justice at the HR Department, etc - for all these channels demand the presence of the Claimant in Malaysia. Will they get more than this August and September pay? What about October? I am sure that the company would be owing them more - what about the balance? Will they get it...OR will it be 'out of Malaysia and forget about all the other claims..." Will the other monies due to the workers be remitted to them in the country of origin? Or they will just be cheated...out of their entitlements for work done...and for the breach of contract that arises by this 'shut down'...
Will these Directors, Owners and CEOs be 'blacklisted' - or have they already opened another company and are continuing to 'make money'? Partnerships and sole proprietors are different because there the owners have personal liability - and this will make them more responsible, I believe.
Worker solidarity - means sometimes coming forward and helping in times of need. As with flood and fire victims, people need to also step forward to help fellow workers fellow human beings through times of trouble and here MTUC and the Unions should have played a leading role.
Relief for hungry workers as they get paid
By Alyaa Azhar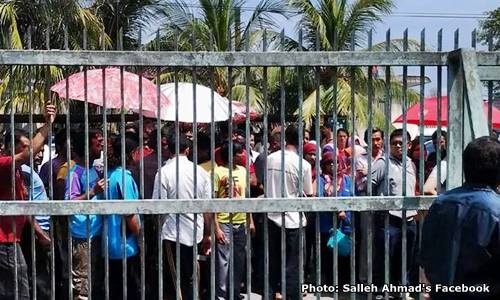 Foreign workers in Johor who had previously been unpaid and were in starving conditions have finally received their long overdue salaries.
Johor Malaysian Trade Union Congress (MTUC) migrant workers' support centre coordinator Mohd Salleh Ahmad told Malaysiakini that the workers started receiving their pay yesterday.
The factory went into receivership on Oct 30.
However, the salaries, which were for the months of August and September, were paid by the receiver and not the factory owner.
The workers were abandoned when the furniture factory, located in Ledang, Johor, went bankrupt.
Penniless since August, they were forced to sell their personal belongings such as bicycles and motorbikes to buy food.
Mohd Salleh said the workers were told they will only receive their salaries and will not be compensated for what they had to sell to feed themselves.
He also told Malaysiakini the workers' passports are still in the hands of the factory owner, under the supervision of the receiver, as they are worried that the employees will run away.
The workers, over 500 of them, will be sent back home in stages.
"After the receiver has paid all the workers in a week's time, they will be sent back to their countries of origin," he said.
Factory goes bust, 500 migrants abandoned

More than 500 factory migrant workers are now in a limbo because the factory that hired them has gone bankrupt and the owners are allegedly holding to their passports.
Johor Malaysian Trade Union Congress (MTUC) secretary Mohanandas Krishnan said that the furniture factory in Ledang, closed its operations on Oct 1, without any prior notice to the workers.
"50 workers from Pakistan, more than 100 from Bangladesh, 40 from Myanmar, 300 from Nepal, 10 from Indonesia, 1 Sri Lankan and 50 Malaysians," Mohanandas estimated there may be more than this in a statement.
"The company did not pay the salary for the month of August and September to all the workers. On the 1.10.2014 the company closed its operation without notice. The workers demanded their unpaid salary from the employer but till to-date there is no answer from the employer. They also in the dark as to their status of employement," said Mohanandas.
One of the Bangladeshi migrant workers had lodged a police report at Grisek Police station.
"The migrant workers have no money to buy their daily meals. They even sold their posessions like bicycles, motorbikes, gas stoves and personal belongings so that they can get some money to buy food.
"Some of the workers were given the choice to work with other employers in different locations to which the workers refused," said Mohanandas.
MTUC said that workers fear the legal implication if they take the offer to work elsewhere, because the present employer is silent when asked on transfer status if they work for other employers.
"These workers are vulnerable to legal, social, welfare, health and mental conditions. Some of the workers' permits have expired since 2.10.14. The employer has abandoned them in this undesirable condition.
Even when they were employed, MTUC said that the hostel the workers were housed in was cramped with more than 20 workers per house
"RM 50 per person deducted for the hostel and RM30 plus for electricity and water. Despite the monthly salary deduction of the electricity and water the water bill shows employer has not paying the water bill which amounts to more than RM10,000.
"This causes concern what if the water and electricity is disconnected , it would worsen their conditions.
"The migrant workers' passports are in the employers' possession and some of the migrants' permits already expired . What choice do they have now?