Polling Date is on a WEDNESDAY(9/5/2018) - and the Election Commission fixed this.
That means many Malaysians will have to travel back to their home towns(where they will vote) from wherever they are now working, doing business and/or studying to the towns where they are registered to vote.
In Malaysia, this may mean many people from even Sabah/Sarawak will have to fly back to their hometowns, and vice versa will have to take leave to go back to vote - and this will mean having to take leave(annual leave) of 2 to 3 days. It is not during school holidays - so, children too will have to miss classes...
It would have been more LOGICAL and reasonable to have the Elections during a rest day(weekend) or a day just before the normal rest days in a week or the day just after the rest days - which will mean having to take just one day off to go vote.
Do we have enough flights and/or bus/taxis or train to cater for all those having to return home to cast their votes? Will there be extra transportation for those wanting to return home to vote?
POSTAL VOTES

- Well, the ballot papers can only be prepared and printed after nomination day...logically, this would take about 2-4 days. Then time is required to post the ballot papers - well, even for Malaysia, Pos Malaysia takes at least 3-5 days to guarantee delivery, and for voting and sending back postal ballots, it will again take about 3-5 days. What about for those overseas? Surely more time is required.

Is 11 days between nomination date(Saturday, 28/4/2018) and balloting date(9/5/2018) even practical for postal votes to reach the voter and be send back?
In short, it will be most difficult for many Malaysians to cast their vote, that will reach in time to be counted on 9/5/2018?
POSTAL VOTERS - Well, this is not for Malaysians living (or working) now in Sabah/Sarawak, Peninsular Malaysia,...Southern Thailand...
'...Malaysians staying in South Thailand, Singapore, Brunei and Kalimantan, Indonesia are not eligible to vote by post and are required to return to Malaysia on the polling day to cast their vote...'
.
In any event, time for registration as postal voters closed on the day Parliament was dissolved.
Election Commission (EC) chairman Tan Sri Mohd Hashim Abdullah said registered Malaysian voters, who are currently living overseas, however, must adhere to several conditions set by EC.




Among the conditions include the person must be a registered voter under the category of normal voter, not Overseas Absent Voter; have returned to Malaysia not less than 30 days within five years before the parliament or state assembly is dissolved; and those residing overseas except South Thailand (Narathiwat, Pattani, Yala, Songkhla dan Satun), Singapore, Brunei and Kalimantan, Indonesia.




Malaysians staying in South Thailand, Singapore, Brunei and Kalimantan, Indonesia are not eligible to vote by post and are required to return to Malaysia on the polling day to cast their vote.




"Therefore, Malaysians who have registered as voters and are eligible to vote on the polling day (besides the Overseas Absent Voters) and meet the stipulated conditions, can apply to vote via post using 1B Form.




"The 1B Form-Postal Vote Application Form (Overseas Postal Voters) have been uploaded on EC website at

www.spr.gov.my

, together with the guidelines for applicants to fill up the form," Hashim said in a statement today.




After completing the form, he said, applicants can send the form back via email to

upup@spr.gov.my

; or fax 03-8881 0424/ 0399/ 0394/ 0386/ 0369; or mail to Election Commission, Menara SPR, No.2 Jalan P2T, Presint 2, Pusat Pentadbiran Kerajaan Persekutuan 62100 Putrajaya (u.p. Unit Pengurusan Undi Pos Luar Negara).




The application for postal voting will be closed on the day the parliament is dissolved.



Well, who decided on the dates was the Election Commission - so, one wonders whether they are INDEPENDENT and/or reasonable. They really should be concerned to ensure that all qualified Malaysians could easily be able to VOTE and participate in our Elections.
They should also have considered the state of the economy of individual workers, the best interest of the child(noting that now many children of voters may be forced to miss school for a few days more when balloting is fixed for Wednesday)...they should have considered so many other practicalities...
Will many workers even be able to take LEAVE to be able to go cast their votes? Will they even still have the required number of annual leave left...or will employers even be willing to give them 'No Pay Leave' to go back home to cast their votes?
Election Commission just announced the date - it will be interesting to know whether some were privy to early knowledge as to when the election dates would have been - and as such had already bought their bus/train/flight tickets to enable themselves and/or their members/supporters to get back to vote in time? Maybe, the police and other relevant law enforcement agencies should investigate this....Was there a 'LEAK' of the date of elections to some parties...
REMEMBER - the categories of civil servants who can now be postal voters were also recently increased...including '...
civil servants who would like to vote through postal voting if their employers confirmed that they were needed to be on duty on polling day...'
How could any employer confirm this without really knowing when is the polling date?
On Monday, the EC said it was ready to receive applications from civil servants who would like to vote through postal voting if their employers confirmed that they were needed to be on duty on polling day.




EC chairman Mohd Hashim Abdullah said beside EC staff, police and army personnel, nine other categories of civil servants may also apply to be postal voters.




They include staff of the

Malaysian Maritime Enforcement Agency (MMEA), Prisons Department, Fire and Rescue Department, government hospitals and clinics, volunteer police, Civil Defence Force, Immigration Department, National Disaster Management Agency, and those from the National Registration Department stationed at urban transformation centres.




Bersih said expanding the categories of postal voters is "flawed" and "a gross violation of principles of the right to vote, vote security, electoral integrity and the democratic process".




It said there was also no clear guidelines on the identity of the "employer". -

FMT News, 21/2/2018
What about people working in the private sector - do they also not have to work on the election dates? Well, this would include people working in shops(restaurants, supermarkets,hotels, petrol station, banks, etc), bus drivers, persons working for airlines/train/taxi/bus companies...? Are they all expect to close down for 1-3 days to allow bosses and workers to go back to the towns to cast their votes - YES - it is not just public servants but also people in the private sector who should be able to vote at another time...
Postal Voting is an option -

but really, more practical and transparent would be what is known as 'Advance Voting' - whereby people can come a day or 2 earlier to vote, as they will not be able to vote on balloting day...
Some say, that the increase in public servants to be 'postal voters' is because the UMNO-BN believes that this will induce them to vote for the incumbent government - i.e. the UMNO-BN..
Well, the public servant, including police and the armed forces, are NOT FOOLS - it is a folly that they will SELL their vote simply for money(extra bonus, pay, etc) or FEAR - they do not serve the UMNO-BN but the Malaysian people. They know that it matters not if there is a change of government ...for their position or job will not be jeopardized...If an Opposition government comes into being...
Their employment and position may be more secured....After all, so many civil or public servants lost their jobs when UMNO-BN continues to 'privatize' government jobs - train, electricity, water, sewage, road works... and outsource work to private contractors. So many public servants are no more public servants today...
EMPLOYMENT SECURITY for public servants under the UMNO-BN government is in fact rather precarious ...
Civil servants will therefore choose to vote for the future of Malaysia - Malaysians, themselves, their family members including their children, ...and not throw away their VOTES because of money or threats...The FUTURE of Malaysia is the most important concern...
For the future, we really need a BETTER Election Commission who would be independent and will only be interested in ensuring all registered voters will be able to cast their vote on voting day...
GE14 polls on Wednesday, May 9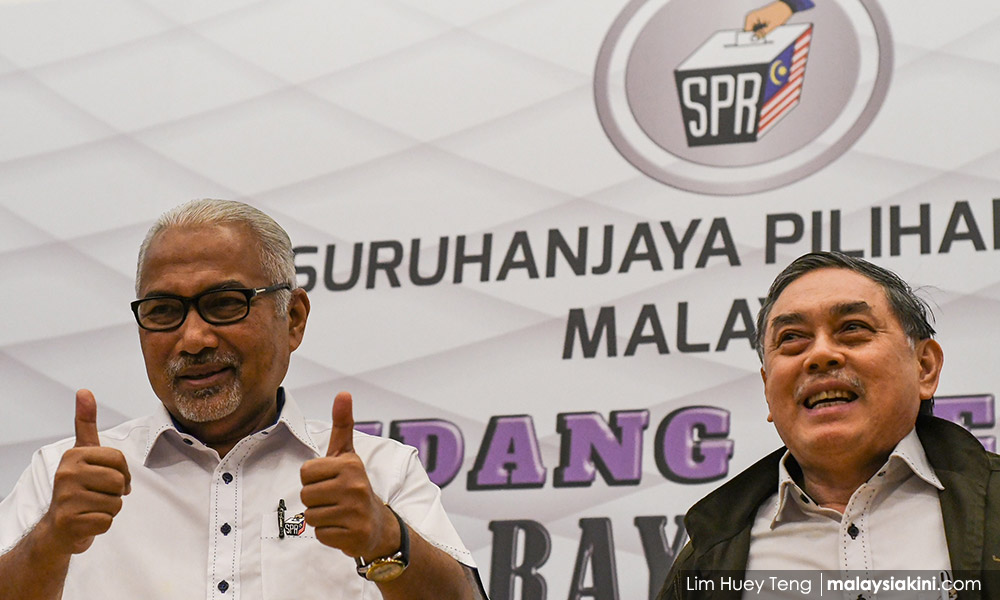 Election Commission chairperson Mohd Hashim Abdullah announced May 9 (Wednesday) as the polling date for the 14th general election while the nomination of candidates will take place on April 28.
The campaigning period will be for 11 days.
The announcement was made at the EC headquarters in Putrajaya this morning.
Caretaker prime minister Najib Abdul Razak had announced the dissolution of Parliament on April 7 after receiving the Yang di-Pertuan Agong's consent, to pave the way for the "mother of all polls" in Malaysia.
According to the law, the general election must be held within 60 days from the date of parliament's dissolution.
Apart from determining the federal government, the election would also see the parties battling for control of all states, except Sarawak.
The Sarawak state assembly would not be dissolved as the last state election was held in 2016.
The coming general election would see contests for 222 parliamentary and 505 state seats.
[More to follow] - Malaysiakini, 10/4/2018