Kho Jabing, young Malaysian migrant worker, has been executed by Singapore...but in the aftermath, Singapore's administration of justice is being questioned. How can it be a 'fair trial' when one of the judges sat in the Court of Appeal that re-sentenced him to death sat in an earlier Court of Appeal. The expectation of an independent judge untainted by 'bias' is a pre-requisite for a fair trial. A judge who has already previously heard an Appeal by Kho Jabing will certainly no longer be unbiased - and normally a Judge in this situation would have recused himself and not heard that new Appeal..
Anyway, the lawyers of Kho Jabing filed applications to Court - but the manner in which the Courts conducted themselves was disturbing. There seem to be more concern about hanging Kho Jabing on Friday(20/5/2016) - Wesak Day, over and above everything else..
What happened? Did that judge get 'personal' and let his feelings affect his judgment? At the end of the day, I would say that Kho Jabing became a victim of an unfair trial...would you not agree?
What about Clemency? Surely, afterer the amendment that came into effect, and the case was sent for re-sentencing to the High Court, which decided that Kho Jabing should not be hanged, and the appeal to the Court of Appeal thereafter that decided that he should be hanged again on a 'split decision' 3-2, Kho Jabing deserves a right to a Clemency consideration - but then the date of execution was fixed so fast, even though the notice that the application for Clemency was forthcoming shortly - and the Clemency Petition was filed - but how could that have been disposed in so few days - more so with the date of hanging being fixed. Pressure was put on the those who had to consider the Clemency application ...and this, too is not right. The Malaysian Bar, Advocates Association of Sarawak and the Sabah Law Association sent a letter to the Singapore President dated 18/5/2016 (see that letter below).
To hang a man to death, surely Singapore should have given more careful consideration and there was no need to rush the execution. Why did Singapore rush the execution of this Malaysian Kho Jabing? Was it in the hope that a speedy execution will make people disinterested in the apparent flaws in the Singapore administration of justice that has led to this execution?
Would Singapore review this case or simply say that Jabing is already dead, so there is no need?
Would we forget and walk away? I hope not - for there are others in similar cases awaiting to be hanged in Singapore...and we should try to make sure that they do not. In any event, I believe that the family of Kho Jabing, if they so do, may have a case against Singapore - but then, if the Singapore courts are going to behave in the manner they did in the past few days - will justice be done?
Maybe Malaysia should consider acting against Singapore to ensure that justice is done - maybe even take this matter up to some international court? [But then, maybe Malaysia is not so bothered about a life of a Srawakian - maybe, if it was little island in dispute, Malaysia will be more interested. And then there is that ASEAN comaraderie ... Will justice be done ...or will it all be 'swept under the carpet' - after all Kho Jabing is just a poor Sarawakian migrant worker of little significance...
What Malaysia did for Kho Jabing also need to raise concerns? What assistance will Malaysia give to Malaysians overseas who need our assistance??
| | | | |
| --- | --- | --- | --- |
| Joint Open Letter to the President of the Republic of Singapore | Appeal for Clemency for Kho Jabing | | | |
Wednesday, 18 May 2016 05:09pm
18 May 2016
H.E. Dr Tony Tan Keng Yam
President of the Republic of Singapore
c/o H.E. Vanu Gopala Menon
High Commissioner of the Republic of Singapore to Malaysia
209 Jalan Tun Razak
50400 Kuala Lumpur
Malaysia
(Delivered by hand)
Your Excellency,
Appeal for Clemency for Kho Jabing
We are jointly writing to you in our capacities as the Presidents of the Advocates' Association of Sarawak, Sabah Law Association and Malaysian Bar, respectively. We represent approximately 20,000 lawyers who are practising in Malaysia.
As Your Excellency may be aware, the prison authorities at Changi Prison, Singapore had on Thursday, 12 May 2016, written to the family of Kho Jabing, a Malaysian from Sarawak, to inform them that he will be hanged on Friday, 20 May 2016.
We are concerned that the family has only been given very short notice of Kho Jabing's impending hanging.
Kho Jabing was first sentenced to hang in 2011, pursuant to Singapore's mandatory death penalty provisions, when he was found guilty of murder. However, when provisions were introduced for a review of the mandatory death penalty, he was resentenced to life in prison and whipping. On a subsequent appeal by the prosecution, his death sentence was reinstated. This clearly shows that the prosecution was not satisfied that justice had been done and that Kho Jabing would pay for his crime by spending the rest of his life in prison, and be whipped, but actively sought the imposition of the death penalty.
More importantly, in the course of his trial, appeal and review,
one judge of the High Court of Singapore and two justices of the Court of Appeal of Singapore had opined that Kho Jabing had not exhibited a "blatant disregard for human life" and should therefore not be sentenced to hang.
The question of whether Kho Jabing should live or die, we respectfully suggest and humbly submit, should not ultimately depend on the collective decisions of a majority of judges.
The fact that learned judges of Singapore have expressed doubts that Kho Jabing exhibited sufficient mens rea or intention to commit the crime of murder should, in and of itself, give rise to concerns whether Kho Jabing should be made to pay the ultimate price for his crime and be sentenced to hang. If there is any doubt at all about his level of intention, and there genuinely is, that doubt must be resolved in Kho Jabing's favour.
This is not, we wish to clarify, a questioning of the system of justice in Singapore. Kho Jabing was found to have committed a crime, and we accept that. Neither is this a questioning of the sovereignty of the nation of Singapore or the jurisdiction of the courts of Singapore. Laws passed by Singapore's own legislature have provided for a review of the mandatory death sentence. The doubts that have been raised have been so raised by Singapore's own judges.
This is an appeal for a reconsideration of the case and the grant of mercy. We ask Your Excellency to take into account that
there is genuine doubt whether a death sentence is justified in this case. The death penalty is an irreversible punishment. Once taken, Kho Jabing's life cannot be returned to him or his family.
We therefore sincerely implore Your Excellency to exercise Your Excellency's discretion with respect to the power of pardon and to commute Kho Jabing's sentence to that of imprisonment, and to stop his execution once and for all.
We thank Your Excellency for considering this call for clemency.
Yours sincerely,
Leonard Shim
President
Advocates' Association of Sarawak
President
Malaysian Bar
Malaysian hanged in Singapore after final appeal rejected
Execution carried out, say police, after court denies appeal by Kho Jabing, sentenced to death in 2010 for murder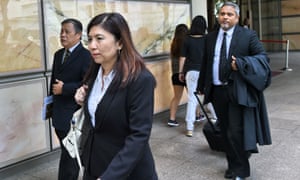 A Malaysian murder convict has been hanged in
Singapore
, according to police, hours after the city-state's highest court rejected a final appeal against his execution.
"A 32-year-old male Malaysian national, Jabing Kho, had his death sentence carried out on 20 May 2016 at Changi prison complex," the Singapore police force said in a statement on Friday.
Kho, who was sentenced to death in 2010 for the murder of a Chinese construction worker, had been due to hang in the prison at dawn on Friday,
but was granted a brief last-minute reprieve
after his lawyer filed a challenge.
The court of appeal heard the latest plea on Friday morning but said it raised no new arguments about the 2008 robbery attempt, clearing the way for the execution.
"This case has been about many things but today, it's about the abuse of the process of the court," said the appeal court judge, Chao Hick Tin. Allowing Kho to continue with legal challenges would throw the judicial system into disrepute, he added.
Executions in Singapore are normally carried out by hanging at dawn on Fridays.
After Kho was sentenced to death in 2010, Singapore amended its mandatory death penalty for murder, giving judges the discretion to impose life imprisonment under certain circumstances.
Kho's case was reviewed and he was re-sentenced to a life term in 2013. But state prosecutors appealed against that ruling and his death sentence was reinstated in January 2015. He was scheduled for execution on 6 November last year but another last-minute appeal saved him.
Kho's accomplice had his conviction for murder overturned and was sentenced to more than 18 years in prison and 19 strokes of the cane.
Singapore, which has rejected rights groups' calls to abolish the death penalty, executed four people in 2015, one for murder and three for drug offences, according to prison statistics.
Malaysia
also uses capital punishment, executing murderers and drug traffickers by hanging, a system that, as in Singapore, dates back to British colonial rule. -
Guardian, 20/5/2016