Adakah rakyat Pulau Pinang mahu anak Kit Siang dan peguam Yusmadi sebagai Senator mereka dari Pulau Pinang?

Adakah mereka ditanya pun sebelum kedua-dua mereka dilantik sebagai Senator...Rakyat tak penting...tak perlu ditanya...hanya ada hak tiap-tiap 5 tahun undi di PRU....adakah kamu setuju?
Adakah

rakyat Pulau Pinang mahu memilih sendiri siapa yang akan menjadi Senator

mewakili Negeri Pulau Pinang? [Perlembagaan Persekutuan jelas menyatakan bahawa Senator boleh di undi oleh rakyat Pulau Pinang - apa yang diperlukan hanya satu 'undang-undang' baru ...dan selepas itu semua Senator(sama saperti MP dan ADUN) akan terus diundi dan dipilih oleh rakyat - PRU Senator tidak akan sama masa tetapi menurut keadaan bila tempuh 3 tahun seorang Senator itu akhir...
Adakah kerajaan PH akan memberikan rakyat hak memilih sendiri... atau adakah kerajaan PH akan terus ikut saja cara UMNO-BN dan gunakan sistem 'lantikan politik' untuk Senator, kerajaan tempatan, ketua kampung orang asli, kampung Melayu, kampung baru, penghulu...??)
Article 45 (4) Parliament may by law -
(a) increase to three the number of members to be elected for each State;
(b) provide that the members to be elected for each State shall be so elected by the direct vote of the electors of that State;
(c) decrease the number of appointed members or abolish appointed members.
Kini, Senator dipilih dan/atau dilantik oleh Dewan Undangan Negeri, justeru bila BN mempunyai majoriti...nyata yang dilantik oleh BN kebanyakkan orang sendiri... Dan, di Pulau Pinang, sebelum ini Pakatan Rakyat yang memilih...dan kini kerajaan Pakatan Harapan yang pilih...dan RAKYAT SENDIRI DIKETEPIKAN DARI PROSES PEMILIHAN INI...
REFERENDUM

- ini adalah cara yang boleh digunakan oleh kerajaan Pulau Pinang untuk mengenal pasti siapakah yang mempunyai sokongan majoriti rakyat untuk dipilih sebagai SENATOR dari Pulau Pinang...selepas itu, nama tersebut boleh dibawa ke DUN untuk dilantik sebagai SENATOR Pulau Pinang...
Tapi, kini Pakatan Harapan sudah menang - ia boleh mengemukakan undang-undang baru di Parlimen untuk memastikan selepas ini semua SENATOR dipilih terus oleh Rakyat Negeri Berkenaan...
Dalam kes anak Kit Siang dan Yusmadi, adakah rakyat Pulau Pinang diberikan peluang untuk komen, nyatakan sokongan, nyatakan bantahan,...sebelum mereka berdua ini dipilih dan dijadikan SENATOR...
Jika DUN memilih SENATOR - pasti mereka yang menguasai kerajaan akan selalu memilih 'KRONI' atau kawan mereka...adakah Senator yang dipilih sedemikian sanggup bertindak bercanggah dengan kehendak parti politik/pemimpin politik yang memastikan lantikan mereka?
Di Peringkat Persekutuan, jika kerajaan semasa yang menentukan siapa jadi SENATOR ...
Senat akhirnya dipenuhi SENATOR 'political appointee' kerajaan memerintah persekutuan dan negeri...ADAKAH SENAT SAPERTI INI BERGUNA DIKEKALKAN? Adakah Senat sebegini akan menjadi 'Check and Balance"...Bolehkah ia bertindak secara 'BERKECUALI"...Kini pun, bila undang-undang sudah diluluskan di Dewan Rakyat, semua anggap Senat akan juga luluskan gitu saja ...dan ia telah berlaku semasa pentadbiran kerajaan UMNO-BN dahulu... Senator 'political appointee' tak berani bantah kata 'bos'....
Jika Senator dilantik secara demokratik, mereka akan lebih dihormati dan akan lebih berani buat sesuatu termasuk bantah kepada Akta yang mengikut pendirian mereka adalah tidak bagus untuk rakyat atau Malaysia...
APAKAH YANG RAKYAT MAHU...Ini soalan yang perlu setiap orang menjawab ...dan jangan hanya ikut jawapan yang di beri Mahathir atau Anwar atau Kit Siang...
Adakah rakyat mahu keadaan saperti dibawah kerajaan UMNO-BN berterusan....
- Rakyat hanya mahu peluang mengundi semasa PRU untuk memilih Ahli Parlimen dan ADUN(Ahli Dewan Undangan Negeri)..? YA atau TIDAK
- Rakyat tidak mahu hak untuk mengundi dan memilih kerajaan tempatan(local government) dikembalikan - biar kerajaan Negeri dan kerajaan Persekutuan terus letakkan 'political appointee(lantikan politik)' sebagai ketua dan ahli majlis perbandaran, dll..? Ya atau TIDAK
- Rakyat tidak mahu hak mengundi dan memilih sendiri Senator? Biar kerajaan pusat terus lantik..dan kerajaan negeri terus lantik ikut suka mereka - YA atau TIDAK
- Rakyat tidak mahu hak untuk melantik secara demokrtaik ketua kampung/ketua kampung orang asli/ketua kampung baru/ketua taman/ ketua kawasan...Biar sahaja kerajaan negeri(atau kerajaan Persekutuan) terus lantik 'political appointee'(lantikan politik masing-masing)...sebagai ketua rakyat kampung,dll...
SUDAH TERLALU LAMA KERAJAAN UMNO-BN TELAH MENAFIKAN HAK RAKYAT DALAM PROSES PEMILIHAN KERAJAAN TEMPATAN, SENATOR, KETUA KAMPUNG/KOMUNITI KECIL - Adakah rakyat mahu mengambilkan hak ini kembali? ATAU hanya mahu kerajaan PH baru kita ini ikut saja cara UMNO-BN yang dulu...
Kalau rakyat tak minta kembali HAK ini...yang juga bererti bahawa rakyat perlu lebih terlibat dalam proses pembangunan dan pentadbiran juga ...TAK ADA SIAPA YANG AKAN KEMBALIKAN HAK INI KEPADA RAKYAT...Dulu PKR dan DAP dan PAS berjanji akan mengembalikan hak rakyat mengundi/memilih local government(Local Council)...tapi kini sudah senyap pula bila kini sudah ada kuasa pinda Akta peringkat persekutuan yang dikatakan menjadi penghalang membuat 'Local Council Elections"...PH sudah menang ...majoriti di Parlimen ...apa yang mereka akan buat?
JIKA MAJORITI RAKYAT MAHU 'SAMA-SAMA MACAM BILA DITADBIR UMNO-BN' - itu kata rakyat, dan kerajaan boleh ikut sahaja kehendak rakyat...
Macam mana kerajaan mahu mengetahui hasrat rakyat ....dengar saja apa MP atau ADUN kata ....itu tak cukup...tambahan kerana kini mereka dalam kerajaan...JUSTERU, rakyat kena ditanya terus ...satu cara adalah dengan mengadakan REFERENDUM ...
Bila mahu buat? Mesti sekarang...dalam masa 100-200 hari tetapi sebelum akhir tahun ini. INI REFORMASI BARU...mengubah keadaan rakyat berada sejak MERDEKA...dibawah kerajaan UMNO-BN yang telah banyak menafikan hak rakyat....
SYOK KINI UNTUK MELIHAT APA YANG AKAN BERLAKU DI SENAT SEKARANG - Jangan lupa tempuh perkhidmatan Senator adalah 3 tahun...justeru sampai tamat tempuh 3 tahun, Senator tak boleh dibuang kerja...ini bermakna bahawa kemungkinan kebanyakkan Senator dalam Dewan Senat kini adalah 'political appointee'(atau 'lantikan politik" daripada kerajaan negeri terdahulu yang UMNO-BN, dan kerajaan persekutuan terdahulu yang UMNO-BN...Adakah Senator ini akan ikut kehendak UMNO-BN, dan TENTANG semua yang dikemukakan oleh kerajaan pimpinan Pakatan Harapan?
Kit Siang's daughter Hui Ying, Yusmadi appointed as senators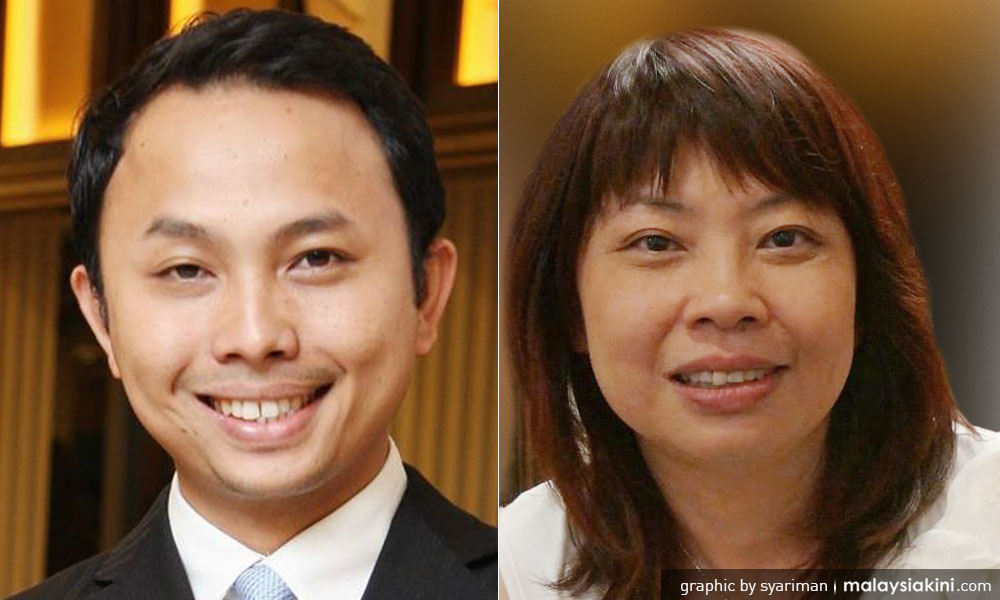 DUN Penang
| Penang DAP secretary Lim Hui Ying and former PKR Balik Pulau MP (2008-2013) Yusmadi Yusoff have been appointed senators for the Dewan Negara.
They replace Siti Aishah Shaik Ismail (PKR) and Ariffin SM Omar (DAP) whose appointments ended on June 1.
Hui Yin, 55, holds a bachelors degree in economics from Universiti Malaya. She joined DAP in 1999.
She has held various state DAP posts such as vice-chairperson, assistant secretary, among others.
"Due to the trust placed in her by the party, she was appointed the 2013 and 2018 general election campaign manager for the DAP, and led the party to win all the seats it contested (19 out of 40) in Penang in both polls," Penang Chief Minister Chow Kon Yeow said.
Hui Ying is the daughter of DAP senior leader Lim Kit Siang and sister to Finance Minister Lim Guan Eng.
Yusmadi, a seasoned lawyer, was born in Balik Pulau and now resides in Kuala Lumpur.
He currently serves as PKR president Anwar Ibrahim's political aide.
Yusmadi studied Islamic and Common Law in the International Islamic University of Malaysia and later furthered his studies in human rights law in Washington College of Law in the United States.
Yusmadi, 42, was called to the Bar in 1999 and has fought for high-profile cases and served at the International Legal Foundation.
He also chairs the Rights Foundation, a welfare and human rights organisation, and has attended many international forums including Doha Forum (Qatar), World Forum for Democracy (Strasbourg), Forum 2000 (Prague) and Tamil Eelam Human Rights Protection Conference (Chennai).
"I believe the two candidates can bring the voices of Penangites to a higher level," said Chow.
The motion to appoint the senators, which was passed at the Penang legislative assembly, was tabled by Chow while Dr Afif Bahardin (PKR-Seberang Jaya) moved to support it.
Malaysiakini, 10/8/2018