When you become a Minister, remember that your responsibility is MALAYSIA - not your own Parliamentary constituent > When the Minister uses his/her Ministry and its resources to do things in his/her constituency, we have make sure it is not an abuse of power or monies for self-gain?
Now, under the Perikatan Nasional again, they are making their 'government' MPs and/or politicians heads of government agencies, and even Directors of GLCs - a very bad practice, in my opinion. An MP, when he is not in Cabinet has a very important 'check and balance' and monitoring role - to make sure the government, or its agencies and/or even GLCs, do not do anything wrong...[We have seen how this has happened in the previous BN government as it has all come out into the open in the 1MDB, SRC and other scandals > it a global embarrassment today]
When a non-Cabinet, government MP is appointed head of a government agency, or a Director in some GLC Company(or government fully owned company), Malaysians suffers a LOSS > we may have just lost an MP, who would have been a check and balance on the government. Does this 'reward' of being appointed head of Agency or Director in GLC wrong? Is it not gift of money and 'power' a corruption of Parliament and/or parliamentary system? Will he who gets such a position, and maybe even more income and 'power' now be critically monitoring PM Muhyiddin and his Cabinet, or will he 'stop doing his job' for fear that if he behaves like an effective backbencher MP, he may lose his position in this agency(which will mean a reduction of personal income as well).
Sadly, when the people elected in the Pakatan Harapan and allies into government, our hope was all these bad practices and 'political appointments' are put to an end...but sadly, Pakatan Harapan continued with these 'bad practices'. Non Cabinet government MPs were also appointed to head government agencies - Charles Santiago, for example, was appointed to head SPAN(Suruhanjaya Perkhidmatan Air Negara)...
Non-Cabinet MPs of the government parties and Opposition MPs should be in Parliamentary Committees, that would be tasked to continously monitor also these different government agencies, companies and GLCs - and not be made heads or Directors of such entities. These Parliamentary Committees will be tasked with oversight, investigation and making sure that all these agencies, companies and GLCs are carrying out their activities right, and no abuse happens. After what happened in 1MDB, SRC and ..., this is and must be the priority.
When a MP is the head, many problems arise > Can even the government effectively monitor to prevent abuse< especially a government where the Prime Minister also needs the support of MPs to remain Prime Minister.
MPs, as peoples' representatives, already have the difficult task of being the representative of tens of thousands of their Constituents, plus playing an effective 'check and balance' role to ensure the PM and Cabinet is doing what is right, that all Ministries, government agencies, companies and GLCs are functioning correctly without engaging in corruption or kleptocracy..They have to regularly meet with their constituents, and engage with them for they are their representatives. That is WHY we pay our MPs such a high salary and allowances.
Now, the Jerantut MP Datuk Ahmad Nazlan Idris was recently appointed as the Chairman of the

Malaysian Rubber Board (MRB) about a month ago during the MCO period, and now we hear that '...

a RM100 million Rubber Technology Centre (RTC) will be built in Pahang's Jerantut district...', that is in his own constituency? Abuse of power?
When Mahathir was Prime Minister during the BN rule, Langkawi, his constituency, was seen to be the beneficiary of a lot of government projects and monies - when Najib from Pekan became Prime Minister, similarly we see a lot happening in Pekan...It looks like this trend, which I believe is wrong must end.
For real change, Malaysians need to be more careful when they choose who will be their MP or ADUN >> Now, we know, that it may not be relevant which party candidate, he or she is but more importantly, we need to look more closely at the person - his character, his values, his principles...For after all, we just saw so many PKR MPs, including main leaders, abandon PKR and allowed BN to return to power, as part of Perikatan Nasional. We saw Muhyiddin and many in BERSATU do the same...
The question is whether we, Malaysians, want this 'bad practices' to end or not, OR are we OK about it?
I look forward to the new Perikatan Nasional government now EXPOSING the wrongdoings of them Pakatan Harapan(PH) leaders when they were in power...when will the 'corruption' cases against the PH leaders and politicians start...OR were they all CLEAN?
The people decide...so what say you?
- Was the decision to build the new '

RM100 million Rubber Technology Centre (RTC) will be built in Pahang's Jerantut district' OK? Really, when appointed head of an agency, or Director of a government company, it is wise to not do things that suggest bias in favour of your own personal interest ...or the interest of your own constituency. Was the Jerantut MP part of the decision making process that decided to build the Rubber Technology Centre in Jerantut - I think, only right, if he was not part of any decision of a national agency where a decision affects his/her constituency?
Is there a Parliamentary Select Committee which will REVIEW this decision of the Malaysian Rubber Board (MRB)?
OR maybe, MRB really made that decision before Ahmad Nazlan Idriseven appointed to be Chair of MRB?
Maybe, MRB and Prime Minister(or relevant Minister) must transparently explain to the people of Malaysia...
Malaysian Rubber Board RM100m Pahang project raises many questions - Teresa Kok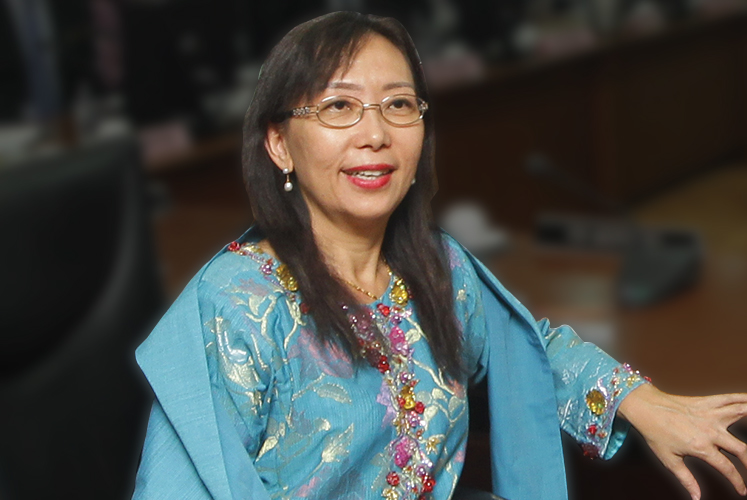 KUALA LUMPUR (May 25): Seputeh Member of Parliament (MP) Teresa Kok said that as the former primary industries minister, she must voice her strongest objection to Malaysian Rubber Board (MRB) chairman Datuk Ahmad Nazlan Idris' announcement that a RM100 million Rubber Technology Centre (RTC) will be built in Pahang's Jerantut district, where he is a two-term MP from Umno. Kok said the RTC, an entirely new project, poses serious questions on why it is needed, especially at a time when public funds must be prudently utilised.
In a statement on Monday, Kok said Ahmad Nazlan was only appointed as MRB chairman about a month ago but appeared to have worked at warp speed to obtain the necessary approvals to spend RM100 million of public funds for a mega project in his parliamentary constituency.
"The speed in which the project was announced raises many questions. There are many layers of proposals and studies that must be done at even at the MRB level before a project of this size can be approved by the board. The previous PH (Pakatan Harapan) government through (the) MoF (Finance Ministry) and my ministry have reset and imposed much stricter procedures before any big projects are given approvals. This will take more than one year at least. I am sure the board could not have done all the necessary studies to justify spending RM100 million for the RTC in such a short time. Clearly, all fiduciary and MoF procedures have been violated in this case.
"As the saying goes 'history repeats itself', because another previous MRB chairman, an Umno MP for Jasin Datuk Wira Ahmad Hamzah, did the same by ordering an unnecessary RM44 million project in his constituency in 2010 in Jasin, Melaka, which has turned out to be an unsalvageable white elephant and has been and still is bleeding millions of ringgit exceeding the original cost. This project still remains uncompleted.
"Despite the country's economy moving into deep crisis and heading into recession and Malaysia remaining in partial lockdown struggling to grapple with Covid-19 infections, Ahmad Nazlan appeared to have Prime Minister (PM) Tan Sri Muhyiddin Yassin's ear in approving a non-essential multi-million ringgit project in his parliament constituency, when clearly the Perikatan Nasional government's priorities should be elsewhere. As such, I strongly urge Muhyiddin to explain if he is aware [of] this mammoth RTC project which is to be built in the parliamentary constituency of the MRB chairman he endorsed.
"The PM and finance minister owe the people an explanation on the speed at which such huge projects seem to be taking off at this inopportune time," Kok said.
Kok said Malaysia already has several fully-operational rubber technology and research centres in Sg Buloh, Selangor, and Kota Tinggi, Johor. Abroad, she said Malaysia has the Tun Abdul Razak Research Centre in the UK.
She said all these centres are undertaking top quality work, operating at optimal levels and have some levels of excess capacity now. As such, there is no pressing need for another research centre for now given the present economic condition and when public funds are urgently needed to cater for the immediate and pressing needs of the people, including rubber smallholders, she said. -
Edge Markets, 25/5/2020