When we come into power, we will make sure those in the Opposition will be investigated, charged in court, tried, found guilty and sentenced severely?
When we come into power, we will make sure that investigations against OUR party members are stopped? Cases-dropped, Convictions and sentences overturned on appeal? Our politicians and friends are pardoned?
One of Umno's key gripes with Perikatan Nasional is the latter's decision to continue with court cases against the party and its leaders, revealed its secretary-general Ahmad Maslan.

Well, one of the first things that Pakatan Harapan did was to move to get Anwar Ibrahim pardoned - and released from prison, and restrictions to contest immediately removed.
When Najib was PM, the then Attorney General(also Public Prosecutor) saw no need for Najib to be charged, tried...and when PH came into power, Najib was charged and tried, and even have been CONVICTED and SENTENCED by the High Court in one of several cases...he is appealing now. Since, the UMNO-BN is back in government, will the Court of Appeal now overturn the conviction in Najib's case - and find him NOT GUILTY. Interestingly, many Malaysians believe that this would happen?
Now, is UMNO wanting all cases against UMNO politicians and friends dropped...case discontinued and ACQUITTED ...?????

It is depressing if the Malaysian police, anti-corruption officers, public prosecutors and the Judges are seen to be NOT INDEPENDENT and can be directed/pressured by politicians or the government for the benefit of fellow politicians and their 'friends'
Was it good then when the UMNO-BN was ousted from the seat of government - then there was a 'cleaning-up' and their politicians who were 'protected' could finally be investigated, charged, tried ---face JUSTICE. Now, after PH Plus was ousted, maybe the 'crooks' who abused power, those who were corrupt and kleptocrats will also face JUSTICE - These practices are good as it can end abuses and corruption - and soon we will have a truly clean government in future Malaysia.

What is most sad is that these possible 'abuse of power' and/or 'corruption of the administration of justice' by politicians/parties in government was before merely a possibility - AND now, the UMNO Secretary General (not some minor UMNO member or politician) comes out stating that what we always feared may be true ....sad still, when after this was reported in the media, other UMNO key politicians failed to 'correct' or react ... So, one of the reason why UMNO is unhappy with Perikatan Nasional and/or PM Muhyiddin.....But are not our prosecution and courts independent?

What do you think about the court finding Najib guilty? Was it because he broke the law....or because he was in the Opposition(BN included)?
So many Malaysians still support Najib, who did not even admit his wrongdoings and apologize - one wonders what these Malaysians values are.
Are they saying it is OK for politicians to be corrupt, abuse the power and commit crimes?
If Najib admitted his mistake and apologized, then because of his 'Repentance'(INSAF), we can give him a 2nd chance and still support him.
To be fair, Anwar(who was also found guilty of corruption) has yet to repent and apologize...
Their stance is DENIAL - claiming 'political persecution'? Victims of injustice?

Politicians and government MUST NOT INTERFERE with prosecution and/or the Courts - they must not DIRECT that some not be investigated or charged or not prosecuted further...
The police and law enforcement officers, prosecutors and judges must be independent, and loyal only to Justice and Malaysia. They should not allow politicians/political parties or government of the day to interfere with the administration of justice.
We talk about EQUALITY - and we certainly do not want anyone ABOVE the law...And we want them no exemptions.
In fact, we want more DETERRENT SENTENCES for elected people's representatives, Ministers,etc who abuse their powers...steal from the people...especially when it involves the peoples' monies.

End HYPOCRISY - where ordinary people are subject to the administration of the justice - but not politicians and 'their cronies' who have been 'chosen' to govern. Ordinary man is arrested for not wearing face masks ...but do the politician also get arrested?

Come next election, I would try to pick my peoples' representative who is a person who has values, treats everyone equally...and who will not abuse their power to govern by enriching themselves or their 'party members', family and friends to the detriment of all of us.
Criminalize actions of police, prosecutors and judges who act not in accordance to law and justice, but as 'expected' or instructed by people in power/PM/politicians/etc. These offences should carry a deterrent sentence?
THE PEOPLE DECIDE ON WHAT KIND OF COUNTRY WE WANT - DO WE WANT THE POLITICIAN/PM/GOVERNMENT TO DECIDE WHO IS INVESTIGATED, CHARGED IN COURT...? DO WE...

'Cruel' court cases reason for Umno's gripe with PN, reveals Ahmad Maslan
One of Umno's key gripes with Perikatan Nasional is the latter's decision to continue with court cases against the party and its leaders, revealed its secretary-general Ahmad Maslan.
Ahmad - who is one of Umno leaders taken to court - said this outweighed the party's dissatisfaction over positions in the government.
"One more dissatisfaction is not so much about positions but that the government now is continuing the cruelty of the past government.
"This should not be [...] these cases brought to court were the cruelty from the time of (former prime minister) Dr Mahathir Mohamad, (former attorney-general) Tommy Thomas and (former MACC chief) Latheefa Koya.
"Mahathir is no longer in government, and I don't know where Thomas and Latheefa have gone but why have these cases continued?" he asked during a dialogue on Monday.
He added that continuing the charges against Umno leaders meant the current government is also cruel, thus necessitating a general election so a new government can be elected.
Ahmad is on trial for failing to declare RM2 million in income tax for 2013 over payments he received from then prime minister Najib Abdul Razak.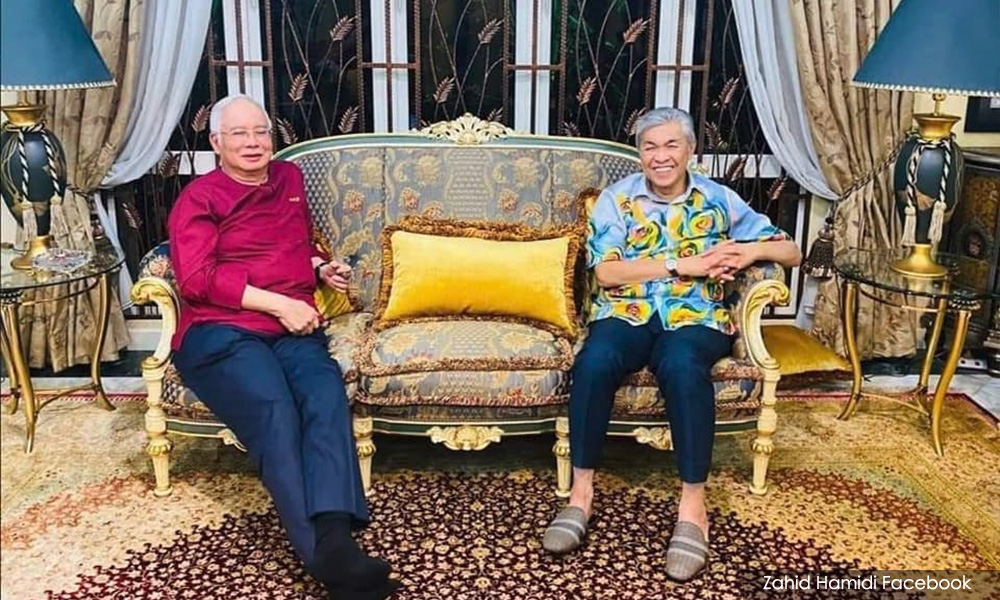 Besides Ahmad, other Umno leaders on trial for corruption include party president Ahmad Zahid Hamidi, former prime minister Najib Abdul Razak and former Felda chairperson Shahrir Samad.
When the PN government was formed in March last year, Prime Minister Muhyiddin Yassin stressed that he would keep a clean cabinet and continue an anti-corruption agenda.
During the dialogue event, Ahmad - who is Pontian MP - cited the compounds and forfeiture suits initiated by the MACC against those accused of receiving 1MDB-linked funds from Najib as an example.
The compounds were issued under the Anti-Money Laundering, Anti-Terrorism Financing and Proceeds of Unlawful Activities Act (Amla).
"There was one who received RM50,000 from the president (Najib) but was told to pay a compound of RM2.5 million," he claimed.
This is unlikely to be true.
Section 92(1) of AMLA states that compounds can only be a maximum of 2.5 times the amount received.
This means receiving RM50,000 of illicit funds can only be punished with a compound of up to RM125,000.
However, one Umno leader - Shahrir Samad - was issued a RM2.5 million compound.
Shahrir was accused of money laundering in receiving RM1 million of 1MDB-linked funds from Najib and was offered to pay a compound of RM2.5 million by the MACC.
He is challenging the matter in court.
The Umno supreme council will be meeting today to discuss a motion backed by 189 party divisions to sever ties with Bersatu in the next general election. - Malaysiakini, 6/1/2021