Media Statement – 31/12/2020
Rise In Workplace Covid-19 Infections Demands Stricter Laws (Not Recommendations) And Corrupt-Free Enforcement
Workplace Clusters about 30% of all clusters in Malaysia
We, the 27 undersigned groups, organisations and trade unions are appalled when it was reported a workplace making glove was merely slapped with a RM1,000 fine for failing to comply with Covid-19 preventive measures and providing seemingly poor living conditions for workers.(Star, 25/12/2020).
RM1,000 is the fine or compound levied on individuals who breach the law for not wearing face masks and such offences. To fine an employer the same RM1,000, when their failings put so many workers at risk or actually getting infected by Covid-19 is a joke.
It was reported in that case that '…there were no records of sanitization and disinfection that were supposed to be carried out at least three times a day. "We also did not see any measures on physical distancing in one of the dorms. There are markings for physical distancing but in reality this did not happen…' (Star, 25/12/2020)
Workers have no choice but to do as employer demands
A person can comply with the measures needed to avoid infections, but this does not apply to workplaces and worker accommodation, where a worker is compelled to follow the orders or instructions of their employers.
Workplace specific laws/regulations that carry penalties for non-compliance
It is sad that despite calls from many quarters, Malaysia has to date failed to enact laws or specific subsidiary legislations for workplaces in relation to Covid-19, where a non-compliance would be a breach of law, attracting prosecution and if found guilty a sentence. What Malaysia has now is mostly mere Standard Operating Procedures (SOPs) and Guidelines which unfortunately are merely recommendation or advice, where non-compliance by the employer is not an offence punishable by law. A breach of SOPs or Guidelines is not an offence with a stipulated penalty. This may explain why companies wrongdoings in not protecting workers from Covid-19 seem to simply attract reprimands or at most fines RM1,000. Even when fines are imposed, it is not clear what precise law has been violated.
In relation to Covid-19, Malaysia still relies on general law or regulation that applies to everyone, but there are no workplace specific enforceable laws. There is a serious need for legally enforceable workplace laws and/or regulations to prevent workers falling victim to Covid-19 and other communicable diseases, despite the fact the government had the opportunity to do so since March 2020.
OSHA still no clear employer obligations to keep workers safe from Covid-19
The Malaysia's Occupational Safety and Health Act 1994(OSHA 1994), being the primary law imposing obligations on employers to keep workers safe at the workplace, does include protection from occupational diseases, which now should include Covid-19 and other person to person serious communicable diseases. Sadly, OSHA 1994 still has no definition or any list of occupational diseases that the employer is obligated to protect workers from.
Social Security Act law (SOCSO) has a list of occupational diseases, but the SOCSO law generally deals with rights and compensations once infected, it does not impose employer obligations to keep workers safe at the workplace.
The lack of definition of occupational disease in OSHA could have easily been dealt with by an amendment to include a definition occupational diseases. It could have been simply defined as being the same as provided for in the SOCSO Act, or some other definition or list. Then, employer's obligation to keep workers safe from such diseases like Covid-19 is made clear, and failure would be a crime punishable by law.
The Minister of Human Resources under OSHA 1994 have the power, without having to get Parliamentary approval, to make specific regulations and/or subsidiary legislations, which could stipulate what employers need to do keep workers safe from even specific diseases like Covid-19. Sadly, the Minister has still not done so.
In comparison, Singapore, since the end March 2020, have the Infectious Diseases (Workplace Measures to Prevent Spread of Covid-19) Regulations 2020. Malaysia should have similar laws. If the Minister of Human Resource fails, then the Minister of Health could also do so.
The failure to have such laws and regulations that will make it a crime may be the reason why workplace employers and/or owners who endanger workers' lives are getting away with 'reprimands' and small fines like RM1,000. Workers and their families are victims because of government failure.
Workplace Clusters about 30% of all clusters in Malaysia
Workplace clusters are about a third of all clusters in Malaysia now (Malay Mail, 29/11/2020). The report also stated that '334 Covid-19 clusters detected in Malaysia, more than a third, or 119 clusters are related to infections at workplaces…. the five workplace-linked clusters that have the highest number of cases are the Teratai cluster (4,036 cases), Damanlela Construction Site cluster (1,539), Cergas cluster (1,337), Hentian cluster (1,101) and Kaya cluster (900).
On Wednesday(16/12/2020), eight new clusters were announced, out of which four were related to worksites: Puncak Galaksi cluster involving Kuala Selangor and Klang (56 cases); Permai cluster involving three construction sites in Lembah Pantai (48 cases); Matahari construction site cluster in Titiwangsa (15 cases); and Laut construction site cluster involving Lembah Pantai, Cheras and Kepong (eight cases).
The number of workplace clusters continues to rise every day, and yet there is still a lack of deterrent laws that would compel employers to better protect workers.
There were opportunities to enact these new laws or make needed amendments when Parliament sat, but the present government failed to do so.
Any employers being charged for causing workers getting infected?
The lack of news of employers who failed to keep their workers safe being charged in court, and recent news of very low fines gives a perception that the Malaysian government is pro-employer, and has little concern for workers' safety and health. Mere expression of anger by Ministers and politicians, without stricter laws and better enforcement is meaningless.
Recent discoveries of so many workplaces not in compliance with SOPs, Guidelines and even laws demonstrate that these weak laws, advice and recommendations alone is insufficient – we need laws with deterrent penalties and efficient enforcements.
Without enforcement, laws alone are not enough
Having laws alone is inadequate without strict enforcement by the relevant Ministries and departments. Corruption and influence are perceived to influence enforcement, investigation and prosecution of employers.
Inadequacy of protection of worker whistleblowers, as many workers are afraid to highlight wrongdoings of employers for fear of retaliation and even termination of employment. The recent termination of a worker at Top Glove who highlighted the working and living conditions of workers at the workplace, and the lack of government response only propagates a culture of fear amongst workers – who will continue to work in law-breaking, unsafe and dangerous working and/or living conditions, for fear of discrimination or termination if they highlight these wrongs.
Therefore, we
Call on Malaysia to enact laws and regulations, where a non-compliance of the employer's legal obligation will be a crime, with a deterrent sentence. Ineffective recommendations and/or advice through SOPs and Guidelines should be replaced by enforceable subsidiary legislations or laws.

Call for the imposition of deterrent punishments like prison terms for Employers, Directors and officers responsible for violating laws, including those that impact workers' safety and health;

Call for increased workplace inspection and indiscriminate enforcement, especially before workers fall victim to Covid-19;

Call for prosecution of corrupt law enforcement officers, who by their failings undermine the protection of workers' rights, safety and health

Call for laws that protect workers that highlight rights violations at workplaces and worker accommodations, and

Call for the protection and promotion of worker rights and human rights
Charles Hector
Apolinar Z. Tolentino, Jr.
For and on behalf the following 27
ALIRAN
BWI AP (Building and Wood Workers International Asia Pacific Region)
WH4C (Workers Hub For Change)
Association Of Home And Maquila Workers (ATRAHDOM), Guatemala
Building and Wood Workers Federation of Myanmar(BWFM)
China Labour Bulletin (CLB)
Gender Alliance for Development Center, Albania
Federasi Serikat Buruh Kerakyatan(SERBUK) Indonesia
Friends of Croatia
International Black Women for Wages for Housework
Labour Behind the Label, UK
MADPET (Malaysians Against Death Penalty and Torture)
NAMM (Network of Action for Migrants in Malaysia)
National Union of Flight Attendants Malaysia (NUFAM)
National Union of Transport Equipment & Allied Industries Workers (NUTEAIW)
Odhikar, Bangladesh
Payday men's network UK/US
People Like Us Support Ourselves (PLUsos)
Persatuan Sahabat Wanita Selangor
Sabah Timber Industry Employees Union (STIEU)
Sarawak Dayak Iban Association (SADIA)
Saya Anak Bangsa Malaysia (SABM)
Timber Industry Employees Union of Sarawak (TEIUS)
Timber Employees Union Peninsular Malaysia (TEUPM)
Union of Forestry Employees Sarawak (UFES)
Women of Color Global Women's Strike
Lin Chew, Independent
See earlier relevant post, especially the 1st two listed



Glove factory escapes shutdown with RM1,000 compound after raid
A rubber glove factory in Klang that was raided yesterday escaped shutdown and was instead fined RM1,000.
According to The Star, the fine was for failing to comply with Covid-19 preventive measures and providing seemingly poor living conditions for workers.
The raid was carried out by the Labour Department, Klang Municipal Council and the Klang District health office.
Sources claimed that the factory management had been tipped off about the raid by "government insiders", leading to an overnight clean-up of the workers' dorms.
However, a spokesperson for the company denied this.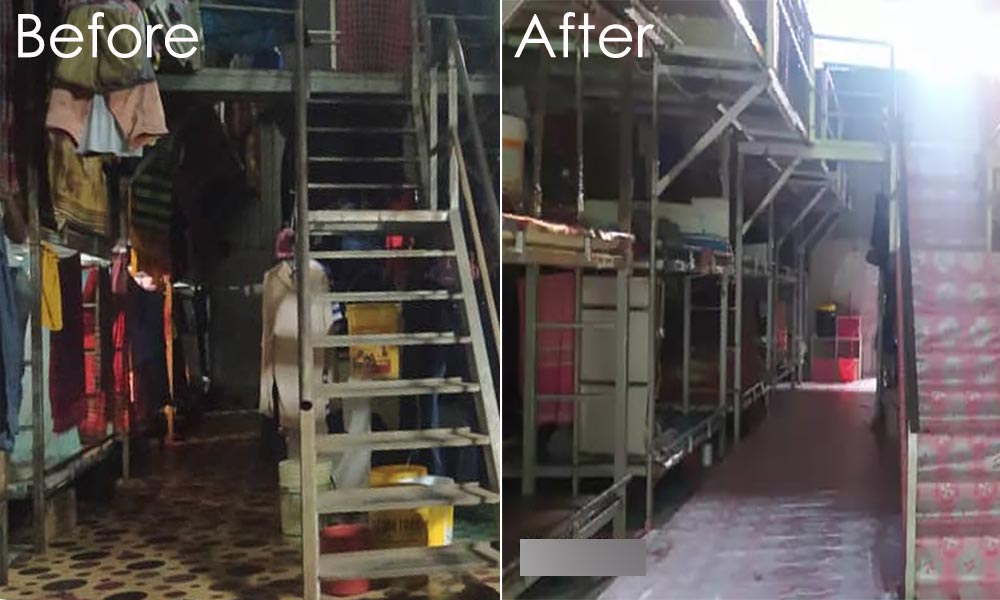 The spokesperson said while there was room for improvement with the dormitories, the workers did not complain.
Klang District health officer Ili Syazwani Mohd Mashudi had said the health office found several violations including a lack of regular sanitisation and flouting of social distancing.
Human Resources Ministry deputy director-general (operations) Mohd Asri Abdul Sahab also said that some of the living arrangements, such as triple-decker beds, could be dangerous to workers. - Malaysiakini, 25/12/2020

PETALING JAYA: Out of the 230 Covid-19 clusters that have been reported since the start of the pandemic, about 30% are linked to the workplace, says Tan Sri Dr Noor Hisham Abdullah.
The Health director-general said 62 clusters were found to be linked to the workplace, of which 37 clusters were still active.
"Two clusters were newly announced today, " he said in a press briefing on Tuesday (Oct 27) at the ministry's headquarters.
Dr Noor Hisham said that employers and companies play a big role in curbing the transmission of Covid-19 virus in the workplace.
"Proactive measures taken by employers in conducting Covid-19 screenings for their workers can enable the detection of asymptomatic positive cases among coworkers.
"This helps the Health Ministry in conducting public health activities immediately. It is also able to curb the spread of Covid-19 in a community, and protects these individuals from high-risk groups, such as the elderly and children, " he said.
Employees, he said, also have a role to play by following the standard operating procedures (SOPs) in the workplace.
"A clean and safe work environment must become a normal occurrence to break the chain of transmission for Covid-19, " he said. - Star, 27/10/2020

Majority of new Covid-19 clusters linked to workplaces [NSTTV]
PUTRAJAYA: Six out of eight Covid-19 clusters detected in the country as of noon today are linked to workplaces.
Health director-general Tan Sri Dr Noor Hisham Abdullah said the total number of active clusters in the country currently stands at 201.
"The Pekapuri cluster is a workplace cluster involving the Gombak district in Selangor. The cluster recorded positive cases on Dec 21 after targeted screening at the workplace.
"As of Dec 21, of the 769 individuals screened, 202 tested positive for Covid-19 under this cluster," he said, during a press conference, here, today.
Another workplace cluster, Batu Besar in the Klang district, was detected on Dec 18, also after a targeted screening at the workplace.
Of the 546 individuals screened, 59 tested positive under this cluster in the past 24 hours.
The Tower cluster is another workplace cluster in Gombak, Hulu Langat and Sepang in Selangor; Titiwangsa and Cheras districts in Kuala Lumpur; and alsoTemerloh district in Pahang.
As of Dec 21, some 1,154 individuals have been screened, of which 20 turned out positive.
The Kepong district in Kuala Lumpur also recorded a workplace cluster today. The Pelangi construction site cluster logged 23 positive cases today after 142 individuals were tested during a targeted screening exercise at a construction site.
As for the Wawasan cluster, Dr Noor Hisham said the index case (Case-88,426) tested positive for Covid-19 on Dec 17 through a screening of symptomatic individuals.
"The cluster involves the Petaling district, Selangor; the Lembah Pantai district in Kuala Lumpur and also Putrajaya.
"As of Dec 21, some 44 individuals have been screened, and six of them tested positive under this cluster," he said.
Meanwhile, the Delima cluster involved the Titiwangsa district in Kuala Lumpur as well as the Gombak and Hulu Langat districts in Selangor.
"The index case for this cluster (Case-84,410) tested positive on Dec 14. As of noon today, eight out of the 51 individuals screened tested positive," he said.
Penang also reported a workplace cluster called the May Indah cluster, involving the Timur Laut, Barat Daya, Seberang Perai Utara, Seberang Perai Tengah and Seberang Perai Selatan districts.
"The first two cases for this cluster (Case-78,218 and Case-78,219) tested positive on Dec 10 after a targeted screening at the workplace.
"As of today, 27 of the 132 individuals screened were found positive," he said.
Another workplace cluster known as the J Bandar cluster emerged in Labuan after the index case (Case-87,879) tested positive on Dec 16 during a targeted screening exercise at the workplace.
As of noon today, 25 out of the 84 individuals screened tested positive for Covid-19 under this cluster.
Six clusters ended today, namely the Teja Kasih, Permatang, Kejora, Bayan, Numbak and Danau clusters.