PN-BN Plus government ignores the suffering all other workers this RAYA... save for civil servants. Same to with some Opposition governed states...

Because of Covid-19, so many workers lost jobs and income - this is the current REALITY in Malaysia. They were in the private sector and/or the self employed
Civil Servants(Public Servants), on the other hand did not lose their jobs - and there was no impact on their monthly incomes - Many of these civil servants have regular employment until retirement, and thereafter they receive pension until they die(and thereafter their spouses continue to receive a slightly reduced pension until they die).
Comparatively, many in the private sector still do not enjoy REGULAR employment - they are on fixed term employment contracts, and worse is that they are mere 'supplied workers' of some Contractor For Labour. Because of Covid - many lost jobs/employment and income...
But the Federal PN-BN Plus government seems to not care for these other workers - and like years before, is just again giving Raya Bonuses to the civil servants ...
If this bonuses was just for the lower income civil servants, say those earning RM5,000 or less, then we may say it is OK ...but now, the Federal government is giving this bonus to 'Civil servants on Grade 56 and below' - Grade 56, well do they not earn about RM15,000.
RM500 aid should be for all those who have lost employment, income, businesses, etc - BE CARING MALAYSIA.
Pensioners are getting RM250 aid - but this is really former civil servants who receive monthly pensions - Should aid not be given to all RETIREES, all those above the retirement age ---
After all, we are talking of Malaysians' monies, and we should care for all Malaysians ...especially the most needy.
PN-BN plus government response already DISCRIMINATES against non-civil servants employees or pensioners. For the others, the government just asked them to take out their OWN 'old-age savings' in KWSP/EPF - and spend it now? As it is, EPF/KWSP has already warned us many times, that these 'old age' savings for most will only last for about 5 years - meaning they will have no money to live on until they die...do we not care? Malaysia needs a National Pension Scheme for all - that would provide some monthly living income until we die.
How much monies are we wasting by provision of PENSIONS for the very rich, former Ministers, former MPs/SENATORS, etc ... Wonder if Muhyiddin Yasin is receiving pensions as former MB of Johor? How much PENSIONS are we paying to Najib? Tell us...be transparent...
Not just the Federal Government, but also the state government is doing the same for civil servants - is there a different position in States governed still by the Pakatan Harapan plus or PAS? Selangor is giving half month pay or a minimum of RM1,000 ...

Gone are the days when civil servants were more disadvantaged compared to those working in the private sector or those who were self-employed or running their 'small businesses' -...
Government is not in the best state financially ... more so because of this Covid-19 pandemic --- so, could we have not done away with such 'celebration bonuses' - and focused on 'celebration aid' for the many who have lost job/income and also the many retirees who do not get any regular monthly pensions?
The government could have used it to get computers for every poor student and get internet access so they can attend schools online when schools are closed..
Some believe that these 'raya bonuses' are possibly nothing more than 'bribes' to secure the votes of the civil servants and their families for the incumbent government - Remember all Malaysian workers, the unemployed, self employed and the small businesses are also contributing equally to the economy and well-being of Malaysia and we all pay taxes.
When the government forgets the OTHER voters, in providing aid for Raya, they will certainly remember come next elections...
Many do not see any difference whether Malaysia is ruled by BN, PH Plus, PN-BN Plus and that is a concern - do we not have an alternative choice, parties/coalitions with a more just principles/values?
Malaysians care - and they would want the most needed to be aided with our monies...

Civil servants to get RM500 aid for Hari Raya
Thursday, 22 Apr 2021
PUTRAJAYA: Civil servants on Grade 56 and below will be getting a special Hari Raya Aidilfitri aid of RM500 from the government.
In a statement, the Prime Minister's Office said the one-off payment would be credited on May 6, together with the May salary.
"This aid is a form of appreciation towards the sacrifices of civil servants in delivering service to the people, especially during these challenging times.
"The aid is given earlier compared to previous years as the government wants to help the people with their preparations for the Hari Raya Aidilfitri celebrations.
"The government hopes this special assistance will ease financial burdens, and may it be a motivator for civil servants to continue serving with full dedication, " said the PMO.
The RM500 assistance also applies to contract and temporary staff, as well appointments under MySTEP (Short-Term Employment Programme).
Pensioners will receive a payment of RM250.
The aid is set to benefit some two million civil servants and pensioners in the country. - Star, 22/4/2021
Penjawat awam di Pahang terima bonus raya RM1,000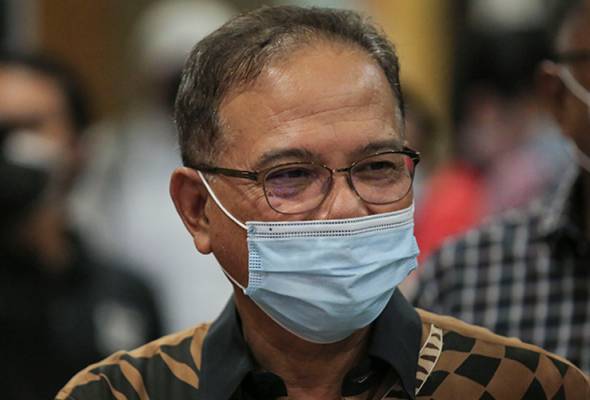 Datuk Seri Wan Rosdy Wan Ismail berkata, peruntukan keseluruhan bayaran khas kewangan itu berjumlah RM8 juta meliputi semua gred. - Gambar fail
KUANTAN: Kerajaan Pahang mengumumkan bantuan khas bersempena Aidilfitri sebanyak RM1,000 kepada 8,000 kakitangannya yang akan dibayar pada 7 Mei depan.
Menteri Besar, Datuk Seri Wan Rosdy Wan Ismail berkata, peruntukan keseluruhan bayaran khas kewangan itu berjumlah RM8 juta meliputi semua gred.
Menurut satu kenyataan media bertarikh 28 April, turut menerima pemberian ini sebagai sagu hati Kerajaan Negeri Pahang, ialah penjawat awam Persekutuan bergred JUSA C dan ke atas, yang berkhidmat di negeri Pahang.
"Keputusan ini dicapai pada mesyuarat Majlis Mesyuarat Kerajaan Negeri yang saya pengerusikan pagi oleh Wan Rosdy ini. Ia dibuat berasaskan kemampuan kewangan negeri serta sikap peduli Kerajaan Negeri terhadap rakyat termasuk dalam kalangan penjawat awam sekalian," katanya Pejabat Menteri Besar dalam kenyataan yang diedarkan pada Rabu.
Menteri Besar juga berharap wang pemberian tersebut dapat digunakan sewajarnya.
"Pada Badan-badan Berkanun Negeri dan Pihak Berkuasa Tempatan dinegeri ini , saya sarankan agar mereka dapat turut membuat pemberian yang serupa kepada pegawai dan kakitangan masing-masing," jelas kenyataan itu lagi. -
Astro Awani, 28/4/2021
Friday, 23 Apr 2021
SHAH ALAM: Selangor Mentri Besar Datuk Seri Amirudin Shari has announced a special Hari Raya Aidilfitri incentive of half-a-month's salary or a minimum of RM1,000 for the state's civil service.
The announcement was made at a morning gathering of civil servants at the state secretariat's Dewan Jubli Perak on Friday (April 23).
"Although we are facing big challenges, our collections were good," said Amirudin.
Besides the civil servants, executive councillors and elected representatives will also receive the bonus.
The special payout will also be extended to the various levels of community leaders.
Amirudin said in his speech that everyone was in a situation they had never expected with the advent of the Covid-19 pandemic.
According to the Mentri Besar, not only was the annual budget passed last year but also three economic stimulus packages.
He said having such a big financial commitment was a trying challenge given the slow movement of economic activities due to the pandemic.
"We managed to go through it stoically and because of our patience and strength, we did not have a deficit but instead a surplus in state funds," said Amirudin.
Amirudin said a bigger challenge was awaiting as the state has embraced digitalisation to move towards becoming a smart state.
He added that digilisation must not only be at the state administrative level but also throughout the state.
Amirudin added that the state and its civil servants must also be prepared to face and handle more challenges. - Star, 23/4/2021