Well, do Malaysia and our Malaysian politicians really respect and protect freedom of expression, opinion and press freedom? Should we support politicians who SUE people and MEDIA for defamation, etc ...
MEDIA - well, to assume that they are all 'totally independent' is flawed, but they (media and journalists) are duty bound to aspire to be independent, and provide the reader with all the differing opinions in an issue.
But, being human, journalist and editors also do have their own opinions, and inadvertently this influences their writings and their reports.
Media and journalist also are affected by 'FEAR' - fear of being targeted for what they write and report. The risk is higher when they write and report on matters that is critical of government or 'powerful' politicians. After all, Malaysian government has a history of suspending media agencies - or even 'killing' media in the past. Not only was it difficult to register a media agency, but the threat of suspension and revocation of license is also high. Then, there are these defamation suits when courts awards HIGH damages...and also recently 'contempt' actions initiated by the government...and, of course, bad laws.

And, of course, there are those bad unjust laws like the SEDITION Act, 'anti-fake news' laws, etc ..
In this modern day and age, no more do we need to depend on media agencies, we now have the ability of communicating with many people through social media and/or the internet > and so, now even the ordinary you and I are at risk...
DEFAMATION SUITS against the Media, editors and journalists - and the awarding by Court HIGH damages is also a threat to freedom of expression, opinion and press freedom...It scares people into 'SILENCE' --- it deters freedom of expression/opinion...Courts should review policy on Damages ... and must consider whether their high awards are causing a denial of the right to public participation - which include the right to express oneself including opinion. The expectation of persons to VERIFY the truth of one's statement with scientific facts/evidence is onerous for the ordinary lay person.
How many defamation suits against people participation in government decision making(including calling for revocation of decisions), and media reports of such nature had even ended by trial - many a time, an imbalanced playing field, has forced the parties sued to 'apologize' and 'settle' - After that, most of these HR Defenders just go 'silent' - do we still hear from the people protesting Lynas or the Raub Gold Mine? Is that what we want - a silent people that allows government and corporation to do as they please unchecked? Malaysian government fails to encourage peoples' participation and people expressing their views...

MEDIA is also affected - today in Malaysia, whenever an industrial accident happens in a factory which causes death, serious injury, leaks of poisonous gas/substance into the community - have you not noticed that most media reports do not name the factory or company involved...why? Fear of legal suits? Transparency? Denial of our right to information? ... Malaysians too, on social media, are sharing less about issues of rights violations and issues of concern about what is happening in Malaysia... freedom of expression/opinion suffers - we are denied the views of the ordinary person..
Media today, even the so-called 'alternative media' plays 'safe' reporting what the government says ...what Minister says...what prominent politicians say... Take the Top Glove 'forced labour' allegations, why is the Malaysian media doing 'investigative journalism', and telling us whether it is true or false, and what the government is doing..
Anwar Ibrahim sued TV3 and Utusan Melayu ---- he settled with Utusan Melayu apparently for RM50,000, and the High Court ordered TV3 and its managing Director to pay Anwar RM1.1 million. The Court of Appeal recently reduced that sum to RM600,000
RM600,000 - for defamation - for affecting Anwar's image? Is it excessive?
RM600,000 - is the minimum wage(RM1,200) of 500 workers, wages for 500 months(or 41 plus years?)
Is that not too EXCESSIVE? The decision that the report/s were DEFAMATORY should be sufficient, no need for damages - maybe COST awarded could be RM10,000(or less?)
How much do a person who was tortured and killed by police get in a civil suit, where large damages against government for failing in their duties is justified...
But large DAMAGES against Media, journalist, editors, bloggers or an ordinary person is just TOO UNJUST ...
To prevent PUBLIC PARTICIPATION, CORPORATIONS and governments have commenced legal suits, and now these 'SLAPP - Strategic Legal Action Against Public Participation' is condemned... In Malaysia, some corporation are using this...
But, when Anwar and other Opposition politicians also start using litigation and other instruments in the administration of justice against MEDIA and people in our 'DEMOCRATIC' Malaysia, it is a sad day for Malaysia....People are also getting scared to honestly express their opinions... they are yet again forced into silence...into not participating by way of expression of their views and opinions.
To believe, that only politicians have a right of speech, expression, opinion ...is not the country I want. Everyone's rights must be respected...
If someone says something wrong about you - RESPOND with your words...and guess what - people like Anwar and politicians have so much better access to media and the people...compared to the small persons in Malaysia. Convince the people ...not the courts...

What did Anwar do with the RM600,000? Spend it for enhancement of freedom of expression/speech/opinion and media in Malaysia? Contributed to a 'Legal Defence Fund' that will support ordinary people, bloggers, journalist and media in their defence against cases like defamation, sedition, etc ...
At the end of the day, whenever there is a defamation suit against the ordinary person, bloggers, community human rights defenders, journalist, media - what happens is that they 'apologize' or 'settle' - and the reason for this is that they simply cannot afford to fight on in court...JUSTICE?
Media and journalist, should remember their role and responsibility and uphold the cause of justice without fear or favour...
There is today really not much difference about mainstream or alternative media - there is almost no news about the people's struggle for justice - farmers, fisherman, community human rights defenders, workers, trade unions --- it only seems to be reporting what government says, what opposition parties says, in-fighting in political parties, etc ... Remember, the whole 1MDB-SRC and kleptocracy was not exposed by local media? What new wrongdoings do the media expose? Is this also not the role of media?
Some Reported defamation suits against media and HR Defenders by corporations

• * Raub Australian Gold Mining (RAGM) filing three defamation suits against three members of the Ban Cyanide Action Group (BCAC), which has been critical of the company's gold mining in Bukit Koman, Raub, Pahang. - BCAC's chairperson Wong Kim Hoong, vice-chairperson Hue Shieh Lee, and secretary Hue Fui How.(Malaysiakini, 8/9/2013) >>> 8/12/2014 environmental non-governmental organisation apologised to mining firm Raub Australian Gold Mining Sdn Bhd (RAGM) over defamatory statements linked to its mining of Bukit Koman, Raub.

• In April 2012 Australian rare earths miner Lynas Corporation (ASX:LYC), has filed a defamation action against Malaysian protestors and opponents over their criticism of the company's rare earth plant (LAMP), which will process ores shipped from Western Australia. According to Brisbane Times, Lynas action at the Kuala Lumpur High Court targets mainly independent media Free Malaysia Today and blog-based opinionated opposition group Stop Lynas's (SMSL) directors and committee members over an open letter published on the group's web site

• Lynas Corporation Ltd and Lynas Malaysia Sdn Bhd sued FMT's parent company, MToday News Sdn Bhd, claiming that the article "Lynas Must Go" dated March 6 also contained "false", "damaging" and "defamatory" statements. >>> 27/7/2012 - Free Malaysia Today (FMT), apologised to Lynas over an allegedly defamatory article published on its website… "We apologise for these publications as such claims do not have a scientific basis. The regulatory review of the Lynas plant has been thorough and diligent,"…as part of terms of the settlement, Lynas withdrew the suit and the defendant gave the undertaking not to publish any more anti-Lynas statements.

Some reported defamation suits against media by politicians(there are others):---
•January 2012 - Anwar filed the suit on January 10, 2012 seeking RM50 million in damages for the defamatory articles which appeared on the front page and page 10 of Utusan Malaysia.

•23/11/2012 - PKR's Nurul Izzah Anwar filed today a defamation suit against Umno-owned Utusan Malaysia, claiming the newspaper had twisted her remarks at a recent forum to endorse apostasy among Malays — a highly sensitive issue in mainly Muslim Malaysia.

•June 2014 - Datuk Seri Najib Tun Razak has filed a libel suit, allegedly over readers comments published by the website, against online news publisher Mkini Dotcom Sdn Bhd and two of its editors.

•19/12/2014 - Pahang Menteri Besar Adnan Yaakob has sued Utusan Melayu (Malaysia) Berhad for its article, "Hebat Sangatkah Adnan", which was published last November.

•October 2015 - Anwar Ibrahim sues Mazlan Ismail, TV3, Utusan for defamation. He is seeking for general, aggravated and exemplary damages and an injunction to prohibit the defendants from repeating the republication of the defamatory statements

* March, 2021 - Umno president Datuk Seri Ahmad Zahid Hamidi has filed a defamation lawsuit against media outlet Malaysiakini to seek RM220 million in compensation over the publishing of news reports on his corruption trial and its readers' comments
SUPPORT POLITICAL PARTIES AND POLITICIANS WHO ARE FOR PEOPLES' PARTICIPATION, FOR FREEDOM OF EXPRESSION/OPINION AND PRESS FREEDOM...


Court of Appeal reduces damages awarded in TV3-Anwar defamation suit to RM600,000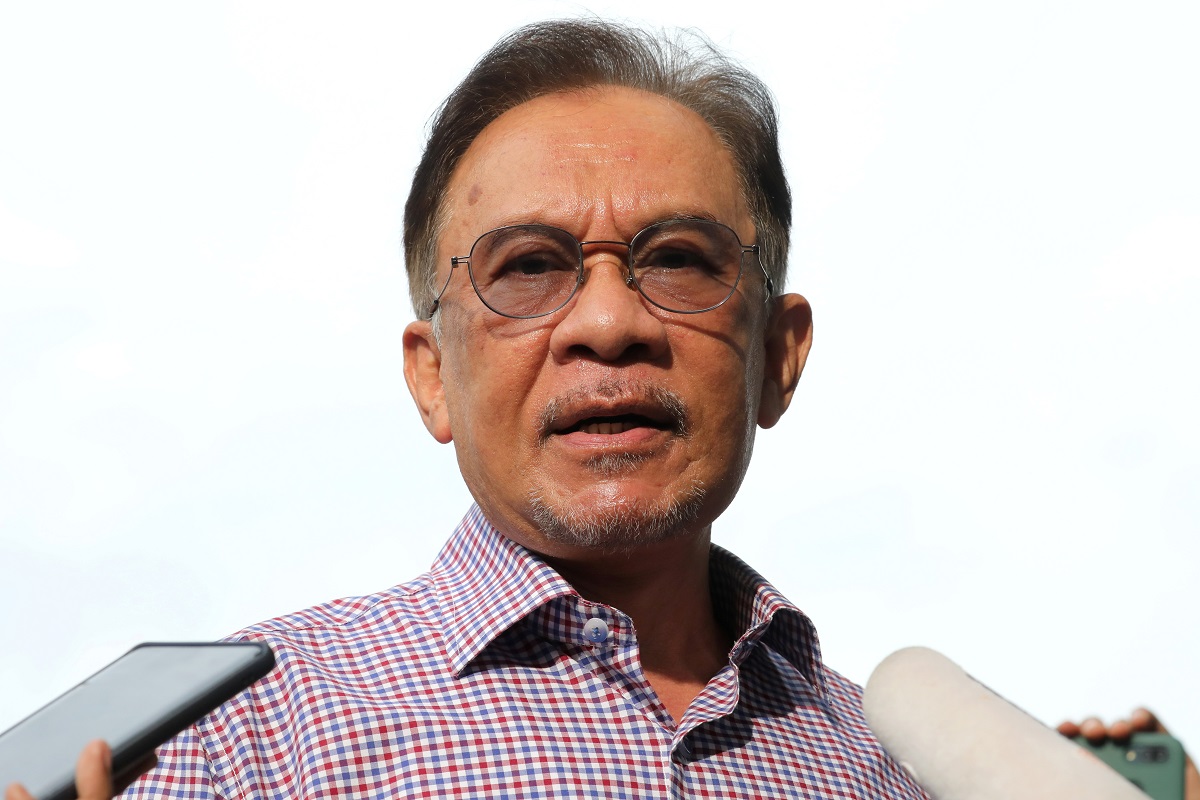 PUTRAJAYA (May 3): The Court of Appeal today reduced damages which Sistem Televisyen Malaysia Bhd (TV3) and the then Media Prima Bhd and Current Affairs Radio and Television group managing director Datuk Shaharudin Abdul Latif have to pay to opposition leader Datuk Seri Anwar Ibrahim for defamation.
From an amount of RM1.1 million for aggravated and exemplary damages ordered by the High Court, the three-member bench allowed TV3 and Shaharudin's appeal to reduce the quantum to a global sum of RM600,000.
The award is over the television station's defamatory report which accused the PKR president and Port Dickson member of Parliament of being one of the masterminds of the Lahad Datu incursion in Sabah in 2013.
Justice Datuk Has Zanah Mehat, who led the bench, allowed the appeal to reduce the damages after hearing submissions from counsel J Leela, who appeared for Anwar, and counsel Liew Teck Huat for TV3.
"We are allowing the appeal in part where we will vary the award given in May 2018, which separated the exemplary and aggravated damages. We award the global sum of RM600,000 for general and aggravated damages," she said.
The other judges were Justices Datuk P Ravinthran and Datuk Mohd Soffian Abdul Razak.
The bench also ordered parties to bear their own costs of the appeal which was allowed in part.
Liew claimed that the High Court's judgement on the defamation suit is not meant to overly punish the defendant (TV3).
The television station's counsel stood firm that TV3 was only being a responsible news distributor that relayed information from reports they received from international media and did not mean any ill intent to the opposition leader.
He argued that the order for damages being separate should not have been made by the High Court, as the judge did not follow present judicial trends in granting damages and appealed for a global sum of RM300,000 in general, aggravated and exemplary damages.
Ravinthran asked Liew that if High Court Judge Datuk Ahmad Zaidi Ibrahim's judgement deemed that TV3's actions were malicious, and questioned if it was fair for the TV3 counsel to state in his submission that there was no malice in the television station's actions.
He replied that the High Court judge's judgement that TV3's actions were malicious was based on the television station not verifying the information before publishing its report and this alone should not constitute higher damages.
Meanwhile, Anwar's counsel replied that TV3's actions were malicious, citing Justice Ahmad Zaidi's ground of judgements.
She pointed out that TV3 was given several opportunities to settle this case out of court and withdraw its report, which was published right before the 2013 general elections, but they refused to do so.
"There should be a penal element to irresponsible journalism, therefore the damages are not unwarranted as there were clear indicators of malice
"Unlike Utusan Malaysia, which apologised and retracted their article, TV3 did not apologise," J Leela said.
TV3 was previously ordered by the Kuala Lumpur High Court on May 14, 2018, to pay a total of RM1.1 million in damages to Anwar after the television station had falsely reported that he was linked to the Lahad Datu intrusion in Sabah eight years ago.
Justice Ahmad Zaidi granted the amount after finding the television station had failed to practise responsible journalism when it did not verify the authenticity of the news before airing it in its Buletin Utama on March 2, 2013.
The High Court found that there was malice on TV3's part for broadcasting news which was purely based on Utusan Melayu (M) Bhd's report.
Justice Ahmad Zaidi added that despite Utusan admitting that its report was false and had no basis, TV3 was still firm in not settling the suit.
The High Court judge ordered the television station to pay RM600,000 in general damages, RM250,000 in aggravated and exemplary damages each, and RM40,000 as costs to the opposition leader.
Anwar had filed the suit against Utusan Melayu, Utusan's former group editor-in-chief Abdul Aziz Ishak, TV3, Shaharudin, and Buletin Utama news editor Ing Boon Seng on March 8, 2013.
The Port Dickson MP sued them over the front-page article "Ketua Pembangkang dikaitkan dengan pencerobohan?" (Opposition leader linked to intrusion), published in Utusan Malaysia on March 2, 2013.
Anwar had reached an agreement with Utusan and its former group editor-in-chief Datuk Abdul Aziz Ishak to settle the case on Oct 5, 2016, after the company's counsel read out a statement of regret on behalf of the company in open court as part of the terms of settlement.
Under the terms, Utusan and Abdul Aziz agreed to pay Anwar RM50,000 in damages and publish the statement of regret.
Zahid sues Malaysiakini for alleged defamation on news coverage of trial, readers' comments; seeks RM220m
Subscribe to our Telegram channel for the latest updates on news you need to know.
---
KUALA LUMPUR, March 26 — Umno president Datuk Seri Ahmad Zahid Hamidi has filed a defamation lawsuit against media outlet Malaysiakini to seek RM220 million in compensation over the publishing of news reports on his corruption trial and its readers' comments about him.
In the defamation lawsuit filed at the High Court in Kuala Lumpur on March 24, Zahid, who is the former deputy prime minister and also currently the Bagan Datuk MP, named three defendants, namely Malaysiakini's company Mkini Dotcom Sdn Bhd, its editor-in-chief Steven Gan and a reporter.
In court papers for Zahid's defamation suit, which were sighted by Malay Mail, his lawyers singled out 22 articles published by Malaysiakini for allegedly containing defamatory elements relating to Zahid's trial.
The 22 articles listed in the court papers included seven news reports by national news agency Bernama all in Bahasa Malaysia, news reports by Malaysiakini all in Bahasa Malaysia, and also an article containing Malaysiakini's readers' comments which were in English.
Among other things, Zahid claimed the articles to be false and were allegedly published with malice, further claiming that the articles and readers' comments had harmed his reputation as an MP responsible for ensuring the people's welfare.
Zahid also claimed that the allegedly defamatory articles and comments had caused him to be criticised and brought about a loss of confidence in society towards him, also claiming that the publishing of such articles had lowered his dignity as the Umno president, Barisan Nasional chairman and Bagan Datuk MP and allegedly caused his credibility to be questioned by the public.
In his defamation lawsuit filed through his lawyers Shahrul Hamidi & Haziq, Zahid said he was seeking general damages or compensation of RM10 million each for all 22 articles or a total of RM220 million, as well as aggravated damages, and exemplary damages.
Also as part of the defamation lawsuit, Zahid sought for a court order for the articles to be removed immediately, as well as injunctions to prevent the publishing of the articles and comments and to prevent the publishing of further defamatory articles and comments on his trial.
He also sought for court orders for Malaysiakini, its editor-in-chief and its reporter to publish a written unconditional apology using terms to be determined by Zahid in newspapers of his choice.
In the court papers, Zahid's lawyers said 21 letters of demands had been sent on August 17, 2020 to Malaysiakini over the articles to demand compensation totalling RM210 million, as well as unconditional retraction of the articles and a written apology in newspapers, among other things.
Zahid's lawyers said Malaysiakini's lawyers had in a letter dated August 28, 2020 responded by denying that any law had been breached over the articles, with Zahid's lawyers indicating in the defamation lawsuit that court action was needed to stop the publication of the articles.
Today, in reporting on the filing of Zahid's defamation lawsuit, Malaysiakini said however that its lawyers had in the August 2020 response sought further clarification on which parts of the articles were allegedly defamatory.
"Your notices of demand do not make it clear the particular words and or comments in the appendices which are alleged to be defamatory of your client, but make a general statement that all those news reports bear the same meanings, and are alleged to be defamatory to your client," Malaysiakini quoted its lawyer K. Shanmuga as writing.
Malaysiakini today also said that Zahid's lawyers had not responded to the request for clarification, but had in the defamation lawsuit filed last week singled out the parts in the articles and the readers' comments that they believed were defamatory against Zahid.
Zahid, who is also a former home minister, is facing 47 charges in the trial mentioned in his defamation lawsuit.
The 47 charges are 12 counts of criminal breach of trust in relation to charitable foundation Yayasan Akalbudi's funds where he is a trustee, 27 counts of money laundering, and eight counts of bribery charges.
Zahid's trial had started on November 18, 2019, with 99 prosecution witnesses having testified over 53 days of trial. Hundreds of documents were presented by the prosecution during trial.
The prosecution on March 19, 2021 rested its case, with the High Court then fixing May 28 for both the prosecution and the defence to file in their written submissions, and June 11 for both sides to file in replies to the written submissions.
The High Court also fixed five days for oral submissions on June 28, 29, 30 and July 1 and 2 for lawyers from both sides to present their final arguments, before High Court judge Collin Lawrence Sequerah decides on whether the prosecution had made out its prima facie case and whether Zahid would be called to enter his defence.
A decision at the end of the prosecution case would be on whether there is a sufficient case for Zahid to be called to enter his defence or whether he would be freed of the charges. - Malay Mail, 26/3/2021