ELECTORAL REFORMS - Well, the new Pakatan Harapan government, after being victorious in the last General Elections seems to have no more interest in this - now, that they have managed to get the 6 past Election Commission members to RESIGN allowing them to appoint their people in the EC - Art Harun is Chief, Azmi Sharom is Deputy, Zoe Randhawa(from Bersih) is also a EC Commissioner now...
114 Constitution of Election Commission (Federal Constitution)

(3) A member of the Election Commission shall cease to hold office on attaining the age of sixty-six years or on becoming disqualified under Clause (4) and may at any time resign his office by writing under his hand addressed to the Yang di-Pertuan Agong, but shall not be removed from office except on the like grounds and in the like manner as a judge of the Federal Court.
We recall that after GE14, the new government's position was '...
There is

no need to set up a tribunal or a Royal Commission of Inquiry (RCI) to investigate allegations of misconduct committed by the Election Commission (EC) in the run-up to the 14th General Election

.
WHY?

"Following the latest development with regard to the resignations of members of the Election Commission, the issue over the setting up of a tribunal does not arise any longer...."As for the RCI, there is no need for it to be set at this point in time as the election issues raised have been dealt with by the courts and will be addressed by the new EC chairman,"
BUT the Minister was wrong ...because many issues like gerrymandering and constituency boundaries, etc will not be UNDONE...or corrected unless it was shown that the past EC Commissioners acted against the law
LATER the government bowed down to public pressure and they set up a TRIBUNAL '...
to look into alleged offenses by six former Election Commission (EC) members...'
Then, in '....

a 3-2 vote, the tribunal decided that any proceedings held would be merely academic since the six former EC members had already resigned. Retired Chief Judge of Sabah and Sarawak Tan Sri Steve Shim had said that the proceedings are not in public or national interest as it would take up time, energy, and expense....'
Interestingly, the Tribunal took a similar position of the government after GE14.
Just because the EC members resigned does not mean one should investigate the alleged wrongdoings or crimes of these former Commissioners....IT IS NOT RIGHT. If that be the principle, then could it also not be used for the former Prime Minister and former Ministers or former Chief of MACC, etc???
If the said Election Commission Commissioners did not exercise their powers in accordance to law, then their PAST ACTIONS including the Constituency delineation exercise prior to GE 14 would be INVALID - and the new EC (after the old Commissioners resigned) could CORRECT THINGS WITH A NEW CONSTITUENCY DELINEATION EXERCISE...if not, according to law, they have to wait for 8 years to correct the wrongdoings ...i.e. in 2026...which would be after the next General Elections(or after the next 2 General Elections)...Malaysians will thus have to suffer the injustices brought about the actions of the Election Commission done in 2018..
ONE BIGGEST ISSUES, in my opinion, are ... UNEQUAL SIZE OF CONSTITUENCIES...there are other issues
In the 2018 election, the largest parliamentary constituency, P102 Bangi in Selangor, had 178,190 voters—about nine times of 19,592 voters in the smallest, P207 Igan in Sarawak.
The opposition-held seat formerly known as Serdang has seen the number of voters spike from 133,139 in the 2013 general election to 178,959 now, following a redelineation of electoral boundaries by the Election Commission (EC).....In contrast, Sabak Bernam, the smallest constituency in the state that is held by the ruling Barisan Nasional coalition, has 37,126 voters,
A perusal of seats would see that many seats that would have been won by the Opposition had a larger number of voters ...compared to the then BN 'safe seats'...
Your rights of representation in Parliament is diminished if you come from constituencies with large number of voters...This is UNJUST > We are not talking about equal number of voters in all constituencies ...but the difference really should not be more than 10-20k.
EC Commissioners cannot be TERMINATED easily ...their position is safe until retirement age...Some how, in Malaysia the former EC Commissioners resigned on their own after GE14....But why is there no investigations or criminal actions against them...? WHY?
I wonder whether if it was determined that the then Election Commissioners broke the law, in the 2018 Constituency delineation exercise, then the constituency delineation would be INVALID...and, as such the Elections in all the Constituencies affected by that delineation exercise would be INVALID - and there may be a need for new ELECTIONS in all these constituencies based on the previous delineation exercise....Was this what the new PH government afraid of especially after they won in GE14?
AFRAID they must be for today, many Malaysians are getting more and more disappointed with PH following its failures to bring about fast the promised reforms. The recent Tanjong Piai election results indicates how disappointed Malaysians are...
There is also growing disappointment with the new EC Chief and Commissioners...as we continue to see allegations of abuse of government machinery/funds, etc ...and no action against perpetrators. EC now laments its lack of investigation and prosecution powers in dealing with election offenses. They are still setting too short and unjust 'campaign periods'. The rights to even campaign freely during elections are still impeded by permit requirements by others, other than the EC.
The Peaceful Assembly Act still does not allow for right to organise peaceful assembly without first having to give the police 5-days notice, getting permission from owners of public space, compliance with conditions of police...So, after nominations, there can be no public talks by candidates until the 6th day of campaigning...at the earliest, as the election period is none an exemption under the Peaceful Assembly Act???
The Election Commission is asking people to make complaints directly to the relevant enforcement agencies ...they could get the complaints and then submit themselves to the relevant agencies.
They could even come out with a comprehensive report after heach and every by-elections(or elections) and push the police or MACC or local council to act...
The EC could also be drafting and submitting laws or amendments to laws to make Elections FREE and FAIR...Could they not? Laws that will give powers to the EC to investigate and/or prosecute...
The EC could investigate the actions of past EC members...and submit a report and recomendations to the King, Parliament, public..
Post GE14, the new government set up the Institutional Reform Committee (IRC) in May 2018 but the REPORT AND RECOMENDATIONS OF THE IRC STILL IS A 'SECRET' - Malaysians have a right to know. They may even have other suggestions...or maybe even not agree with the recommendations of the IRC.
Then, there was the Electoral Reform Committee (ERC) in February 2019....and???
The PH government 'smartly' co-opted some of the leaders and key personalities of BERSIH and other HR Defender groups into government....thus weakening the public call for REFORMS.
From BERSIH - The Chair Maria Chin Abdullah was given a seat to contest now a PH

Member of Parliament

, Zoe Randawa appointed as EC Commissioner, Shahrul Aman quit as Bersih's acting chairman to a job – as Education Minister Maszlee Malik's press secretary. Mandeep of BERSIH is now a special functions officer for Multimedia and Communications Minister Gobind Singh. Art Harun and Azmi Sharom were also former active human rights defenders - now Election Commission Chair and Deputy.
FREE AND FAIR ELECTIONS still on hold ....If the former EC members acted against the law, the the 2018 delineation exercise may be 'INVALID' - then, we should just have new elections based on previous electoral boaundaries. New EC should now do a new delineation exercise and correct the wrongs of the past. If there is a need to increase number of Constituencies in some States, do it...NOW. One easy thing that could have been done was to increase campaign period to at least 30 days...but Kimanis also still 14 days, just like during BN reign??
Senatorial Elections - How long do Malaysians have to wait to vote in their Senators?
120 Direct elections to the Senate

Where in accordance with Clause (4) of Article 45 provision is made by Parliament for the election of Senators by the direct vote of electors -




(a) the whole of a State shall form a single constituency and each elector shall have as many votes at any election to the Senate as there are seats to be filled in that election; and
(b) the electoral rolls for elections to the House of Representatives shall also be the electoral rolls for elections to the Senate; and
(c) Articles 118, 118A and 119 shall apply in relation to elections to the Senate as they apply in relation to elections to the House of Representatives.
Local Government Elections - The Minisiter earlier said 3 years > We should be voting in our Local Councilors by end 2020...but looking at PH, many believe that PH will find some reason or another to delay and delay ...see what happened to the abolition of SOSMA, Sedition Act, Detention Without Trial....
Maybe Art Harun, Azmi Sharom, Zoe Randhawa and other good people should just RESIGN if PH is not serious about Electoral Reforms?
See earlier posts:-
AG 'disappointed' with tribunal decision not to probe ex-EC members


Nation
Friday, 24 May 2019 6:23 AM MYT

By Rashvinjeet S. Bedi





KUALA LUMPUR: Attorney General Tommy Thomas (pic) is "disappointed" that the tribunal set up to look into alleged offences by six former Election Commission (EC) members in the 14th General Election has decided not to proceed because it would be academic and expensive.
"I think right-thinking people in Malaysia would question: Does it matter if it takes two months and is expensive to inquire the truth?" he said to reporters on Friday (May 24) after the tribunal announced its decision.
In a 3-2 vote, the tribunal decided that any proceedings held would be merely academic since the six former EC members had already resigned.
Retired Chief Judge of Sabah and Sarawak Tan Sri Steve Shim had said that the proceedings are not in public or national interest as it would take up time, energy, and expense.
"If the majority took into account convenience, then it is very disappointing. The minority recognised the importance of the matter," said Thomas.
"Any of you who lived in Malaysia in the two to three years leading to GE14 would recognise these complaints," he added.
Thomas said there would be five separate recommendations on the matter to the Yang di-Pertuan Agong and the Prime Minister.
He said the King would decide under Article 125(3) of the Federal Constitution if the proceedings go ahead or otherwise, as the tribunal panel only made recommendations.
He added that he would advise the government to release these recommendations to the public.
"I am very disappointed. I think all right-thinking Malaysians will be disappointed.
"All of us who took part in the elections will be disappointed. To say that the country can't afford time and convenience to investigate the matter is not correct.
"The country can afford it," he said.
The six former EC members concerned are Tan Sri Othman Mahmood, Datuk Md Yusop Mansor, Datuk Abdul Aziz Khalidin, Datuk Sulaiman Narawi, Datuk K. Bala Singam Karupiah and Datuk Leo Chong Cheong.
Bersih 2.0 chairman Thomas Fann also expressed disappointment with the decision of the tribunal.
"We had been looking forward with the tribunal going on simply because it would vindicate our assertions so far that we did not have free and fair elections despite the result," he said.
In August 2018, the electoral reform group Bersih 2.0 sent a letter to Prime Minister Tun Dr Mahathir Mohamad and urged him to investigate the commission, alleging that they had committed several offences, including malapportionment and gerrymandering.
Fann said they would explore with lawyers the next course of action.
"Certainly there is a sense that among ourselves and the public that justice wasn't served today and we have to continue to seek justice in different ways," said Fann.
Counsel K. Balaguru, who is acting for Bala Singam, said they accepted the decision of the tribunal and would wait and see what the Yang di-Pertuan Agong would do.
"Then it is up to the Attorney General as advisor to the King to advise him on what ought to be done. You see the irony in this," he said. -
Star, 24/5/2019
Liew: No need to form tribunal or RCI over allegations of EC misconduct

Nation
Tuesday, 23 Oct 2018 4:07 AM MYT
By MARTIN CARVALHO, RAHIMY RAHIM and FATIMAH ZAINAL
KUALA LUMPUR: There is no need to set up a tribunal or a Royal Commission of Inquiry (RCI) to investigate allegations of misconduct committed by the Election Commission (EC) in the run-up to the 14th General Election, says Minister in the Prime Minister's Department Datuk Liew Vui Keong.
"Following the latest development with regard to the resignations of members of the Election Commission, the issue over the setting up of a tribunal does not arise any longer.
"As for the RCI, there is no need for it to be set at this point in time as the election issues raised have been dealt with by the courts and will be addressed by the new EC chairman," he said when answering a question raised by Khoo Poay Tong (PH-Kota Melaka) in Parliament on Tuesday (Oct 23).
Liew, who is also de facto law minister, noted that issues on electoral misconduct including redelineation exercise were raised through election petitions with the courts, where some were rejected.
He added that on Oct 15, EC deputy chairman Tan Sri Othman Mahmood and four commissioners had agreed to end their tenure prematurely on Jan 1.
He said the appointment of Azhar Azizan Harun as the new EC chairman and new commissioners would see the beginning of a new era of reforms for the EC.
To a question by Tan Sri Annuar Musa (BN-Ketereh) on whether the EC's performance would be affected by Azhar's appointment as the latter was an activist with no administrative experience, Liew said it would not.
"Although he (Azhar) is an activist, I am certain he will discharge his responsibilities in a professional manner," he added.
Human rights lawyer Azhar, 56, or popularly known as Art Harun, is a well-known activist writer.
He was appointed to head the EC on Sept 15, replacing Tan Sri Mohd Hashim Abdullah whose tenure had been shortened.
Hashim's tenure was initially supposed to end in August, 2020.-
Star, 23/10/2018
Bersih 2.0 wants RCI on GE14 misconduct after tribunal quits
KUALA LUMPUR, May 31 — Electoral watchdog Bersih 2.0 today called for a Royal Commission of Inquiry (RCI) into power abuse allegations that dogged the previous Electoral Commission (EC) during Election 2018.

The group's chairman Thomas Fann said an RCI was needed after a tribunal on the matter decided that investigating the alleged wrongdoings of six EC members in GE14 would be academic as they were no longer in service.

"What is important is the process of investigation where the public will find out what happened during the period running up to GE14, and how the EC attempted to rob us of a free and fair election.

"The RCI is also to restore public confidence back with the EC, as we can always have closed-door meetings, but anything not made public would not satisfy the public," he told a news conference here.
Fann said the proposed RCI should take a bigger scope compared to the one that guided the tribunal.

"There are those who might think Bersih is on a witch hunt, but that is wrong, as this is part of our struggle for a better democracy; whoever was wrong must be held responsible," he added.
Bersih 2.0 suggested the RCI look further back into possible misconduct committed between May 6, 2013 and May 10, 2018.

The group also suggested former EC members such as its former chairman Tan Sri Mohd Hashim Abdullah, his former deputy Tan Sri Othman Mahmood called as witnesses in the proposed RCI.

Among the alleged misconduct outlined by Bersih include gerrymandering through constituency malapportionment, publishing misleading delimitation plans which did not reflect an area's true demography, implementing a flawed postal voting system, and the supposed destruction of voters' addresses in the electoral roll.

It also listed as offences the past EC's decision to hold polling on a working weekday, setting electoral campaigns as short as 11 days, disallowing accredited observations by independent observers on polling day, the refusal of EC officers to sign off on Form 14 and delaying the announcement of the voting results, and stopping voters who had queued up for hours earlier from casting their ballot once the clock struck 5pm, which is when polling used to end officially. - Malay Mail, 31/5/2019

Re-delineation before the elections
A Humble Submission
Monday, 05 Feb 2018 5:37 AM MYT
By
Syahredzan Johan
A couple of weeks ago, the Elections Commission (EC) issued the second notice for the re-delineation proposals for the state of Selangor. As a response, non-governmental organisation Bersih 2.0 issued a media statement calling for 100,000 voters in Selangor to object to the said re-delineation proposals.
Re-delineation is a process whereby the EC will review the electoral boundaries of Parliament and State Legislative Assembly constituencies. It will be conducted at least once every 8 years.
The reason why it is conducted is to ensure that electoral boundaries comply with the principles enumerated under the Thirteenth Schedule of the Federal Constitution.
These principles include the administrative facilities available within the constituencies for the establishment of the necessary registration and polling machines and the maintenance of local ties.
The principles also include ensuring that the number of voters within each constituency in a State ought to be approximately equal.
After the review is made and the proposals are drafted, the EC will then issue a notice in the government gazette and local newspapers of their proposals for re-delineation and will display the proposals in the public places for the public to see.
Within one month of publication of the notice, if there are objections from any State Government, local authority or 100 voters in a constituency, then the EC must conduct a local inquiry for the constituencies where there are objections.
In the local inquiry, representations can be made by the objectors as to why the objection is made towards the proposals by the EC.
The EC then takes into account the objection and may issue new proposals. The updated proposal must again be displayed and a notice must be issued. The process for submitting objections and local inquiries will take place again.
Once the inquiries are completed, the EC will then submit a final report to the Prime Minister. The Prime Minister will then table the report and the re-delineation proposals can be passed by Parliament by a simple majority.
At this juncture, for the current re-delineation exercise, the EC has completed two rounds of local inquiries for the states of Malaya, apart from Selangor. The process in Selangor has been delayed after the State government challenged the proposals in Court and this stopped the process temporarily while the case was ongoing.
However, last year the Kuala Lumpur High Court dismissed the judicial review by the Selangor government, following a couple of Court of Appeal decisions which held, amongst others, that the proposals cannot be challenged in Court at this stage.
With the dismissal of the judicial review, the re-delineation process resumed in Selangor. The EC has already had one round of local inquiries. The second notice has been published and the one month to submit objections for this notice is well underway.
EC would want to finalise the whole process before the next General Elections, so that the elections will take place with the new delineated boundaries. As such, the final report on the re-delineation must be completed and submitted to the Prime Minister before the next Parliamentary sitting in March.
The current re-delineation proposals have been widely criticised. Many say that the principles of the Thirteenth Schedule have not been followed.
Over and above these criticisms, what is most important is that the people understand the significance and impact of re-delineation, especially since it concerns our fundamental right to vote. If we are unhappy with the proposals then we should make our views known to the EC.
The writer has been involved with some judicial review proceedings to challenge the current re-delineation proposals - Star, 5/2/2018
The post-GE14 electoral reform journey
COMMENT

| The watershed 14th general election marked a historic step forward in the path of electoral reforms.
The outcome of GE14 proved that, despite high levels of boundary rigging and polling day malpractices, an electorally aware population can overwhelm all electoral odds.
After the dust of GE14 had settled, noticeable changes in the electoral mood became visible during a string of by-elections. The leadership change at the Election Commission and the inclusion of NGOs like Tindak Malaysia have allowed the evolution of democratic reforms.
Reflecting upon the first anniversary of the historic general election, we from Tindak Malaysia would like to share with readers our journey along this exciting road.
Before looking forward, it is important to step back in time and understand what Tindak Malaysia had faced previously.
Formed around the time of the then-watershed GE12, which began the change process, Tindak Malaysia is a loosely held electoral reform NGO, comprising professionals from many fields.
We introduced and popularised the terms "polling agent", "counting agent" and "barung agent" (abbreviated to
Pacaba
, which later became just Paca, since barung agents became irrelevant).
Our volunteers studied election laws and created role plays of electoral scenarios to enable volunteers to understand the polling processes. They were taught how polls should be properly conducted.
The volunteers then trained trainers, crisscrossing the country to reach a wider audience in preparation for GE13.
The Paca training was conducted in various languages to cater to participants.
These training methods laid the foundation for the many Paca groups that sprouted everywhere in preparation for GE14. In many polling stations, trained Paca were able to stop counting malpractices and saved the elections.
Unbalanced electoral boundaries
However, our analysis showed that no matter how well the Paca guarded the process, the election outcome was predetermined by unbalanced electoral boundaries.
From 2011, a small group of volunteers with technical backgrounds began to explore the delineation of constituencies.
Politically biased delineation is a decades-old issue. We wanted to empower the electors to object meaningfully during the forthcoming redelineation exercise.
As such, we initiated the first-ever civil society effort in digitising nearly 8,000 polling districts, which are the building blocks for constituency formation. We analysed existing irregularities and proposed
new, balanced boundaries
.
In 2014, together with the Malaysian Bar, we organised a forum to engage the legal fraternity in order to mobilise expert help in preparing objectors for the upcoming redelineation exercise.
From the outset, we emphasised the significance of malapportionment (unbalanced constituency size), and not gerrymandering (irregular constituency boundary) as the primary issue.
We collaborated with fellow NGOs, Bersih and Engage, to conduct nationwide education roadshows. We mobilised volunteers, developed templates and prepared objectors.
Despite our groundbreaking efforts, the grossly imbalanced redelineation was bulldozed through Parliament before the elections deadline.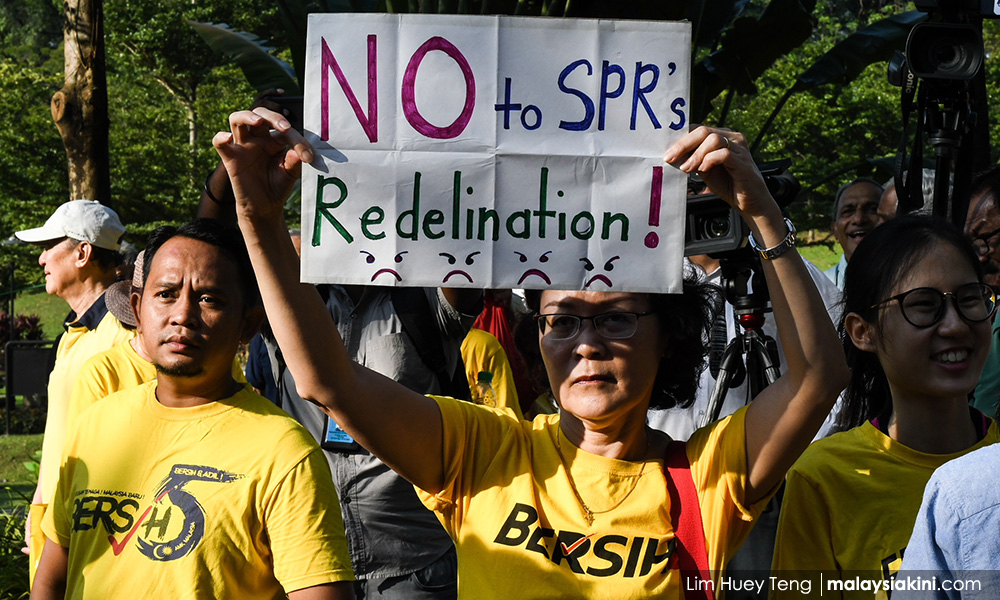 Nevertheless, the experience ignited enough public interest to impact the pre-election conversation and somewhat neutralise the imbalances of the redelineation.
Even before GE14, we were looking into electoral reforms in order to stop malpractices and ensure the independence of the EC.
In 2013, we reviewed the constitution and election-related legislation and proposed amendments to tighten rules and remove loopholes.
This proposal, which we named the Malaysian Electoral Reform Programme (Merp), was submitted to both the prime minister and the opposition leader. Of course, nothing came of that.
We later collaborated with several overseas Malaysians (members of Global Bersih) under the name
Projek Beres
to incorporate international best practices.
Changes after GE14
Following the change of the federal government in 2018, our findings were presented to those persons charged with reforming the system. These included the Institutional Reform Committee (IRC) in May 2018 and Electoral Reform Committee (ERC) in February 2019.
We are satisfied that all of our work with Paca and redelineation has yielded fruit in GE14 and now, with Projek Beres, we anticipate further reforms.
The new federal government has revamped the top leadership of the EC. This is a major step in the reform of a severely defective institution. No longer seen as an adversary, we now work with the EC on electoral reform.
For the first time, we were invited to be observers in the
Cameron Highlands
by-election. After that, we were asked to nominate presiding officers (
ketua tempat mengundi
) for later by-elections.
We have also participated in NGO-level discussions on election offences, electoral roll discrepancies and issues with delineation.
Severe malapportionment
One big challenge is the grossly imbalanced delineation of 2018 that has been gazetted and will stand for eight years.
Having conducted redelineation research since 2011, we have raised our concerns with the EC.
The biggest concern is the gross malapportionment, resulting in severely overpopulated seats like
Rantau
and
Sandakan
.
The Federal Constitution offers no recourse, since the clause controlling allowable seat size variation has been removed, leaving only the vaguely worded statement that the "number of electors within each constituency in a State ought to be approximately equal", which is subject to interpretation.
The requirement that "regard ought to be had to the inconveniences attendant on alterations of constituencies, and to the maintenance of local ties" is also open to argument and does not offer firm guidelines.
While the EC has started looking into the matter of redelineation, a revision can only be made before 2026 if the number of parliamentary and/or state seats is changed through constitutional amendment.
Ensuring sufficient facilities
One of our proposals to EC is to investigate whether the constituencies have sufficient facilities to conduct voter registration and polling. We have identified some constituencies that have violated this constitutional requirement.
For example, during the
Semenyih
by-election, voters in Kajang Prison had to travel outside of their constituency and into a neighbouring parliamentary seat to cast their vote.
Some voters whom we interviewed during the observation programme complained of difficulties in accessing the polling station.
Similarly, for the Sandakan by-election, voters of Sim-Sim are required to vote in a polling centre located in a different constituency. We expect there will be other such challenges.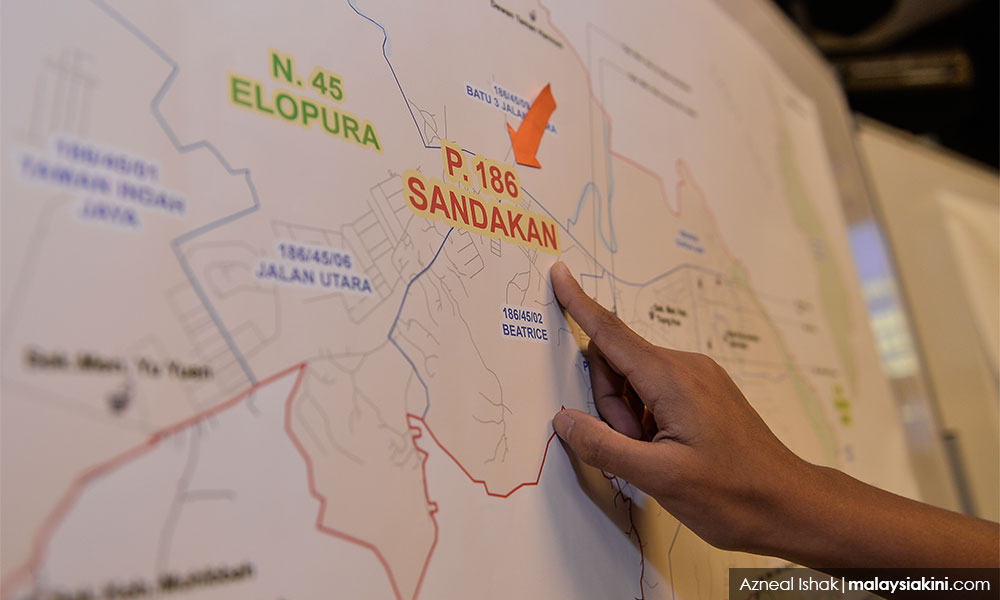 We have suggested to EC that this could be used as the basis to conduct an early redelineation.
In Sabah, additional state seats were gazetted, but have not been defined in the current delineation.
This means the last gazetted redelineation in Sabah was in 2003. A new redelineation can therefore be conducted, during which issues of malapportionment can be addressed.
Zeroing in on polling districts
We have discovered that the building blocks of a constituency, the polling districts, are key to the problem. We believe that if the definition of polling districts can be controlled, malapportionment and gerrymandering will become very difficult.
Odd-looking polling districts, caused by selective inclusion or exclusion of elector zones, will result in odd-looking constituencies, otherwise known as gerrymandering.
Some polling districts, especially in the urban areas of Selangor and Sarawak, are overpopulated and add to the overpopulation of state and parliamentary seats, which results in malapportionment.
For example, Kuala Baram in Miri, which is the largest polling district in the country, has a bigger population than Igan, which is Malaysia's smallest parliamentary constituency in terms of electorate size.
Given the poor geographical correlation between polling districts and polling stations, the allocation of polling stations in Rantau and Semenyih resulted in crossed paths and traffic jams which hindered the polling process during the respective by-elections. We expected the same in Sandakan.
Suggestions
Our suggestions to the EC, IRC and ERC are:
Voters must be assigned to the right polling districts based on their geographical location;

Polling districts must be defined to reflect the existing and future development of the area; and

Polling districts population must be controlled according to practical considerations.
We have suggested to the EC that a review of polling districts can be conducted immediately since it requires no constitutional amendment.
Once the polling districts are rectified, the EC can confidently delineate constituencies that will fulfil all constitutional requirements. The EC has reacted positively to our previous contributions and we await their final decision on this.
Remaining challenges
The enthusiasm following GE14 and the refreshing changes within the EC were very heartening to our volunteers.
However, there are still challenges to be faced along this bumpy road.
One big challenge is the bureaucracy of the EC. The top layer has been refreshed, but the lower ranks are still mired in the old bureaucratic procedures.
For example, after our volunteers were appointed as presiding officers, sudden changes were made to the final appointments without sufficient communication. We had to scramble to deploy people who were able to absorb the changes.
This was a surprise, since the very same bureaucrats had engaged well with us in discussions about the election process and voter registration.
The second challenge comes from the Malaysian public. The wave of enthusiasm that was generated before, during and immediately after GE14, has dissipated.
We realised this when our calls for observers in the Cameron Highlands, Semenyih and Rantau by-elections didn't attract even a single sign-up from people outside of our group.
Having delivered GE14, the public are now sitting back to enjoy the fruits. They have failed to understand their ongoing role in the evolution of democratic reform.
We have managed to expand our participation in the observer programme. We hope the public will at least support the effort to clean up the electoral roll.
We are witnessing a dramatic overhaul of our election system. We now have a credible EC that, having won public confidence, is spearheading reforms.
We, in Tindak Malaysia, are honoured to be part of these electoral reform activities.
While redelineation may take time, other reforms are ongoing. We will continue to work with all groups and contribute our best to a cause that will mature our elections process and allow us to elect a government we deserve.
---
TINDAK MALAYSIA is a pro-electoral reform NGO committed to uniting Malaysians through socio-economic empowerment programmes. - Malaysiakini, 12/5/2019
Lining up to vote during GE14 in Kuala Lumpur, 9 May 2018. REUTERS/Athit Perawongmetha

A new electoral system for a new Malaysia
But what needs to be done with the FPTP system itself after the victory of Pakatan Harapan (PH) in the 14th general election (GE14) in May 2018 remains insufficiently debated. I argue here that the problems with FPTP have become more stark than ever after GE14, such that consideration of wholesale reform of how Malaysians choose their government should be a top priority.
No "low-hanging fruit"
For many, electoral system change is a long term goal, and the more realistic short-run objective should be curbing malapportionment and gerrymandering while maintaining FPTP. This view rests on two assumptions: first, that the political and legal obstacles in the way of changing electoral systems are greater than those in the way of correcting partisan gerrymandering and malapportionment; second, that electoral system reform is an ideal instead of a necessity. The reality is that both may not be true.
Let's first examine the first argument, regarding the legal and political barriers. Far from being straightforward fixes, malapportionment and gerrymandering cannot be corrected and prevented without some amendments to Malaysia's federal constitution, to address three problematic provisions which have enabled malpractices.
First is Article 46, which allows the parliament to arbitrarily allocates seats across states and federal territories, and which has allowed inter-state malapportionment to worsen since 1974. Second, the demand by Section 2(c) of the Thirteenth Schedule for constituencies within the same state to be "approximately equal" is compromised by the vaguely-worded "area weightage" and the 1974 removal of a cap on maximum deviation from state averages.
Third, Section 2(d) of the Thirteenth Schedule fails to limit gerrymandering, with its weak demands for avoidance of "inconveniences" and "maintenance of local ties", with both terms undefined. Legislation which strictly defines the four terms in Sections 2(c) and 2(d) might help skirt the need for a constitutional amendment and allow the Electoral Commission to draw fairer constituency boundaries within any given state, but no correction of inter-state malapportionment is possible without amending Article 46.
To make matters worse, the flawed seat boundaries introduced by the Electoral Commission in 2015 for Sarawak and 2018 for the States of Malaya cannot be corrected until they are ready for review in 2023 and 2026 respectively. The eight-year interval, mandated by the Constitution, may be skirted to force a new review only by amending Article 46 to add at least a parliamentary constituency to every state and territory that needs fixing. Even then, however, politics would be a barrier: states with bargaining power—especially Sarawak, now with 19 opposition votes in the federal parliament where the new Pakatan Harapan (PH) government lacks a two-third majority to carry a constitutional amendment—will demand more seats than they warrant. Mitigation of intra-state malapportionment and gerrymandering may come with a huge price in inter-state malapportionment, defeating the purpose of correcting seat–vote disproportionality.
The peril of inter-state malapportionment cannot be understated. In the 2018 election, the largest parliamentary constituency, P102 Bangi in Selangor, had 178,190 voters—about nine times of 19,592 voters in the smallest, P207 Igan in Sarawak. Even after excluding the four outliers: Sabah, Sarawak, Labuan and Putrajaya, the picture is stark: the 22 constituencies in Selangor had an average of 109,776 voters, while the 14 in Pahang had an average of 58,856. Intra-state equal apportionment will not correct the injustice between voters in Selangor, Pahang, and the nine other states and the Federal Territory of Kuala Lumpur.
Facilitated by Article 46, from 1965 to 2005 the size of Malaysia's parliament grew like a teenager from 144 to 222 seats, and inter-state malapportionment simultaneously worsened, thanks to two flawed practices. First, there was no transfer of seats from demographically-shrinking states to the growing ones, so that no incumbents would lose their seat. Second, the numbers of seats was increased to reduce the burden of constituency service for parliamentarians in populous states—but this process disproportionally benefited the government's stronghold states regardless of electorate size. Any proposal to add seats in order to open the door to early redelineation is bound to deepen, not lessen, the problem.
The "wrong" two-party system
What about the argument that a large-scale rethink of the electoral system isn't necessary? For nearly three decades since 1990, opposition parties and civil society groups have been advocating for a two-coalition system as the alternative to UMNO–BN's one-coalition dominance. Modelled on UK's two-party system, the idea of two-coalition competition was to have BN and a second multi-ethnic coalition competing for the middle ground and taking turns to form government.
Multi-ethnic opposition coalitions were formed thrice to take on BN in 1990, 1999 and 2013, but all of them disintegrated after their failure to dislodge BN. Thrice, the two oldest opposition parties, the Pan-Malaysian Islamic Party (PAS) and the secular Democratic Action Party (DAP) parted over PAS' aggressive push for Islamisation. The fourth opposition coalition, Pakatan Harapan (PH), finally defeated BN this round. But BN seems to be biting the dust. With its ethnic Chinese and Indian support depleted, BN is virtually reduced to UMNO and its Borneo allies, which virtually all left UMNO within two months. Sarawak BN has gone independent in June 2018 as
Gabungan Parti Sarawak (GPS)
, while UMNO Sabah has recently teamed up with other Sabah parties to form a new coalition,
Gabungan Bersatu Sabah (GBS)
, just falling short of pulling out from its parental party.
While not happening at the national level, bipartism is emerging in four regions: PAS against UMNO in Kelantan and Terengganu; PH against UMNO for the rest of Peninsular Malaysia; GPS against PH in Sarawak; and PH and its regional ally Parti Warisan Sabah (Warisan) against GBS in Sabah. The four systems may be consolidated into two: PH versus UMNO-PAS in West Malaysia, and PH-
Warisan versus GPS-GBS in West Malaysia. Already, UMNO and PAS are fiercely attacking PH's policies, such as ratification of the
International Convention on Elimination of All Forms of Racial Discrimination (ICRED)
, as selling out Malay-Muslim rights. Meanwhile, the Borneo parties' push for autonomy may someday be upgraded to one for self-determination. However, further consolidation of Peninsular and Borneo opposition cannot happen because having PAS as an ally is too much an electoral liability in liberal Sabah and Sarawak.
Amid mounting challenges from both the Malay heartland and the Borneo periphery, PH's communal and regional opposition have no incentive to offer an inclusive and cohesive platform for the whole of Malaysia. Their immediate game is to wrest legislative seats from PH's Malay and Borneo constituencies in the next election, either to bring down PH or to force a grand coalition government. Moderation and accommodation may be on the cards when the prospect of power is within sight for UMNO, PAS, and the Borneo opposition parties—but not before they damage PH's electoral base and strain Malaysia's plural nation-state with their Malay-Muslim and Borneo nationalist demands. In West Malaysia particularly, a formal pact of UMNO-PAS would deliver a two-party system that resembles more Sri Lanka than Britain: if the ethnic majority is split between two blocs, while the minorities have only one viable choice, then the salience of ethnicity and religion will likely grow, with the median Malay, not the median Malaysian, playing kingmaker.
Permanent coalition's susceptibility to implosion
The ultimate flaw of Malaysia's party system lies in permanent coalitions a la BN, which provides no avenue for internal competition, and becomes prone to sub-competitiveness, infighting, or both. Under FPTP, constituencies are allocated to component parties on a near-permanent basis, normally based on ethnic composition of the constituencies and previous contestation history. Given only limited constituencies to contest, candidacy selection in component parties then inevitably becomes top-down, allowing party warlords to field loyalists over popular local leaders in strongholds. Combining the two, permanent coalitions often suffers in both the failure to get the strongest candidate from the strongest component party, and consequent infighting over constituencies. Structural remedies employed by BN included patronage for both voters and party elites, gerrymandering, and increase of legislative seats. While these means did not always work for BN, they must be off menu for PH if it wants real reforms.
Counter-intuitively, the absence of an unchallengeable dominant party within PH, like UMNO within BN, may only make internal peace in PH harder to sustain. Its largest component, Parti Keadilan Rakyat (PKR) won 47 out of the 70 parliamentary constituencies contested but only 14 of its parliamentarians were appointed to the front bench. In contrast, while Prime Minister Mahathir Mohamed's Parti Pribumi Bersatu Malaysia (Bersatu) contested 53 constituencies and won only 13,
ten of its parliamentarians are given executive positions
.
While a defence may be made for Bersatu, which performed poorly for having to contest mostly in UMNO's strongholds but delivered the necessary swing to enable PKR and DAP to win marginal seats, such over-representation in government is unlikely to be retained when PKR's president Anwar Ibrahim succeeds Mahathir as prime minister. However, post-election cross-over may change the parties' relative strengths, as PKR and Bersatu had so far taken in three independent parliamentarians and an ex-UMNO lawmaker respectively. If
40 more UMNO parliamentarians
crosses over to Bersatu, Bersatu with 54 parliamentarians will overtake PKR (50) as the largest bloc in PH and may even challenge Anwar's succession.
Unless open and constructive inter-ally competition is allowed, PH may soon sink into a battle royale as its component parties race to steal lawmakers from UMNO and each other. If the permanent coalition model under FPTP is retained, there might not be stability until an UMNO-like dominant party emerges to dominate the ruling coalition—but with such a party, reform is likely dead.
Making competition work
The ultimate critique against FPTP in Malaysia is not the malpractices of malapportionment and gerrymandering, but its mismatch with Malaysia's divided society, which produces parties with strong communal or regional bases.
Under FPTP, power-sharing can only take the form of permanent coalition, but the four attempts to establish a two-coalition system since 1990 have consistently failed. A second multi-ethnic coalition can only be sustained if the winner's victory is not too big to deplete the losers' hope—which is unfortunately now the case for BN. Instead of promoting moderation in societies without deep divides, FPTP in Malaysia radicalises the desperate opposition, which in turn places strain on the centrist ruling coalition.
Further, permanent coalitions under FPTP have no room for internal competition and bottom-up candidacy selection, which in turn breeds infighting and implosion. Ironically, the stronger the landslide, the likelier the ruling coalition may implode. BN's ouster in 2018 could be traced back to its 2004 landslide when its 91% parliamentary majority induced arrogance and infightings that ushered in a political tsunami four years later.
Multiparty democracy is about choosing an opposition as much as choosing a government. What threatens Malaysia's democracy is not communal parties—which the ethnically, religiously and linguistically diverse society naturally produces—but the wrong incentives that drive government and opposition parties into malign competition. Malaysians must stop thinking that what fits England would fit Malaysia. Instead of a Westminster-style majoritarian democracy, a "
consensus democracy
" where all groups freely compete, then share power through endless possibilities of post-election coalition governments, may be more compatible.