OPINIONS
COMMENT | This makes me question supporting Pakatan
COMMENT | Klang and Shah Alam do not have a Bukit Gasing or Bukit Kiara. So why is the Selangor Pakatan Harapan government hell-bent on chopping down the nearest forest that residents there have? To build a graveyard of all things!
That's what I asked in my last column. The probable answer, as usual, is the connection between politics and business. It also involves the position of the Selangor menteri besar, which is said to be "jinxed" or "cursed".
This is an area of hills near the coast of Selangor at Kapar. They are visible from the sea, and Admiral Cheng Ho even made a note of them (500 years ago) as a navigational aid, said veteran forestry researcher Lim Teckwyn.
It's also an area that is still rich in wildlife, including "spectacled" leaf monkeys, kingfishers, and colourful frogs. Even hornbills are found here!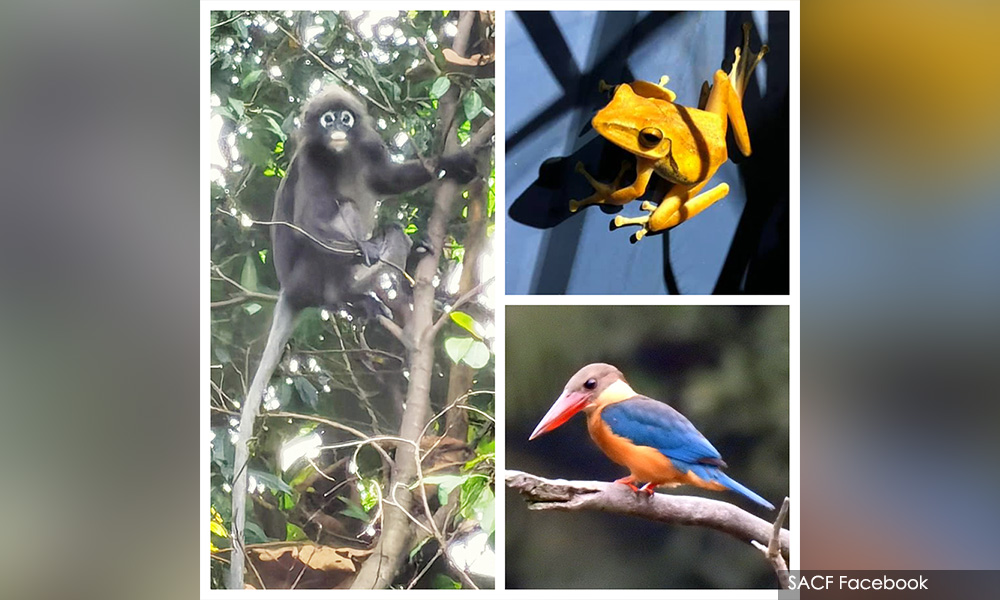 In 1909, the British officially gazetted this area of rolling hills as the Bukit Cherakah forest reserve (the former agricultural park of the same name sits on one small slice of this), covering a huge area of 10,000 acres (4,047 hectares). What residents, organised as the Shah Alam Community Forest (SACF) group, are trying to save now is a mere 172 hectares.
Fast forward to 2005, and this area hit national headlines for forest destruction, which left then prime minister Abdullah Ahmad Badawi "outraged" after seeing it for himself in a helicopter ride.
What happened was that Khir Toyo, then the Selangor menteri besar (MB), and his state executive council (exco), had allocated large swaths of forest land to four "friendly" companies, which had some "directors" who were not even adults!
In the usual Malaysia Boleh style, some rules were bent, some wrists were slapped, and Khir Toyo blamed the previous state Umno leaders for the fiasco.
Has money politics been solved?
The SACF issue also goes back to the Khir Toyo era. Sometime before the 2008 general election, the BN state exco decided to allocate this particular forest to third parties, said Lim, a researcher of tropical forest ecology, limestone caves, and indigenous people.
Yet one crucial law was not fulfilled, he said, because any "forest reserve" can have its protected status removed only if it's published in the government gazette.
He showed this writer all the survey maps and old gazettes that he has been patiently collecting on several trips to government departments. Yes, there are records of other parts of the forest reserve losing their protected status - in 1962, 1976, 1991, 1992, and 2001. But, he pointed out, there is no record that this particular forest has been officially degazetted.
Moreover, in 2011, Selangor became the first state in Malaysia where any removal of forest protection must go through a public hearing. Again, there has been no such hearing for SACF.
More importantly, if the previous "bad old" BN state government had improperly "given out" this forest area to whoever, why didn't the new "good guys" (Pakatan Rakyat, later Pakatan Harapan) restore the protection for the forest reserve when they took over Selangor in 2008? After all, the land has not been developed for over ten years.
"That's a good question," Lim replied.
This led me to speculate. Could it be that the previous menteris besar, including the Pakatan ones (Khalid Ibrahim and Azmin Ali) have been a tad too "corporate-friendly"?
The position of the Selangor MB seems to be jinxed. Former MB Muhammad Muhammad Taib from Umno fell from power in 1997 after he was arrested by Australian customs for not declaring millions of dollars in his suitcase. Khir Toyo lost Selangor to Pakatan in 2008 and was then convicted for corruption in 2011.
Khalid was pushed out from the MB post by his own party at the time, PKR, for allegedly suspicious financial matters. When Anwar Ibrahim tried to become MB via the "Kajang Move", he was charged for Sodomy 2. As for Azmin, oh well, he's now best buddies with Umno and gang.
What about the current MB, Amirudin Shari, who was famously part of the "Azmin cartel"? Well, his main "contribution" to the environment was his attempt to destroy 97 percent of the Kuala Langat North Forest Reserve (KLNFR), for "development", a move that was met with a firestorm of protests.
The problem of rich men giving "donations" to political parties to "influence" decisions remains in our system, no matter which party is in power.
As wittily written by Hishamuddin Rais in his Malaysiakini column, after Pakatan took over Selangor, there was a flood of "gifts" for politicians, the most "cekai" (Cantonese for "lousy") of which were Chinese New Year oranges and goats for Hari Raya Haji.
We can only guess what the bigger "contributions" of Malaysia's political culture are. And what do the gift-givers "harvest" in return? According to Hisham, they include "land for housing development".
Thus, the question is: are our politicians "wakil rakyat" or "wakil towkay"? This is why a reform of political funding is crucial if Pakatan really wants to improve this country and free it from big money "influence".
Bureaucratic basketball
As a first step to chopping down the Shah Alam community forest, the authorities want to build a road through this forest connecting the Setia Alam township to the new DASH highway further north. Yet, the government has just built a new two-lane road on flat land to do that (via the housing area of Alam Budiman).
Why build yet another road through hilly terrain (which costs much more than a road on level ground) when the existing two-lane road can be easily widened to four or even six lanes?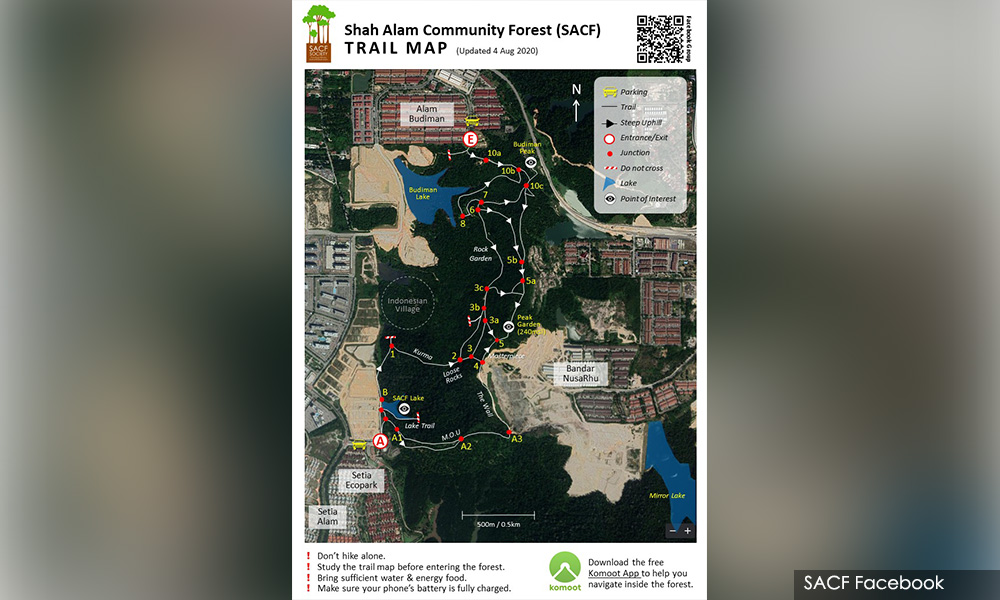 This hilly forest has been zoned as "tanah perkuburan" (cemetery land) in the Local Plan of the Shah Alam City Council (MBSA). But who builds a graveyard on steep slopes? Will bodies be buried slanted at 45-degree angles?
Or will the land be terraced into the 8th Wonder of the World like the rice terraces of Banaue in the Philippine mountains? Can one imagine the amount of soil erosion from that? (Or, is the supposed graveyard, just a fig leaf to cover the actual, hot desire for housing development?)
While hilly forest land is unsuitable for a graveyard, it is totally suitable as a hiking recreation ground. Only 172 hectares are left, of which 52ha is supposedly "state land" (for the graveyard) while 120ha has been allegedly allocated to PKNS (Perbadanan Kemajuan Negeri Selangor). Does government-linked PKNS have to be so greedy to take away this forest for housing development?
The SACF people have cared for this forest over the years, building little hiking trails with hoes. They have gone through all the "proper channels" to save this forest, writing numerous letters to the authorities. Last December, there was a meeting with the MBSA, the forestry department, the land office, and Hee Loy Sian, the state exco handling environment matters.
"Basically, we were told, 'this is the Local Plan (for a graveyard and PKNS) and nothing can be done'," said SACF secretary Alicia Teoh.
SACF had appealed to the Shah Alam mayor and he replied, "If you want to change the Local Plan, you have to refer back to the state exco."
This is a classic case of giving people "the runaround", a game of "bureaucratic basketball". In effect, the Pakatan state government is saying "this was done by the previous BN government" and we are "powerless" to reverse it. Doesn't that sound like Khir Toyo blaming the previous Umno leaders for forest destruction under his watch?
Let's face it, the only thing that matters is: will there be sufficient public pressure to force the politicians in the state exco to change their decision? For example, will the 44,292 written objections to the clearing of the Kuala Langat forest stop the bulldozers there?
If Bukit Gasing or Bukit Kiara were to be chopped down, you can be sure there will be a firestorm of protests because the places are well known, the neighbourhoods are well established, and the residents are well-connected (including several Datuks). But the housing areas surrounding the SACF are newer and many residents are not fully aware of its beauty.
In fact, when this writer was hiking here, I met a Malay lady who told me, "I live around here but I used to drive 40 minutes to Bukit Gasing to hike. I didn't know this place was in my backyard til some friends told me."
Power against the people?
But residents are getting organised with whatever meagre resources they have. The latest move is to make official objections to the Shah Alam Local Plan, which by law, must undergo public consultation.
SACF has managed to mobilise hundreds of people to register their official objections to the proposed forest road.
(If you want to help out, please follow the instructions here. The deadline is Sept 26.)
However, the online objections had an unexpected result - MBSA now seems to be going all out to discourage people from visiting the forest. For years, visitors have parked along the four-lane main road in Setia Alam to enter the trail.
Now, "suddenly" MBSA has become very "hardworking" at issuing parking summonses to cars there. SACF now advises hikers to park legally at shops some 800m away.
"If illegal parking is really the issue, how come they are not summoning those who park illegally every day outside nearby Setia City Mall?" asked SACF president Yeow Mei Jyn.
Normally, the job of local authorities is to help people visit nature spots. For example, when cars were parked along the two-lane main road outside Bukit Gasing, the Petaling Jaya City Council (MBPJ) solved the issue by building a small car park nearby.
The KL City Hall (DBKL) went even further, building a multi-storey car park for visitors to the Kepong Metropolitan Park. But MBSA is doing the opposite. Why?
Even worse, MBSA has recently put up big red signs warning: "TANAH KERAJAAN, PENCEROBOH AKAN DIDENDA TIDAK MELEBIHI RM500,000" (government land, trespassers will be fined up to RM500,000).
Hikers have entered the forest here for years without any problems, but now MBSA threatens to slap them with a half-million ringgit fine for loving nature.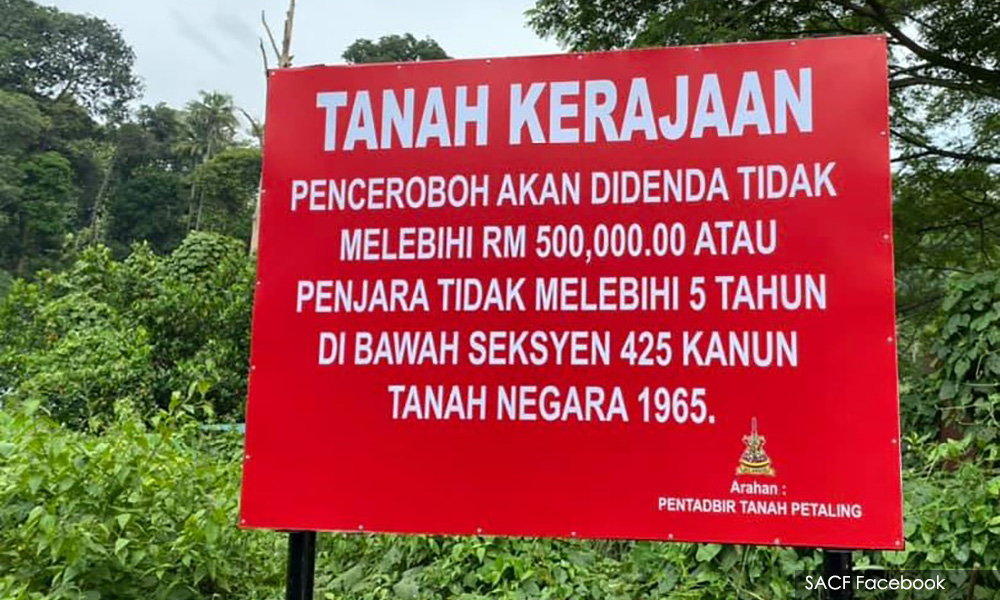 "These are smokescreens. MBSA is probably hoping that if they prevent people from entering, they will care less about the forest and fewer people will protest its removal," Yeow said.
MBSA even wants to demolish the information signboard put up by SACF years ago because it's now deemed as an "advertisement" that is "illegally erected" on government land. What game are they up to? What is really behind this new-found "zeal" to impose every law it can find against powerless nature lovers? When it was ever an issue in years before?
Are they doing this because some "higher power" gave orders to ensure that the huge online protests against the Kuala Langat destruction are not repeated? Is this how a "people-friendly" state government should behave? Or are they more "developer-friendly"?
It's not too late as the state government can still do the right thing - save the small (just 172 hectares) but beautiful forest here so that residents can practise healthy lifestyles, to add value to surrounding properties, and to create a new tourism attraction for Selangor.
In other words, enrich the public, rather than a property developer. Moreover, surely PKNS, as a government-linked company, can find land elsewhere to build houses on?
There have been troubling decisions and broken promises by Pakatan, on issues such as Lynas, PTPTN loans, repealing repressive laws, reforming political funding, etc. And the recent water crisis showed us how easily factories can still pollute rivers, an age-old problem that has not been solved even though Pakatan has controlled Selangor for 12 years.
They are probably confident that many voters "do not have any other choice" and will keep supporting them. But is this how Pakatan plans to win the next hotly contested election, because "the other side is worse"? What if some supporters get fed up and not show up to vote? This, by the way, was exactly how Hillary Clinton lost to Donald Trump.
Many of us have supported Pakatan, believing that it still represents the hope of real change. Let's hope we have not made a mistake.
---
ANDREW SIA is a veteran journalist who likes teh tarik khau kurang manis. You are welcome to give him ideas to brew at tehtarik@gmail.com. - Malaysiakini, 22/9/2020