The appointed Muhyiddin as Prime Minister yesterday - today in palace was merely the ceremony following appointment, and now we have a NEW Prime Minister.
Nobody wants a Prime Minister who do not anymore have the support of the majority in Parliament? No need to wait for Parliament, which may or may not sit on 9/3/2020 or even consider a Motion of No Confidence?
Dr Mahathir Mohamad said that the Yang di-Pertuan Agong Sultan Abdullah Sultan Ahmad Shah did not grant him audience to present the numbers to prove he commands the majority support of MPs.
The absence of large crowds of supporters at the entrance of the Palace today(a Sunday) is very telling - it indicates that many realize that this Premiership will be very short.
As it stands now, late last night, a full list of Members of Parliament that support Dr Mahathir to be Prime Minister was issued to the media vide a Media Statement by Mahathir himself - 115 names of MPs were listed.
Since then 2 of the alleged 115 MPs listed spoke out on video, which was shared to many on social media, and also carried by some mainstream media, where they said did not support Mahathir. [To be fair, last night one PH member said that they had already obtained Statutory Declaration(SDs) from 111, and 3 others had given their undertaking(possibly a verbal undertaking).
In any event, all that Dr Mahathir need to be next Prime Minister, is simply the support of 112 of the 222 Members of Parliament. So, even if the 2 are removed from the list, he still has the support of 113 MPs at the moment - no other MP has come out disputed the accuracy of the list of MPs that support Dr Mahathir as Prime Minister.
If the majority support Dr. M, then PM No. 8 Muhyiddin have no choice but to tender his resignation...
43 Cabinet (Federal Constitution)


(4) If the Prime Minister

ceases to command the confidence of the majority of the members of the House of Representatives

, then, unless at his request the Yang di-pertuan Agong dissolves Parliament, the Prime Minister shall tender the resignation of the Cabinet.
As it stands now, if no more of the remaining list of 113 MPs who currently support Mahathir to be MP, it means that NEW Prime Minister Muhyiddin has

ceases to command the confidence of the majority of the members of the House of Representatives
If Muhyiddin knows and accepts this fact - no choice but to go to King and resign OR ask the King to dissolve Parliament and King refuses, then again no choice but for the Prime Minister to resign and also tender the resignation of his Cabinet(if there any?)
And now, allegedly the King does not want to meet Dr M for him to hand over the evidence of support.
So, what options do we have?
HOW DO WE SHOW MUHYIDDIN THAT HE HAS LOST THE CONFIDENCE OF THE MAJORITY? How do we proof it to the King and the people of Malaysia?
* Well, usually the showing of evidence - in this case signed SDs ought to be enough. Mahathir could send Muhyiddin this evidence, or even tell the King of this development.
- But then, MPs cannot be trusted of late - today they sign an SD supporting A, tommorrow or in a few hours they sign an SD supporting B. (Maybe video documentation to prove that the MP really did sign may be helpful). Some give verbal undertaking and later breach that undertaking...I do not think Mahathir's list of support, initially of 115 MPs, was not based on SDs or verbal undertakings(or promises) ..
- After all many MPs changed their position so much ...from calling for Parliament to be dissolved, from supporting Mahathir and then suddenly Anwar...and then back again Mahathir...Things have been moving very very fast and minds have been changing also fast...
LIVE MEDIA BROADCAST - Maybe Mahathir can gather all 113 MPs now in front of the media holding their SDs expressing a clear support for Mahathir as the NEW Prime Minister ...and no confidence for the current sitting PM? - This LIVE TELECAST which maybe each one of the 113 MPs come in front of the Media ...live TV and broadcast...PERSONALLY stating that they have no confidence on the current PM, and that they support DR M to be Prime Minister...That would settle things once and for all, I believe.
COURT PROCEEDINGS - Or maybe they can go to Court, and get a Declaration or an Order of the Court that Mahathir indeed has the support of the majority of MPs, and/or that the current PM does not. The court can then call and ask each and every MP under oath in a public trial... That would settle it. Mahathir and/or these other MPs can file a legal action seeking a Declaration that Muhyiddin, the present MP do not have the confidence of the majority (or the 113 or more MPs), and maybe another Declaration that Dr. Mahathir now enjoys the confidence of the majority.
Well, the Plaintiff/Applicant could be Mahathir (and/or others) and the Defendant/Respondent could be our new Prime Minister? I believe that this is possible and a Certificate of Urgency could expedite this process. And, we may have the decision fast - maybe within a day or two UNLESS PM Muhyiddin's lawyers are successful in delaying proceedings? What do you think, won't a Court Order, after hearing all the said MPs convince the King and everyone?
PARLIAMENT - Vote of No Confidence - Hurdles and possibilities.
1- Parliamentary normal procedure requires any questions or Motions to be submitted to Parliament 14 days before Parliament session commences...Parliament is scheduled to start on 9/3/2020...and from today, the 14 day requirement may not be met. Hence the Motion could be rejected.
However, Parliament could still receive as it is an Emergency Motion - and it certainly is of great importance to Malaysia.
2 - Every Parliament Session has its usual agenda. Will there be a speech by the King, followed by hours/days of debate on the Speech. After that, would there be other items on the Agenda. [Remember many a motion and questions in Parliament today will not see the light of day - because there is no more time, and then we go on to the next day. [If there is going to be a Motion of No Confidence, maybe supporters of PM Muhyiddin may throw in all kinds of procedural and technical obejections.] Then, there is a question of attendance some of the 113 MPs may not be able to turn up on that day - veryyu sick, road accident, etc...So many times we have seen that Bills, like the POTA, would not have passed if all the Opposition MPs were present.
3 - The Parliament Session could be postponed by the King, on the advice of the Prime Minister. The King has that power, and Parliament Session could be delayed - after all legally, this session could be delayed - it only needs to happen within 6 months from the last session.
4 - There are so many possibilities when it comes to Parliament - while Malaysians await a final decision of WHO really have the confidence of the Majority to be appointed Prime Minister by the King.
TIME OR DELAY is not good - for some of these MPs may 'change their mind' again. Why? Maybe it was monies, maybe some promise like a Cabinet position, maybe even 'threats' of revelation or prosecution of the MP themself (or some member of the family) if EVIDENCE some party has now is revealed??? These are all mere POSSIBILITIES - and, I do not think it will happen in Malaysia, but then you do not know. We do not want to give time for any such things to happen?
AS SUCH, Maybe the best is for a LIVE TV Broadcast, in front of the Media, where each and every Member of Parliament appears personally and state what he has to say ...and media will tabulate? If there are then more than 111 MPs who have publicly announced their loss of confidence on PM Muhyiddin, and also that they now support Dr Mahathir for Prime Minister - that should end any 'doubts'...of the people, and certainly the King.
THERE SHOULD NOT BE ANY DELAY ..
The longer Muhyiddin is Prime Minister, despite the uncertainty whether he NOW still has the confidence of the majority, there are certain things that he could do, which may later cannot be undone.
It is sad that the King allegedly refused to see Dr Mahathir anymore ... So, now the proof/evidence best be also presented to the people(the Rakyat), and documented video, witnessed by so many from the media and others, would be impossible to disputed by PM Muhyiddin and/or the King.
Although Mahathir has disclosed his full LIST - Muhyiddin has not. I f he also did, then we could also see whose name/s appear and both lists...
Muhyiddin should also want to show us that he has the confidence of the majority - and PM Muhyiddin should do this TODAY.
LINGERING DOUBTS are no good for the people and nation.

Mahathir already asserted that he has the confidence of the majority, i.e. 115 (or now 113 after the alleged video clips of allegedly individual MPs, who were on Mahathir's list saying otherwise)..
The DOUBT exists, and it will not go away soon...BEST to settle it once and for all..
Even once settled, any Prime Minister could at any time lose the confidence of the majority - and we repeat the process. That loss of confidence could happen in hours, days, weeks, months .... But, that is our laws and how we want it.
If after knowing, he has lost the support of the majority - and he continues to act as Prime Minister, think of the implications > will all his actions/decisions be VOID...ILLEGAL?
The consequence if that new PM was from Pakatan Harapan itself - but now it is not, it is someone who gets his support from a coalition that include BN parties, noting that the last Elections is the first time since Independence that the BN was ousted from power..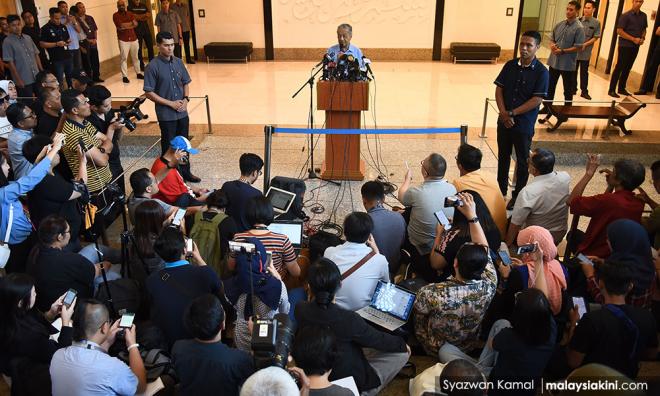 King won't see me, 'GE14 losers' will form gov't - Mahathir
Dr Mahathir Mohamad said that the Yang di-Pertuan Agong Sultan Abdullah Sultan Ahmad Shah did not grant him audience to present the numbers to prove he commands the majority support of MPs.
At a press conference this morning, Mahathir said Bersatu president Muhyiddin Yassin will be sworn in as the eighth prime minister without commanding majority support.
"The loser would form a government, while the winner will become the opposition.
"It is a very strange situation," Mahathir told reporters at Yayasan Al Bukhary in Kuala Lumpur.
According to the Bersatu chairperson, he has already received the support of 114 parliamentarians.
For a simple majority in the Dewan Rakyat, which has 222 members, 112 is the minimum number needed.
Mahathir said Pakatan Harapan has the support of 92 MPs, and together with six MPs from Bersatu including himself, Warisan MPs and several independent parliamentarians, they managed to secure a total of 114 as of last night.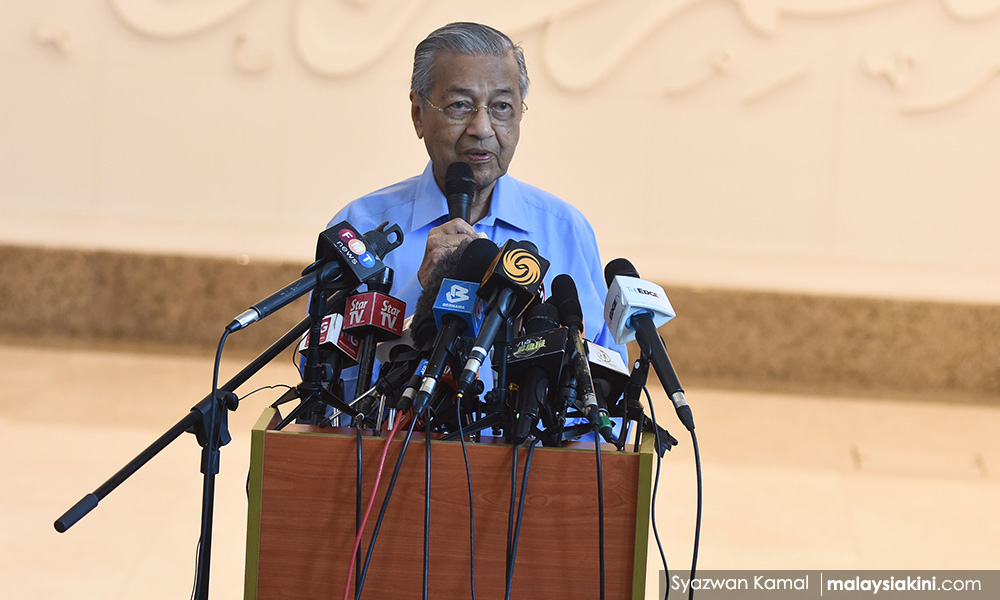 When asked what was the reaction of Sultan Abdullah when presented with the purported majority that he has, Mahathir said he did not have the chance to tell the king.
"The king has made the decision not to see me anymore, but to appoint Muhyiddin as the prime minister.
"So I don't have the chance to tell the king that he does not have the majority. That is the situation now, I cannot communicate with the palace," Mahathir said.
According to Mahathir, the law says that the king can appoint someone who he believes has the support of the majority as prime minister.
The chosen prime minister, however, cannot become one if he goes to the Parliament and gets rejected by the majority.
He said Harapan would ask for an urgent sitting of the Parliament, where they would see who has the majority.
However, Mahathir added that even though they believe they have the majority now "a lot of things can happen" until the parliamentary sitting, which can make their numbers decline.
Asked if he regrets resigning as the prime minister last Monday, Mahathir said he did not have a choice as Bersatu decided to come out of Harapan and form a government with Umno.
"That means I have to accept people whom I had been against for corruption.
"That I am not prepared to do. But Muhyiddin is ready to do that." -
Malaysiakini, 1/3/2020