PROTON - the Brand Name of Malaysia's first national car?
"We will not allow Proton to disappear, but (for this) Proton needs the support of and help from the government to recover.
Najib and the UMNO-BN government really should no longer be bothered about saving Proton, the company. Is Najib preparing us for yet another 'bail out' of what now is a private company?
Proton was owned by DRB HICOM before sold off 49.9% of Proton to a Chinese company.
Proton is no more a company that is owned/controlled by the government of Malaysia - it really is today a private company. We all know that 49.9% of Proton has been sold to a Chinese company, and maybe the remainder is still owned by DRB HICOM, but then DRB HICOM also is no longer owned/controlled by the government.
In 2010, it was reported that Khazanah sold off a substantial part of its shares in DRB HICOM(maybe even all). So did EPF/KWSP.
As far as substantial shareholders of DRB-HICOM is concerned, our government agencies really may have a very small amount of shares - KWSP/EPF(5%), LUTH(4.75%) and KWAP(3.9%) - so slightly more than 13% > without having more than 50% - you do not control any company.
Syed Mokhtar also owned 55.92 percent of DRB-Hicom, the parent company of Proton, which sold 49.9 percent of its stake to Geely..
Based on the DRB HICOM 2017 Annual Report, government agencies ownership that remain is very small - EPF/KWSP(),
Hence, Najib should really be more worried for Proton workers - hundreds maybe thousands will lose their jobs when the operation in Shah Alam shuts down..
Meanwhile, DRB-Hicom group managing director Syed Faisal said that one of the goals of the National Automotive Cluster is

to move the Shah Alam Proton factory to Proton City Tanjung Malim, Perak

."It probably will take five years because in the agreement that was signed between DRB-Hikom and Geely,

the whole Proton operation in Shah Alam will move to Tanjung Malim

," said Syed Faisal.
When Proton appointed a Chinese National as CEO, it becomes reasonable to say that Malaysians may no longer are effectively in control of Proton anymore...
As such, Najib and UMNO-BN must not waste government resources and monies to make sure that this now private company does not fail...Be realistic, it is gone...so, let Proton carry out its business as it wants, without government interference ...as after all, it a private company..possibly now controlled by a Chinese company - not a Malaysian Chinese but a China Chinese company.
Syed Mokhtar is a business man ...and, maybe the way Najib and UMNO-BN governed the country was what forced him to have to sell off Proton and also Lotus. Khazanah also abandoned Proton..
After all, during the reign of Najib and UMNO-BN our national debt has skyrocketed, our ringgit has fallen, cost of living has gone up, and Malaysia is infamous because of 1MDB and related companies with US's biggest kleptocracy suit..
Wait...there are several DRB HICOM subsidiaries in the Pekan Constituency, Najib's own constituency...could this be a factor, for his comments about Proton and 'not wanting to let it fail"...
As I said earlier, maybe Najib and UMNO-BN should be more worried about the hundreds (or thousands workers) in Proton in Shah Alam who may lose their jobs in the next few years..when Proton goes to Tanjong Malim....He should not worry about PROTON, the private company.
I also do not understand why the Proton Dealers are seeking government help now...you are in business, and you need to adapt according to times and the requirements of the new Proton owners/management...if you cannot, there are others who can take your place ...
Proton, a private company, has no obligation to give any special preference to Bumiputra dealerships - they are not the government of Malaysia, who has to give certain special treatment to Malays and natives of Sabah and Sarawak according to the Federal Constitution...
EPF/KWSP - well there concern is basically increasing the monies of the EPF Contributors...so, they will do the needed for them for the people they are responsible for. They should not be using EPF money according to what Najib or the UMNO-BN government. They will not bail out lost causes - they will invest only where there is a chance to make good profits. So, when EPF announces high dividend, the only beneficiaries are workers with EPF accounts - nobody else.
Khazanah or MOF Inc - on the other hand will be trying to make profits/money for all Malaysians, and are more under the control of the PM, Minister of Finance and the UMNO-BN government...
So, in terms of real government control, we need to look at how much Khazanah, MOF Inc, 1MDB, etc owns in a particular company...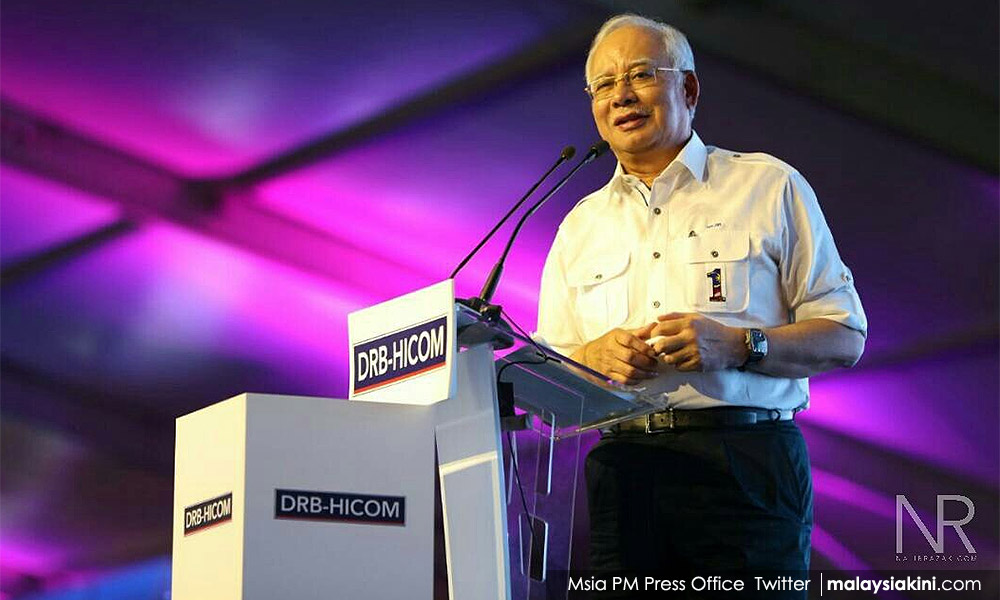 Najib: We won't let Proton sink
Prime Minister Najib Abdul Razak promised today that he will not allow the country's national carmaker Proton to flounder.
"All this while, there has been too much political interference in the administration of Proton, (but) we feel that we will not allow Proton to sink.
"We will not allow Proton to disappear, but (for this) Proton needs the support of and help from the government to recover.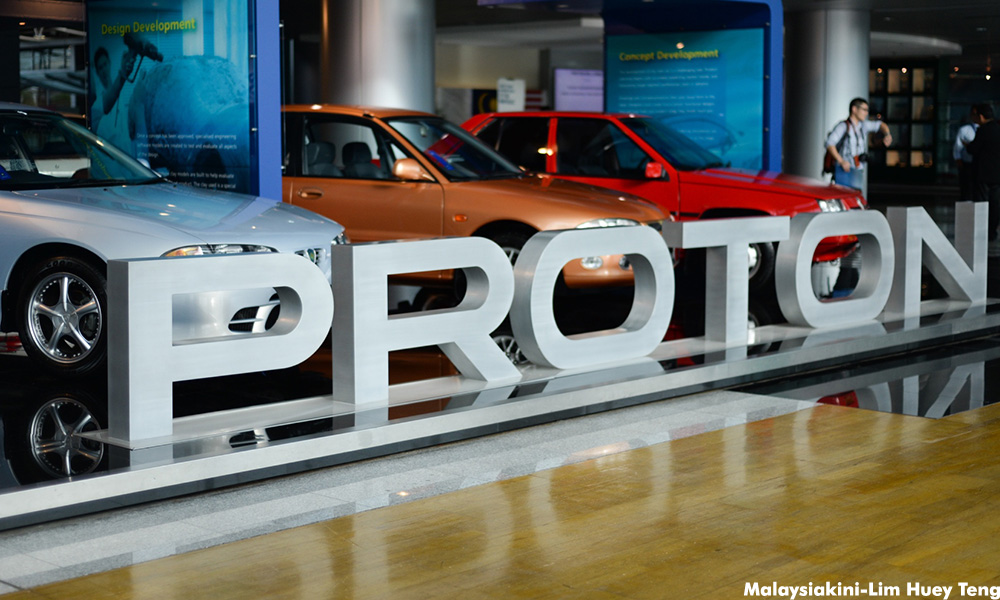 "Thus, my government and BN will ensure that Proton is restored, together with DRB-Hicom," said Najib in a speech in the launching ceremony of the National Automotive Cluster at Proton City in Tanjung Malim, Perak.
The PM added that Proton's constraints were due to its business model being centred on the spirit of economic nationalism and not on the reality of business.
"If anyone tries to say that we are not assisting Proton, that is an outright lie," he continued.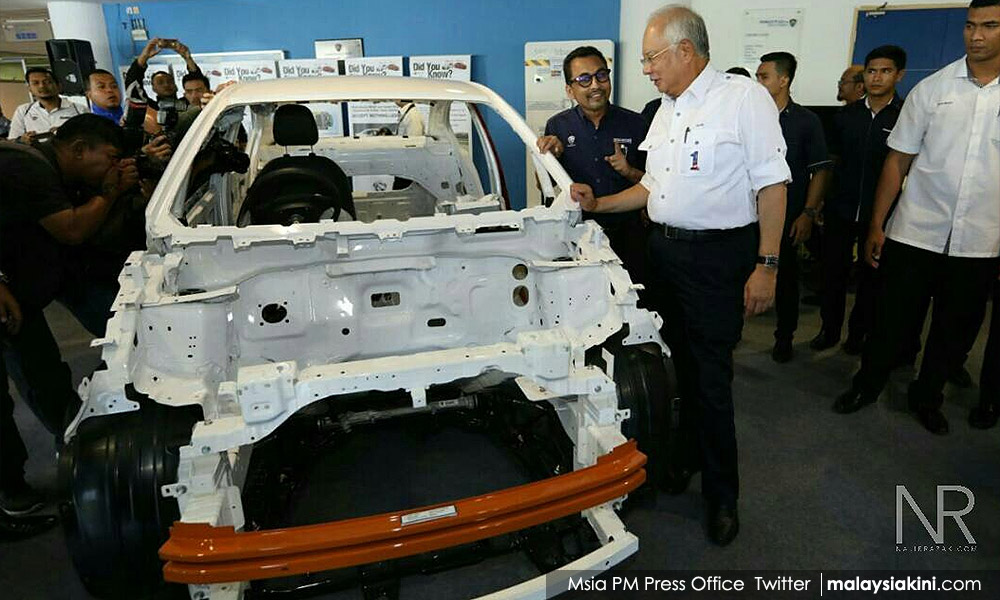 "We told them that if Proton wants to move forward, it has no other option other than to select a strategic partner."
Citing the lower rate of loans and cashflow injections given to the company as incentives, Najib added that the government had provided certain terms to Proton.
Move Shah Alam factory to Tanjung Malim
Najib said that Tanjung Malim will be famous for Proton City, National Automotive Cluster and University City within the next five to six years.
"Not only Tanjung Malim but Proton will become a brand that is famous on the international stage.
"The commitment of the government is very clear, Proton will be going into a more excellent era, the revival of Proton will be a BN commitment. The revival of Tanjung Malim will be a BN commitment.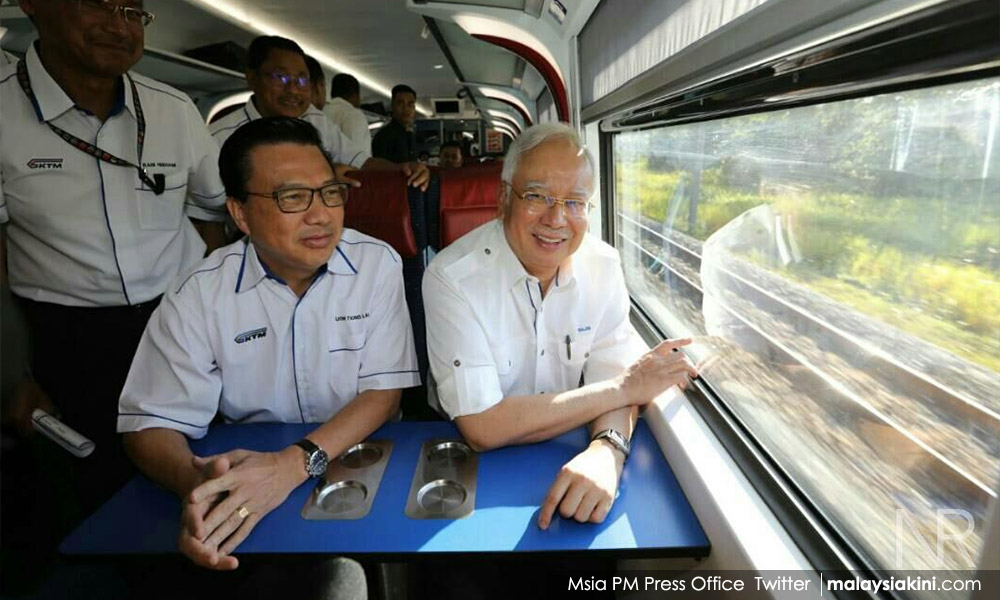 "Today we have three ministers here, Transport Minister (Liow Tiong Lai) will ensure the creation of more great tracks, International Trade and Industry Minister (Mustapa Mohamed) will continue to help through his ministry, Member of Parliament for Tanjung Malim Ong Ka Chuan will (also) help, insyallah (God willing) I can see the beauty that is coming soon to Tanjung Malim," said Najib.
Meanwhile, DRB-Hicom group managing director Syed Faisal said that one of the goals of the National Automotive Cluster is to move the Shah Alam Proton factory to Proton City Tanjung Malim, Perak.
"It probably will take five years because in the agreement that was signed between DRB-Hikom and Geely, the whole Proton operation in Shah Alam will move to Tanjung Malim," said Syed Faisal.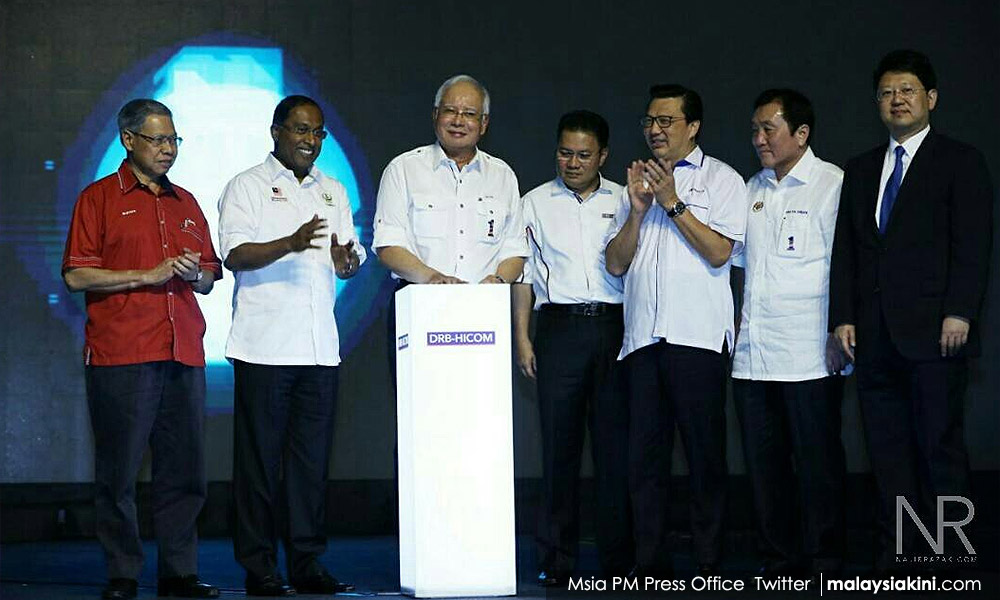 When asked about why the Proton chief executive officer (CEO) Dr Li Chunrong has asked the car maker's automotive parts suppliers to cut prices by
30 percent
by year-end, Syed Faisal said that this step aims to reduce the cost and end-prices of Proton.
"(Thus), the price that we sell to the consumer will be (a) better (one), that is the main intention of this.
"This is about business, and business is all about making a profit, so this means that the revenue must be higher than the cost. There is nothing wrong with this," said Syed Faisal.

Read more at https://www.malaysiakini.com/news/410957#5Eq2bZv8VKEFmovy.99
Lotus' co-owner linked to tycoon Syed Mokhtar
Lu Wei Hoong
(Updated )
Following China car manufacturer
Geely Automotive's purchase of a 51 percent stake in British marque Group Lotus Plc, formerly owned by Proton, it was reported that the remaining 49 percent was acquired by an unknown Malaysian firm Etika Automotive Sdn Bhd.
Bernama
reported that
Etika is owned by tycoon Syed Mokhtar Al-Bukhary
while
theSun
reported that
Syed Mokhtar is shareholder in both Etika and DRB-Hicom
. Syed Mokhtar is known to be a close associate of former prime minister Dr Mahathir Mohamad, who masterminded the establishment of national carmaker Proton.
Syed Mokhtar also owned 55.92 percent of DRB-Hicom, the parent company of Proton, which sold 49.9 percent of its stake to Geely,
much to the displeasure of Mahathir.
A search with the Companies Commission of Malaysia (CCM) showed that
while Syed Mohktar did not directly control Etika, two of its shareowners have close links with the tycoon.
CCM documents revealed that Etika was set up on June 9 last year with a paid-up capital of RM2.
Its core business is the manufacturing of motor vehicle spare parts, engines and turbines.
The company, which is registered in Bangsar, Kuala Lumpur, is owned by Mohammad Zainal Shaari
and Azman Hanafi Abdullah, both of whom serve as directors of the company as well.
An online check revealed that Mohammad Zainal has at least three directorships in Syed Mokhtar-linked firms, while Azman is a director in one of the tycoon's companies.
Having vast experience in government-linked companies (GLCs), Mohammad Zainal had also served in Khazanah Nasional and Tenaga Nasional. He was Khazanah's chief operating officer.
At present, he is the group managing director of Tradewinds (M) Sdn Bhd, which is one of Syed Mokhtar's flagship companies involved in the agricultural sector, such as sugar manufacturing and in rice and palm oil plantations.
Its subsidiaries are Bernas and Central Sugar Refinery.
As such, Mohammad Zainal also sits on the board of directors of Bernas in his capacity as Tradewinds' managing director.
He was also appointed as a director of NCB Holdings, which is a subsidiary of MMC Corp, another flagship in Syed Mohktar's business empire. This firm focuses on infrastructure, port management, mass rapid transit and power and water plants via MMC Port Holdings Sdn Bhd and Malakoff.
MMC Port Holdings controls NCB Holdings, which is the main operator in Northport Klang, through a 97.04 percent stake.
10th richest man in M'sia
Meanwhile, Azman is a director in Seaport Terminal (Johore) Sdn Bhd. The maritime company is owned by Indra Cita Sdn Bhd, which in turn is controlled by Syed Mohktar and his wife Sharifah Zarah Syed Kechik.
Formed in 1991, Seaport Terminal operates the Penang port and Malacca's Tg Bruas port. CCM documents show Etika, Seaport Terminal and Indra Cita share the same registered address in Bangsar.
According to
Forbes
, Syed Mohktar owns US$1.8 billion (RM7.74 billion) in assets, making him the
10th richest man
in Malaysia this year.
Syed Mokhtar's business empire has diversified into power generation, rice, sugar, banks, ports, plantations and car manufacturing via three flagship companies - MMC, Tradewinds and DRB-Hicom.
The opposition has often raised questions over the tycoon's ties with the government, and noted how Syed Mokhtar has monopolised the rice market, resulting in prices soaring.
In 2012, Syed Mokhtar purchased Proton's share from Khazanah via DRB-Hicom, subsequently privatising the national carmaker.

Read more at https://m.malaysiakini.com/news/383661#ETSzoHkr2DoB2Mo6.99
Friday, October 1, 2010
Khazanah no longer substantial shareholder in DRB-Hicom
Khazanah Nasional Bhd ceased to be a substantial shareholder in DRB-Hicom Bhd after selling some 1.13 million shares on Sept 23, trimming its stake to 4.97% or 98.08 million shares.

Khazanah had sold a few small blocks of shares in DRB-Hicom since April this year. Then it had about 5.28% or 104.12 million shares.

With the latest share disposal, it will not be reported if Khazanah pares down its stake in DRB-Hicom further, as it is no longer a substantial shareholder that is required to disclose its transactions in the company's shares.

The Employees Provident Fund (EPF) has also been trimming its stake in DRB-Hicom. The pension fund had 9.9% or 191.28 million as at end last year but has since trimmed its stake to 135.27 million shares or just below 7%. Both Khazanah and EPF have been substantial shareholders in DRB-Hicom since 2000.
The selling from both the provident fund and Khazanah took place as DRB-Hicom's share price strengthened. Since early June this year, DRB-Hicom's stock had gained 25%, ending yesterday at RM1.25.
DRB-Hicom is controlled by businessman Tan Sri Syed Mokhtar Albukhary who has about 55.92% of DRB via his vehicle Etika Strategi Sdn Bhd.

This article appeared in The Edge Financial Daily, October 1, 2010.
Published on

Tuesday, 13 February 2018 15:57
Since Geely's takeover of Proton, a sense of quiet optimism has been abounding Proton's fate in the Malaysian automotive industry.
Plenty of experts have weighed in their opinions, and general consensus seem to believe that Geely is the right company to bring Proton back to their former glory. But that's not saying that there has been no issues so far.
One of the bigger issues that Proton is facing right now, is claims by The Malaysian Association of Malay Vehicle Importers and Traders (PEKEMA), saying that the Geely administration led by chief executive officer Li Chunrong, has been discriminating its Bumiputera dealers.
In an exclusive interview published by
Utusan Malaysia
, PEKEMA president Datuk Zainuddin Abdul Rahman claimed that the welfare of Bumiputera Proton dealers have been cast aside by the Geely administration.
He even said that if no action is taken by the authorities, he fears all Bumiputera dealers might go bust.
Utusan Malaysia quoted Zainuddin as saying that he fears that Proton has strayed from their original purpose, and that PEKEMA is worried that Proton is now fully controlled by Geely.
In his interview, Zainuddin reveals that there are nine major issues faced by the Bumiputera vendors, which include an array of problems such as lack of time to upgrade their outlets, to lack of special discounts that are able to be offered by them.
However, in light of these recent accusations, Proton has issued a statement in which they addressed each and every one of PEKEMA's grouses.
One of the issues brought up by PEKEMA is the lack of time to upgrade their 1S outlets, but Proton stated that dealers are encouraged to upgrade over a span of two years, and not one year as stated.
In their statement, Proton revealed that their push for all the 1S (sales) outlets to upgrade to 3S (sales, service, spareparts) centres is to improve their dealership network, and bring it up to par with other brands in Malaysia.
"With regards to the lack of time given to dealers to upgrade their 1S outlets to 3S/4S outlets, dealers are encouraged to upgrade their outlets over a period stretching from 2018 – 2020.
"The target for 2018 is to substantially increase the number of 3S outlets located nationwide, which will enhance overall customer experience with the introduction of our new models beginning 2018.
"Currently, the 3S/4S dealerships nationwide, is equivalent to only 30% of our total dealerships," Proton stated.
Proton also addressed other issues brought up by PEKEMA, such as the abolishment of the Payment After Registration (PAR) system, the reduction of profit margins for dealers from 4% to 3%, and the restriction on dealers should vehicle stock go unsold after 60 days, as well as the provision of a special 10% discount directly to associations, instead of leaving it to dealers.
"The Payment After Registration (PAR) system is not practiced by other automotive companies in Malaysia. Proton has decided to end the scheme in order to ease the Company's tight financial situation.
"Currently, Proton finances a total of RM650 million a year for its dealers. If we continue to practice PAR, the amount payable to Proton by the dealers will grow resulting in a negative effect on our cashflow," the statement read.
The company clarified that their dealers enjoyed a 4% margin based on a monthly volume of 40 units agreed with Proton to qualify for their sales incentives in the past.
"We have now revised the scheme by lowering the threshold to encourage overall business growth for dealers. This scheme is in line with current challenges faced by dealers and Proton will continue to monitor the situation to ensure business growth is achievable.
"In addition, Proton also provides quarterly incentive scheme throughout the year, where dealers can earn extra income by exceeding their sales targets. Proton also provides state incentive support for on-ground activities by dealers," Proton conveyed.
All in all, Proton's statement reiterated their commitment in making the company one of the premier automotive brands in Malaysia. And if this is to be achieved, some changes will have to be made.
With its statement, Proton hopes to clear some of the misunderstandings between them and PEKEMA, and show that their commitment in helping the Bumiputera has never waned.