Covid-19 MCO - was meant to be a response to reduce the spread and infection amongst us in Malaysia - Workplaces/Business were shut down to ensure that people stay home and do not move around to reduce the spread. Only essential business/workplaces allowed to operate....it was for 14 days...
But then Azmin Ali's Ministry of International Trade and Industry (and other Ministers and government bodies) started giving exemptions again to certain businesses/workplaces, which may not be 'essential services' during this pandemic - hence DEFEATING the effectiveness of the MCO ...
...128,150 companies with some 1.57 million employees had been approved to remain operational during the two-week lockdown.
This is not the first time the government and its Ministers have done this ...and today Malaysia still remains with very high daily infections...and increasing deaths... Logging firms also 'essential businesses'? Remember, Parliament has not been operating - so OK for workers to face risks, but not MPs and ADUNs?
WHERE IS THE LIST OF BUSINESS GIVEN EXEMPTION? Show it to us...

When exemptions are granted, workers have NO CHOICE but to return to work...and after work return home to their families...The owners stay at home safe?

Traffic should have been minimum ...but still we see large number of vehicles in the road..
The 'indiscipline' of the PN-BN Plus government fails to suppress Covid-19 transmission, infections and death...
Remember, everyone wants business and income as usual, and everyone must jointly do the needed - no exceptions.
When companies/businesses gets exemptions - is there CORRUPTION, Abuse of Powers... Maybe MACC should be investigating all exemptions granted to the clearly 'non-essential' businesses..
The ESSENTIAL businesses that ought to be operating ought to be medical/health/pharmaceutical businesses, food production/distribution/retail, and the related distribution/transportation needed to ensure no shortages of food/medicine.
Other than that, maybe petrol stations, mechanics, public transportation...
REMEMBER, it is a total lockdown as Malaysian infections are very high - According to one statistics, Malaysia was yesterday the country with the 9th highest Covid-19 new cases...
The reason for the continuing high numbers of Covid cases, is the bad decisions made by the PN-BN Plus government --- The exemptions granted to businesses, the Ramadan bazaars...
For those who have strictly adhered to the SOPs, who have suffered income/business losses - we feel CHEATED ... For minor offences like forgetting to wear masks, moving ...people are being offered too HIGH compounds
Does the PN-BN Plus government really have the intention to speedily combat Covid-19 and the deaths that is rising? Or is other reasons governing their decision making during this pandemic?
Are businesses that really are providing 'essential services' enriching some individuals to get these exemptions?
NEW CASES - well, these really depends on the numbers being tested and who is being tested.
1 person found to infected would have come in contact with hundreds of persons in the community and places he visited...
Once tested is not enough - as it was pointed out, symptoms can arise much later to be detected after many days ....NOW, the compulsory quarantine period has been again extended from 10 days to 14 days...WHY? Because the infected may only be tested 10 to more days after being infected.
So, repeat testing of the infected are needed..
The Ministry of Health is struggling to cope with the numbers - and required facilities are becoming unavailable thanks to the numbers..
14 days MCO - but still MITI and some others are giving un-needed EXEMPTIONS - Why?
Hence, most likely this 14-day nation-wide MCO will not work...Logically, it should have been longer, at least 28 days ...noting the 14-day quarantine requirement, and detection can happen 10-12 days after being infected...
WORKPLACE Clusters continue to appear - and which company/factory is not made known - WHY?
More than half – or 18 – of the new clusters originated from workplaces, Health Director-General Dr Noor Hisham said(6/6/2021)
If a worker is infected with Covid-19, logically it should be a 14-day shut down - if not why a '14-day Quarantine' - All workers should be also tested on the 10-12th day before being allowed to return. That will be for the good of workers - after all, many business owners/shareholders stay home safe but workers are put at risk?
MITI and other Ministries should not be giving any exemptions - it should be done by the HEALTH Ministry or the MKN - not individual Ministries of local governments...
EITHER MCO for all businesses - or just allow business total freedom to choose - If later, best that PM Muhyiddin just resign now - too many people are suffering...
WHAT IRKS MALAYSIANS IS THAT SUCH IRRESPONSIBLE 'EXEMPTIONS' WILL PROLONG COVID IN MALAYSIA - AND IT HAS ALREADY BEEN 15 MONTHS PLUS...

Ask Miti, Ismail says of 128,000 permits during lockdown
PETALING JAYA: Questions about why so many companies are receiving exemptions and being allowed to operate during the lockdown should be directed at the international trade and industry ministry (Miti), says senior minister for security Ismail Sabri Yaakob.
The senior minister had been asked to comment on public confusion surrounding the operation of essential service sectors during the June 1 to 14 lockdown, but he deflected the matter to Miti.
"It's difficult for me to answer, because we have handed the matter over to Miti. So, Miti will answer," he said at a virtual press conference today.
This comes after a Bernama report that 128,150 companies with some 1.57 million employees had been approved to remain operational during the two-week lockdown.
According to Azmin Ali, who is minister of international trade and industry, a total of 586,308 companies involving 10.2 million workers have also registered under Miti's Covid-19 Intelligent Management System (CIMS) 3.0 as at 7.30am today.
Azmin also clarified that the chemical and electrical and electronics sectors were listed as essential services as they were "closely linked to ensuring that the people's safety and health are protected". FMT, 3/6/2021

Azmin Ali, Malaysia's power grab architect, under fire for 'half-baked' coronavirus lockdown
Over 80,000 people have signed a petition calling for the International Trade and Industry Minister to resign after non-essential businesses including a furniture firm were granted exemptions from a supposedly 'total' lockdown

Malaysia has been setting back-to-back records in daily new cases and critics say the waivers will pile more pressure on a health-care system already at breaking point



Bhavan Jaipragas
Published: 7:15pm, 3 Jun, 2021 Updated: 1:05am, 4 Jun, 2021


4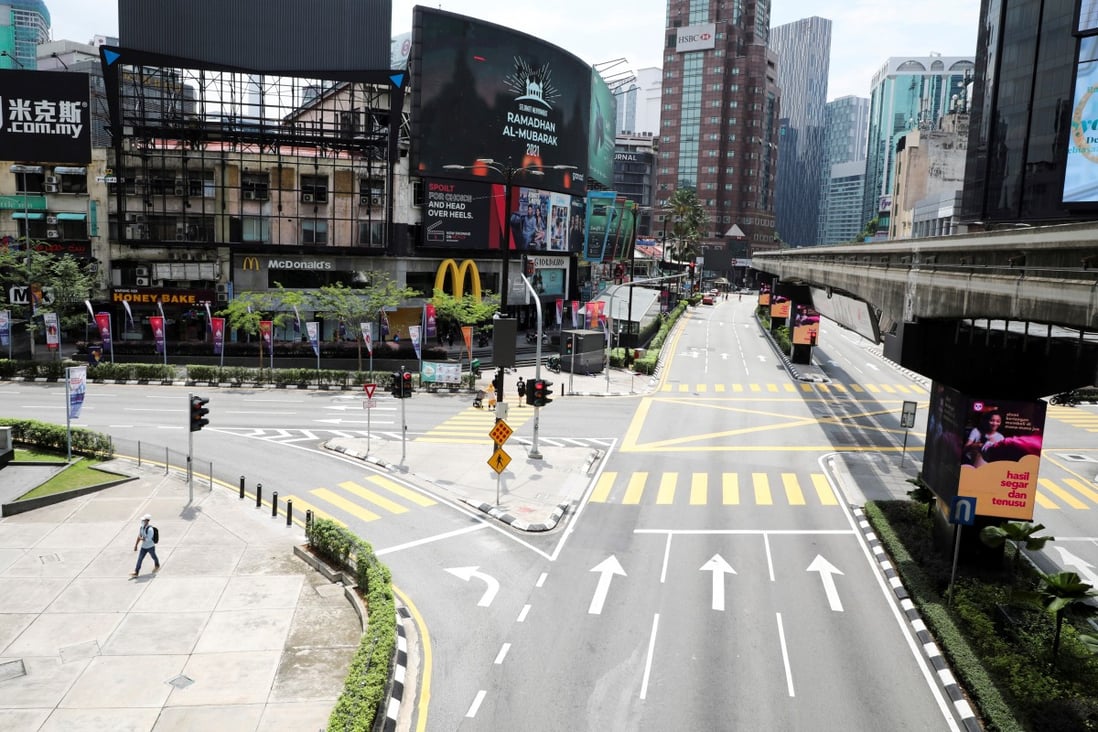 A deserted street during a coronavirus lockdown in Kuala Lumpur. Photo: Reuters

Tens of thousands of people on Thursday signed an online petition calling for the resignation of
Malaysia's International Trade and Industry Minister Azmin Ali as anger brewed over the large number of businesses granted permission to operate during an ongoing
Covid-19 "total lockdown".

Critics said the waivers, some of which were handed to non-essential businesses, would severely compromise the impact of the June 1 to June 14 lockdown just as the health-care system was reaching breaking point.

An earlier partial lockdown failed to stem a surge in cases which has brought on back-to-back records in daily new cases and fatalities.

Amid online vitriol against him on Thursday, Azmin – second in command in Prime Minister
Muhyiddin Yassin's government – issued a statement clarifying that his ministry was not the sole government department responsible for vetting and approving applications.

Instead, he said 15 ministries were involved in the approval process as part of the country's Covid-19 Intelligent Management System (CIMS).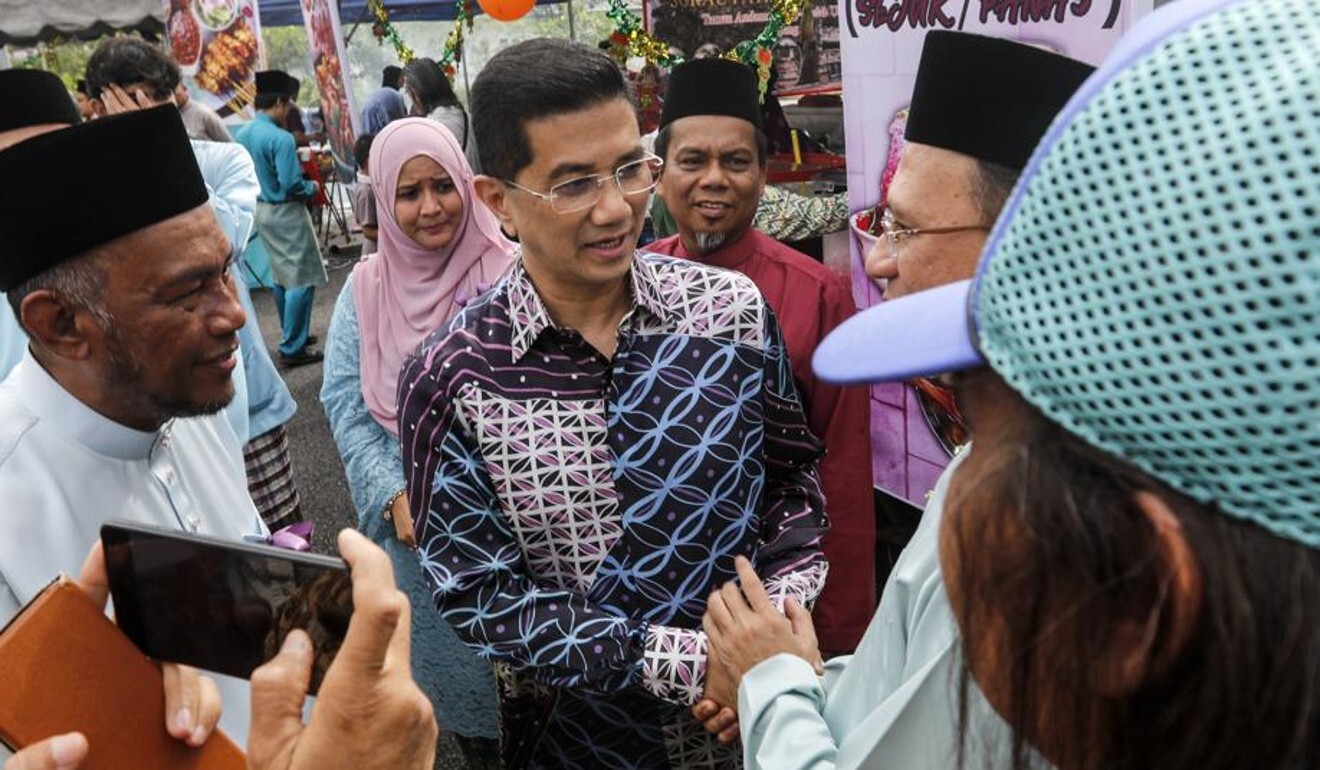 International Trade and Industry Minister Azmin Ali. Photo: EPA-EFE

"The Ministry of Trade and Industry is not the sole decision maker on whether a business sector is considered an essential service or not," Azmin said.

As of Thursday morning, 128,150 of 586,308 companies that applied for permission to operate during lockdown had obtained approval to do so, he said.
The approved companies had a total of 1.57 million workers.

Part of the controversy had to do with whether individual ministries would handle approvals for businesses under their regulatory purview.

The government had on Sunday said this was the case, but reversed course on Monday, saying instead that approvals had to go through CIMS – which is administered by Azmin's ministry.


The local news portal Malaysiakini reported that a photography business and a leather furniture company were among businesses that had been granted permission to operate during the two-week lockdown. The government had earlier said the so-called "full lockdown" would shut down most businesses except those deemed essential.

Online, frustrations were compounded by a veiled comment by Security Minister Ismail Sabri. The official, who is the government's point person on lockdown matters, wrote on social media on Wednesday: "I shut the front door, but…"

Some commentators speculated that he was venting his frustrations about the waivers Azmin had been granting, but asked about the matter on Thursday, the minister said there was no metaphorical meaning to his words
. - SCMP, 3/6/2021
30 new Covid-19 clusters, 18 from workplaces
---
THIRTY new Covid-19 clusters were reported today, the most ever in a day, raising the number of active clusters in the country to 713.
More than half – or 18 – of the new clusters originated from workplaces, Health Director-General Dr Noor Hisham said.
The 18 clusters and their number of infections, respectively, are:
1. Jalan Silat Harimau 21 in Johor Baru, Johor (12)
2. Jalan Bertam 23 in Johor Baru, Johor (6)
3. Jalan Teknologi Perintis Dua in Johor Bahru, Johor (15)
4. Jalan Kebun Sayur in Muar, Johor (55)
5. Jalan Parit Haji Zain in Muar, Johor (33)
6. Ladang Tereh in Klang, Johor (25)
7. Taman Aman in Kluang and Batu Pahat, Johor (17)
8. Jalan Utama in Sandakan, Sabah (15)
9. Sawit Kinabatangan in Kinabatangan, Sabah (29)
10. Jalan Ketiau Tombovo in Putatan, Sabah (9)
11. Persiaran Bak 26 in Petaling and Klang, Selangor (30)
12. Jalan Baja Enam Belas in Kuala Langat, Selangor (22)
13. Sri Cemerlang in Kota Baru and Pasir Mas, Kelantan (17)
14. Industry Chain Ferry in Seberang Perai Utara and Seberang Perai Tengah, Penang (25)
15. Hilir Sg Kluang Tiga in Barat Daya, Timur Laut and Seberang Perai Utara, Penang (71)
16. Industri Bukit Nian in Alor Gajah, Malacca (41)
17. Dah Saga in Kota Setar, Pendang and Sik, Kedah (42)
18. Jalan Alamanda Dua in Putrajaya, Hulu Langat, Petaling and Sepang, Putrajaya (8)
Other than the workplace clusters, seven community clusters were also reported.
They are:
1. Gusi in Papar, Sabah (25)
2. Tamalang in Kota Belud, Sabah (27)
3. Murni C in Nabawan and Penampang, Sabah (22)
4. Bukit Jong in Machang and Kota Baru, Kelantan (13)
5. Kg Bakong in Pasir Mas, Kelantan (8)
6. Kg Jejawi in Pasir Mas, Kelantan (7)
7. Jaya Gading in Kuantan, Pahang (53)
Two education clusters were also reported.
The Japan Kasturi Satu cluster in Hulu Langat, Selangor involved 15 cases, while the Behrang Station education cluster involving an institute of higher education in Muallim, Perak reported 37 cases.
A cluster involving a high-risk group was reported in Bukit Gasing in Petaling, Selangor, while a religious cluster was reported in Jasin and Melaka Tengah in Malacca.
One cluster linked to a detention centre was reported in Pagar Jalan Sultanah in Mersing, Johor. – June 6, 2021. -Malaysian Insight