Remember a MP in 2005 highlighted wrong 'nude search' that led to law reforms, including a clear PROCEDURE ON BODY SEARCH in our Criminal Procedure Code since March 2007. As such, when we highlight 'wrongs', reforms can and will happen...

Ministers and MPs expressed disgust with the way the naked woman was treated after they were shown the clip by Seputeh MP Teresa Kok at Parliament House yesterday. .... woman in uniform can be heard telling the woman in Bahasa Malaysia to pull her ears, squat and stand up. The naked woman did 10 ear squats.
So, now the call for WOMEN Minister, RINA HARUN, to step up and clean up the still existing 'shit' in our Malaysian police procedures and practices - she could bring about reforms in law, policy and practices that can see an end of TORTURE(including sexual torture), deaths in custody, rape, sexual assault/harassment, etc..
WHAT CAN BE DONE?
- A speedy response by the Rina Harun's Ministry that looks after the welfare of women - into the recent allegations of sexual abuse, sexual harassment, etc... with a view of reforms...
- CCTV in every rooms and corner in the police station(with recording capacity to be stored automatically in a location, where post crime manipulation is impossible) - '...Selangor police chief Arjunaidi Mohamed said there were no cameras in the room and... - FMT, 19/12/2021
- In certain rooms, when clients meet lawyers, there can be video recording BUT No audio recording...
- When it comes to women - is there not a requirement that a women police officer is always present? (Well, let the POLICE make these SOPs public, so everyone knows what the police can or cannot do...and let us have information about how one can complain about police wrongs - an assurance that there will be NO RETALIATION is also important.

What will the Ministry for Women do about sexual torture, rape,etc in police stations and lock-ups where the majority of victims are WOMEN...
Unlike ordinary citizens, the Minister (more so the Minister specifically concerned about WOMEN) can push for reforms more effectively ....MPs. Senators and other 'wakil rakyats' also can do so....so can the people...
PUBLICITY GIMMICKS really should be abolished - for Malaysia needs Ministers, MPs and 'wakil rakyats" that actively improve our lives effectively...
I wonder how much MONIES wasted for that Rina Harun publicity gimmick - the reporters and photographers could have been elsewhere doing real journalist works....How many hours of the Ministry staff wasted?

See earlier posts:-

We recall the highlighting of the nude squat incident in 2005 - and the REFORMS in law that followed...



Nude woman ordered to ear squat
---
KUALA LUMPUR: A controversial video footage showing a woman in uniform instructing a Chinese-looking naked woman to do ear squats caused an uproar after it was made public yesterday.
Police have now started investigations and have lodged a report on their own.
Ministers and MPs expressed disgust with the way the naked woman was treated after they were shown the clip by Seputeh MP Teresa Kok at Parliament House yesterday.
The video clearly shows the woman standing naked in a room with some lockers to her right. The woman in uniform can be heard telling the woman in Bahasa Malaysia to pull her ears, squat and stand up. The naked woman did 10 ear squats.
The 70-second video clip is said to have been taken using a cellphone and has been widely circulated through the multimedia messaging service (MMS) over the past few days.
The person who recorded the incident did it through a grilled window.
However, the identity of the uniformed person or location where the incident took place could not be ascertained at present. It is also not known when the incident took place.
The footage has led people to link the scenes shown in it to the ordeal of four women from China at a police station recently.
The four alleged that a policewoman asked them to strip and perform ear squats in a room at a station while in police custody. - Star, 25/11/2005

They were arrested on suspicion of having invalid travel documents in Sungai Buloh here on Nov 3.
However, the four women have denied being the naked woman shown in the video clip, saying they were on the first floor of a building without windows.
Shocking rape of Malaysian teen in police lock-up raises calls for independent inquiry
KUALA LUMPUR - The shocking rape case of a 16-year-old girl while being held by Malaysian police in Sarawak recently has raised calls for an independent inquiry and spotlighted once again alleged shortcomings of the force.
There have also been renewed calls for the formation of an independent body to oversee police misdeeds, a plan that has been repeatedly rejected by the cops.
The authorities have promised that there would be no cover-up and those involved will be brought to justice, similar to promises made in cases involving the deaths of criminal suspects in police custody and policemen who have been nabbed for myriad corrupt activities.
So far, two cops who were on duty at the police station in Miri town, where the Jan 9 rape happened, have been suspended.
"(The issue) must not be swept under the carpet," Professor Noor Aziah Mohd Awal, the children's commissioner with the Human Rights Commission of Malaysia (Suhakam), told The Straits Times.
"Had the police officer in charge executed his duties honestly and properly, police lock-up is the last place a rape could happen," she added.
Based on the police report filed by the victim, she was detained on Jan 8 to help in investigations into an illegal gambling case.
But while in custody, she claimed that a male detainee from another cell had opened the door to her lock-up between 4am and 5am, before taking her to the station's toilet to rape her. The alleged rapist apparently had the key to the teenager's cell.
Just as baffling, the door to the cell that housed 12 male detainees, including the suspected rapist, was not locked.
"Pure evil," Malaysia's national police chief Abdul Hamid Bador told The Straits Times, when asked about the rape case.
"The police belong to the people. They put their trust in the force to administer the laws fairly," said the Inspector-General of Police. " I want the people to respect the force and not to fear it. I want to see my men as the saviour of the victims of crimes and those oppressed - which is why I promise that there will be no cover-up in this case."
Prof Aziah said that according to Section 83 of the Child Act 2001, all children arrested must be released on bail.
She added that the law is clear that a child upon arrest must be brought before a court in 24 hours, and from the place of arrest to the police station, a child must be separated from all adult suspects.
"There was no need to keep her in a lock-up. Just take her statement, call her parents and a Social Welfare Department's officer. If at all, Malaysia must build a special remand centre for children to ensure that they are safe," she said.
Senator Alan Ling Sie Kiong from Sarawak, who last week accompanied the teenager and her father to formally lodge a police report, said: "The failure to strictly comply with the lock-up rules, or bypassing them as in this case, has allowed abuses in the handling of those in custody." -
The heated debate surrounding the case has led critics to revisit the formation of the Independent Police Complaints and Misconduct Commission, or IPCMC, which the force has resisted for years as outsiders would be able to intervene in its affairs.
The plan to form IPCMC was formally put up by the Pakatan Harapan government that came to power in May 2018. But the plan was dropped by the succeeding Perikatan Nasional (PN) government that took power at the end of February last year.
"The decision to scrap the IPCMC is political. Many policemen and retired ones are not in favour of it because it allows an independent oversight body to mete out a punishment on errant cops," a source told The Straits Times.
The PN government is instead planning to put through Parliament a new version, called the Independent Police Conduct Commission (IPCC) Bill.
The proposed Bill, deemed deeply flawed by its critics, allows top police officers to influence and intervene in investigations involving misconduct. It also allows witnesses who are police officers to recuse themselves from answering questions during a probe.
Inspector-General Abdul Hamid, who has been police chief since May 2019, said that with or without a commission overseeing the force, he wants to do an internal clean-up his way.
"People have asked me, 'Aren't you ashamed of seeing so many of your men being arrested?' Why should I be? This is exactly why I'm here - to keep them in check and to show that no matter how embarrassing it can get, my honest men and I are ready to correct our wrong," he said. Straits Times, 27/1/2021
Teenager claims cop raped her at station
---
y
ANDY CHUA
SIBU: A teenage shop assistant has claimed that she was raped by a police corporal inside the toilet of the Sarikei police station.
When her sister lodged a report at the same station, the 19-year-old victim alleged, the suspect's colleagues and a community leader in Sarikei tried to persuade her to drop the case.
Apparently, they pleaded with her to give the man another chance as he would be retiring in a few years.
Recounting the incident at a press conference yesterday with Lanang MP Alice Lau, the teenager said she boarded a bus from Kuching to Sibu at 10pm on Oct 28.
Her intention was to celebrate her sister's birthday in Sibu.
"The bus arrived at the Sarikei bus terminal sometime between 4am and 5am the next morning. I got down from the bus to go to the toilet.
"When I came out from the toilet, I saw that the bus had left. My purse and handphone were still inside the bus," the teenager said.
The girl, who wept as she told the story, spoke of how she stopped a four-wheel drive which happened to pass by then.
"I went with the man to chase after the bus but to no avail. I then used his handphone to tell my sister about the matter."
The man told her that it was better for him to bring her to his office at the police station as it was not safe for her to stay outside at that hour.
He was not in uniform and the teenager only knew he was a policeman when they got to the station.
"When he stopped his vehicle at the gate of the police station, he started to molest me.
"He told me to go into the toilet of the police station. I did what he told me to do as I was in fear," she said.
It was inside the toilet that the man raped her.
He then sent her back to the bus terminal and gave her RM30 for bus fare and food to Sibu.
However, she returned to the police station at 10am with her sister who had rushed to Sarikei.
"One of the men said I was lying," the girl said, adding that she showed the policemen a photograph of the suspect, which she had sent to her sister earlier when she called her using his mobile phone.
She claimed that several policemen told her sister to drop the case.
Ten days later on Nov 8, a community leader in Sarikei called her sister, telling her that the suspect's family was ready to pay a certain amount of money.
Fearing for their safety, the sister lodged a report at Sungai Merah police station in Sibu.
Lau said the two sisters had sought help from her.
"I have approached the Deputy Home Minister in Kuala Lumpur and he told me that the police are investigating the case," she said.
She said that the deputy minister's report to her showed that the suspect was a police corporal.
Sarikei OCPD DSP Awang Arfian Awang Bujang, when contacted, said the 53-year-old policeman was suspended during the investigation.
He also confirmed that the suspect would be retiring in a few years.
"The man has a good record. We are unsure why he committed the alleged offence," he added.
They were investigating the case with the standard operating procedures of the police force, he said. - Star, 11/11/2018
Abused Indonesian maid allegedly raped by police officer
The domestic worker went to Malaysian police claiming physical abuse by her employer and alleges a policeman assigned to her case later raped her
M'sian police inspector arrested after allegedly raping 2 Mongolian women during lockdown
The case may possibly be investigated for kidnap and extortion too.
Syahindah Ishak |

Mothership, April 13, 2020, 06:52 PM
Rina was cleaning bird droppings, says dept
KUALA LUMPUR: Women, family and community development minister Rina Harun had helped to clean bird dropping stains at a flood relief centre, the social welfare department (JKM) clarified last night.
Rina had drawn flak from netizens after a video of her surfaced using a water jet to wash an apparently clean patch of pavement while surrounded by cameramen yesterday.
In a statement, JKM said she was not only involved in cleaning the floor at the SK Salak Tinggi relief centre "but was also getting her hands dirty in cleaning up and arranging other logistics at the school".M, as the department that manages the operation, had requested Rina's assistance to clean up bird dropping stains that were difficult to get rid of.
"Since the water jet was already there, she accepted the request and did the work with an open heart," it said.
It said Rina and other Keluarga Malaysia volunteers had also cleaned and rearranged the tables and chairs in the classrooms in preparation for the new school session.
Previously, Rina had responded to criticism on social media of her wearing high heels at a flood relief centre, stating she did not have time to change her shoes after attending Bersatu's general assembly earlier in the day. FMT, 27/12/2021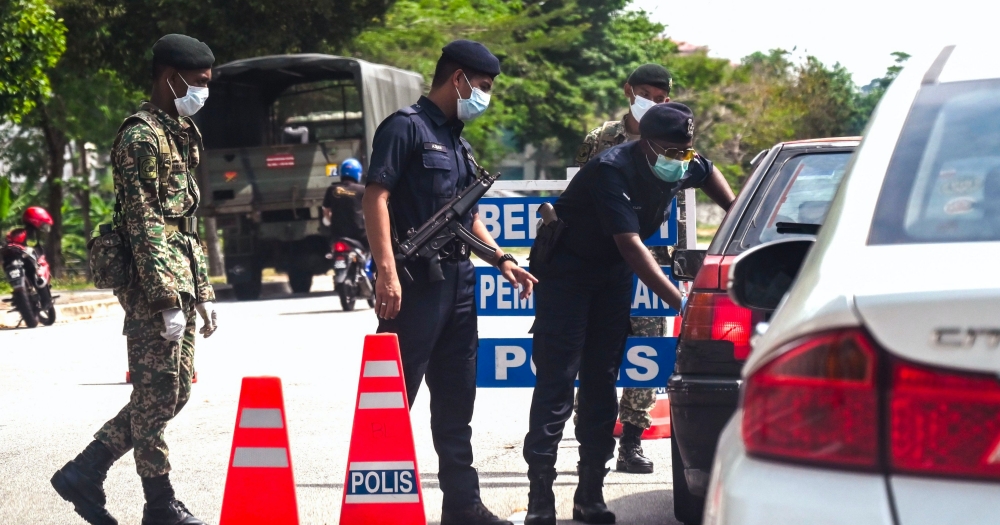 Two Mongolian women were allegedly raped by a 30-year-old police inspector in Petaling Jaya, Malaysia.
Arrested for not complying with Malaysia's MCO
According to Malay Mail, the women were stopped at a roadblock on Friday (Apr. 10) night during a routine check under the country's movement control order (MCO).
The suspect then asked for their travel documents.
After failing to show their documents, the women were arrested, reported Malaysiakini.
However, instead of bringing them to the police station, the suspect reportedly took them to a hotel for more than 24 hours against their will.
He also allegedly raped them there.