Update
:
Sabri Umar have applied for a Special Pass from the Immigration Department on 25/7/2022, and the Immigration Department first said he will get it 3 days time, and now they are saying that it will take a week.
The worry of everyone is that Sabri may speedily sent out of Malaysia - hence hindering his rights and ability to pursue justice against all that caused his wrongful conviction, wrongful imprisonment and wrongful(and illegal) whipping.
Sabri also has an application for REINSTATEMENT pending now at the Industrial Relations Department. Procedures before the Labour Department and/or Industrial Relations Department requires the attendance of the Claimant/Complainant - a failure to attend may result in an END of the process towards justice.
In Sabri's case, the Immigration Department has cause to WORRY as they send the report that they have NO RECORDS about him, FALSE as they who issue work permits must have full records. This mistake, made the Session Court, make a serious error of convicting a properly documented migrant, as a undocumented migrant sentencing him to 11 months in prison, and 5 strokes of the WHIP.
Is this 'worry' causing the Immigration Delay?

Many a migrant worker had been sent out of Malaysia back to the country of origin, and thus the ability of claiming for monies owed to them by employer, and complaints against the employer or others to just end without the justice being done - the PERPETRATOR of rights violation escape...and the victimized migrant worker is the LOSER.
Is that why some prefer to employ migrant workers - after all it is so easy to violate their rights, and deny them the ability to pursue their rights in Malaysia's available avenues of justice.
A 'Special Pass' is needed to remain legally in Malaysia - so, one really do not understand why the delay on the part of the Immigration Department. Sabri may want to go file police reports - but he is at risk of being arrested now, so until he gets a 'Special Pass' he has to stay in the Indonesian Consulate...
Justice for Sabri Umar: Do not deport wrongly convicted migrant worker

Monday, 25 Jul 2022 7:27 AM MYT
WE, the 19 undersigned groups, are pleased that Sabri Umar was acquitted and released from prison in Sabah on July 22, 2022, by Justice Lim Hock Leng at the Tawau High Court.

He had been wrongly convicted on April 19, 2022, by the Sessions Court of being in Malaysia illegally when, in fact, he is a documented migrant worker with a valid work permit. This is evident from, among others, his Indonesian passport, which was seized by Malaysian police on April 5, 2022.

While awaiting the outcome of his appeal, Sabri was wrongfully caned. The Prisons Department, in a letter dated July 18, 2022, stated that the caning had only been carried out after it received a letter from the Sessions Court saying that there were no appeals from any party. This was wrong as Sabri's appeal yet to be heard.

The High Court acknowledged that the caning was against Malaysian law, which prohibits the carrying out of the sentence of caning a convicted person until appeals are exhausted. This was also confirmed by the Prisons Department.

The highlighting of this miscarriage of justice against Sabri via a media statement released on July 19 by 45 human rights groups as well as various letters – including from Sabri's union, Sabah Timber Industry Employees Union – got the High Court's attention and led to the calling up of Sabri's case for revision on July 22.

Sabri has commenced a claim for reinstatement by reason of wrongful dismissal at the Industrial Relations Department, which is progressing and will be referred to the Industrial Court. Sabri wants to work and live legally in Malaysia, and his wife is also a migrant worker in the country legally.

We are now worried that Sabri may be deported in an attempt to stop investigations into possible wrongful actions by government agencies that caused an innocent man to be wrongfully charged, convicted and sentenced to 11 months imprisonment and five strokes of the rotten.

Being outside of Malaysia may impede Sabri's quest for justice.

The speedy deportation of migrants out of Malaysia, even when they have valid claims against employers and/or others, stops them from pursing justice because their physical presence is usually required in the courts. Calls to confirm whether migrant workers have existing claims or ongoing cases before sending them out of the country have yet to receive positive responses.

Therefore, we:

> Call on Malaysia and/or Indonesia not to cause Sabri to be sent out of Malaysia before he can exercise all his rights/claims through Malaysian avenues of justice, including his present claim for reinstatement by reason of wrongful dismissal at the Industrial Court;


> Call on all parties to not threaten, deceive and/or pressure Sabri into not exercising his right to claim for damages, compensation and justice;

> Call on the government of Malaysia to ensure that Sabri can continue to work and stay legally in Malaysia until all his claims for justice are determined and satisfied.



CHARLES HECTOR

APOLINAR Z. TOLENTINO JR

ADRIAN PEREIRA

For and on behalf of the following 19 organisations:

Aliran

Madpet (Malaysians Against Death Penalty and Torture)

Building and Wood Workers International-Asia Pacific Region

WH4C (Workers Hub For Change)

North-South Initiative

Black Women for Wages for Housework, United States

Center for Alliance of Labor and Human Rights, Cambodia

Centre for Orang Asli Concerns, Malaysia

Club Employees Union, Peninsular Malaysia

Haiti Action Committee

Labour Law Reform Coalition, Malaysia

Network of Action For Migrants in Malaysia

Sabah Plantation Industry Employees Union, Malaysia

Sabah Timber Industry Employees Union

Teoh Beng Hock Trust for Democracy

The William Gomes Podcast, United Kingdom

Timber Employees Union, Peninsular Malaysia

Union of Forestry Employee Sarawak

Women of Color/Global Women's Strike, United States and United Kingdom - Star, 25/7/2022
Rights groups fume over migrant worker's 'wrongful' whipping
Published:
Jul 20, 2022 12:09 PM
⋅
Forty-five human rights groups have expressed their shock that an Indonesian migrant worker, Sabri Umar, was whipped at Tawau Prison last month on June 23.
The whipping was carried out despite a pending appeal at the High Court concerning Sabri's sentence from the Sessions Court.
The groups released a joint statement this morning that was signed off by renowned human rights activist Charles Hector and Apolinar Tolentino, the Malaysian Representative at Building and Wood Workers International (BWI) Asia Pacific Region.
The statement said Sabri's conviction by the Sessions Court and subsequent whipping as "wrongful".
"On 19 April, the Sessions Court convicted Sabri for committing the offence pursuant to Section 6(1)(c) Immigration Act 1959/63 and sentenced him to 11 months imprisonment and 5 whippings.
"He was unrepresented at the time," it said.
The statement added the perusal of court documents revealed that the immigration documents tendered to the court were false.
"It stated there were no records of entry and exit for Sabri.
"It failed to disclose the truth, that Sabri was indeed a documented migrant worker for the past seven years and that he was in the employ of one Fu Yee Corporation Sdn Bhd in Tawau, Sabah.
"His work permit also has been renewed by the Immigration Department in 2022 and should be reasonably valid for a year," it said.
The human rights groups also added that whipping as a corporal punishment must be abolished.
"Sabri's case has come to light, but there is concern about whether others have been whipped before their appeal is heard and disposed of.
"Whipping is a corporal punishment that inflicts serious physical and psychological injury, where victims are known to pass out even before the full sentence is carried out," they said.
The groups also called on the government to issue an apology and the abolishment of whipping as a sentence.
"We call for Malaysia to immediately apologise and do the needful to ensure justice is done for the wrongful or illegal whipping of Sabri Umar.
"We (also) call for the immediate abolition of whipping, a form of corporal punishment in Malaysia," they said. - Malaysiakini, 20/7/2022

Already whipped Indonesian migrant worker acquitted on revision by High Court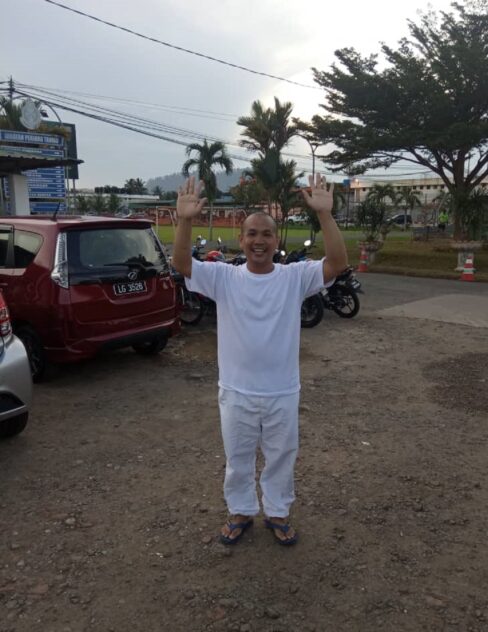 Editor's Note: Amendment was made to earlier version of headline
SABRI Umar (pic above), the Indonesian migrant worker who was wrongly convicted for being in Malaysia illegally – but was whipped prior to his appeal – was acquitted by the Tawau High Court in Sabah yesterday (July 22) following a revision of his conviction.
Sabri who was represented by Jhasarry Kang on behalf of the Tawau branch Indonesian Consulate was acquitted by High Court Judge Dr Lim Hock Leng after the defence contended that the learned Sessions Court Judge had failed to check the exhibits shown under "Exh P3" that Sabri indeed possessed a valid passport and work pass.
At the same time, Sabri had also misunderstood that if he were to plead guilty, he would be deported by May 2022 but instead he was sentenced to 11 months of imprisonment and five strokes of the cane, according to the notes of proceedings of the High Court.
Unfortunately, the whipping had been carried out on June 23 as per confirmed by the Prison Department.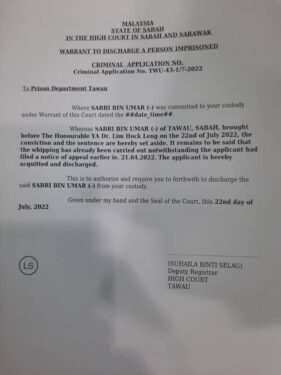 Recently, some 45 groups and organisations led by the Malaysians Against Death Penalty and Torture (MADPET) have cried foul over Sabri's whipping at the Tawau Prison on June 23 despite his High Court appeal has yet to be heard following his conviction/sentence by the Sessions Court.
An investigation would have revealed that Sabri was a documented worker who cannot be charged under Section 6(1)( c) of the Immigration Act 1959/63, according to the 45 groups and organisations in a joint statement.
Sabri, a union member of the Sabah Timber Industry Employees Union (STIEU), has claimed that he was wrongfully terminated by his employer, Fu Yee Corp Sdn Bhd, on April 4 this year prior to being arrested by the police the next day and detained until he was charged and convicted on April 19.
However, he did manage to file a wrongful dismissal claim in the Industrial Relations Department on the same day (April 19) to seek reinstatement whereby this process is on-going.
"The employer who knew that Sabri was not an undocumented worker failed to bring to the attention of the police, prosecutors and court this material fact which reasonably would have meant Sabri would not be charged, let alone be convicted for being illegally in Malaysia under Section 6(1)( c) Immigration Act," the joint media statement by the group of 45 had pointed out.
"Fu Yee Corp (the employer) should be doing the needed to end the current serious miscarriage of justice," added the joint statement. – July 23, 2022, Focus Malaysia

KOTA KINABALU: A migrant worker, who was whipped while appealing his conviction for staying illegally in Malaysia, has been acquitted by the Tawau High Court.
Justice Lim Hock Leng acquitted Indonesian worker Sabri Umar on Friday (July 22) following his appeal against his conviction by the Sessions Court on April 19 this year.
Sabri was sentenced to 11 months' jail and five strokes of the rotan under Section 6(1)(c) of the Immigration Act 1959/63 after he pleaded guilty to the offence.
The High Court judgment came after lawyers from legal firm Jussary Kang, representing the Indonesia Consulate Tawau branch, took up Sabri's case for wrongful imprisonment.
Sabri's lawyers argued that he was in possession of a valid Indonesian passport and had a work pass from a company, Fu Yee Corporation.
The court was told that Sabri, who was unrepresented when he was charged at the Tawau Sessions Court, had pleaded guilty in the mistaken belief that he would be deported in May 2022.
They argued that though he pleaded guilty, the Sessions Court did not check that Sabri had a valid passport when pleading for the High Court to set aside the conviction.
The court was told that Sabri was caned on June 23 despite his case being appealed since April 21, this year.
Sabri's case drew strong condemnation from human rights groups after he was caned at the Tawau prison despite his appeal against the conviction yet to be heard by the Tawau High Court.
In a joint statement released on July 19, 24 NGOs led by the Malaysian Representative at Building and Wood Workers International (BWI) Asia Pacific Region said that the whipping was wrongful.
The groups also called on the government to issue an apology and the abolition of whipping as a sentence.- Star, 23/7/2022