Independence of the Judiciary - it is very important. So, when a just retired Chief Judge of Malaya is appointed as Chairman of Prasarana... with maybe a 'big allowance' and other benefits, many may wonder whether this is a 'reward' or a 'satisfaction of a promise made for...." doing something whilst being the Chief Judge?
Well, Zaharah may have done nothing of that sort - maybe she was always a truly INDEPENDENT judge - she did not make judgments and/or court decisions as 'instructed' by the Prime Minister or the government...or for 'money' or 'promises of rewards'...
But when suddenly being made Chairman of Prasarana happens ....doubts arise...and it impacts on the public perception of the independence of the Malaysian Judiciary...
The issue of post-retirement conduct of judges arose before when after retirement a CJ joined a law firm...This appointment of just retired CJ as a Chairman of a Company may be even more serious...
People who should be Chairman and/or Directors of Companies should be persons who have experience or knowledge in the running of the business of the company... The Directors have the duty to ensure that company is running well - the idea of simply appointing 'friends' and 'cronnies' or 'yes men' must come to an end - Was it because of political appointees, that the Company Directors of 1MDB and related companies maybe 'did not know' or 'foolishly listened and did as instructed' - well, this can happen when we appoint 'token' Directors who do not know the business or the real responsibilities of Directors of a Company...
I wonder as to what business qualification does Zaharah have - save maybe her knowledge of the law?
Sadly, in Malaysia, many see such appointments as Directors and Chairman's as noting more than some form of gratification(apparently, some politicians that failed to be elected may get such appointments...some say, some people who gave way to allow the placements of another as candidates... we have seen many of such appointments during the BN era)...
MY hope is that Zaharah will decline the offer ...or RESIGN immediately as that will be good also in protecting the image of truly independent judiciary.
This is my views...what do you think?
Former chief judge Zaharah Ibrahim is new Prasarana chairman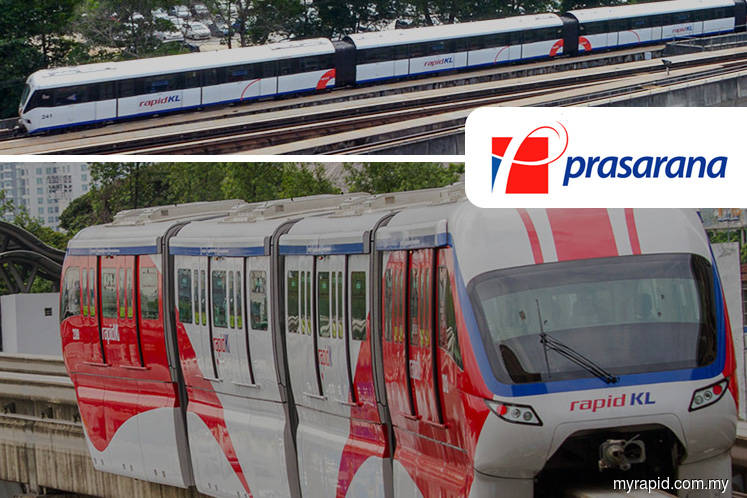 KUALA LUMPUR (Nov 11): The former Chief Judge of Malaya, Tan Sri Zaharah Ibrahim, has been appointed as the new chairman of Kumpulan Prasarana, effective today.
In a statement, Prasarana said the former chief judge of Malaya will be filling in the post vacated by Tan Sri Khalid Abu Bakar following the latter's resignation on Aug 17 last year.
Born in Johor Bahru in 1952, Zaharah has an honours degree in law from Universiti Malaya, and has been active in the judiciary and legal field since April 1977.
Following her retirement from the Judicial and Legal Service, she was appointed the Commissioner of Judiciary in August 2004 and worked in the Civil Division of the Kuala Lumpur High Court, followed by a stint in the Criminal Division of the Shah Alam High Court (from Oct 1, 2004 until July 27, 2006)
She was subsequently appointed as High Court Judge on July 28, 2006, and placed with the Shah Alam High Court's Criminal Division, and later the Commercial Division of the Kuala Lumpur High Court, where she stayed from Jan 1, 2009 till April 13, 2010.
She was then appointed as an Appeals Court Judge on April 14, 2010, and then a Federal Court Judge on Feb 16, 2015. Then, on July 17, 2018, she was named the Chief Judge of Malaya — making her the second woman to ever be appointed to the post — which she later retired from in May this year.
Prasarana Malaysia Bhd is a wholly-owned company of Ministry of Finance, and is the owner and the manager of public transportation assets, including bus services, the LRT/Monorail/MRT services, and the Penang ferry service. -
Edge Market, 11/11/2019
Ex-chief judge of Malaya appointed Prasarana chairman
KUALA LUMPUR: Former chief judge of Malaya Zaharah Ibrahim has been appointed chairman of government-linked, public transport owner and operator Prasarana Group, effective today.
In a statement, Prasarana said Zaharah is filling the vacancy left by Khalid Abu Bakar, who resigned on Aug 17 last year.
Born in Johor Bahru in 1952, Zaharah graduated with a honours degree in law from Universiti Malaya and began serving in the judiciary and legal service from April 1977.
After her retirement from the service, she was appointed a judicial commissioner on Aug 1, 2004 and placed in the Civil Division of the Kuala Lumpur High Court. On Oct 1, 2004, she moved to the Criminal Division of the Shah Alam High Court.
She was appointed a High Court judge on July 28, 2006, before becoming an Appeals Court judge on April 14, 2010, and a Federal Court judge on Feb 16, 2015.
Zaharah was appointed chief judge of Malaya on July 17, 2018 and retired in May this year. -
FMT, 11/11/2019
Post-retirement conduct of judges will affect public perception on the independence of judiciary

Thursday, 09 June 2005 07:05am

When the issue of the last CJ joining a law firm as a Consultant almost soon after his retirement cropped up more than a year ago, the Bar Council was of the position that there must be a "cooling-off period" of about 3 years. The then "Minister of Law", Rais Yatim gave us all the assurance there would be changes in the law governing conduct of judges after retirement from the Bench. He gave me at least the impression that this would be incorporated in the Code of Conduct of Judges.

When a Judge of the High Court, Court of Appeal and/or Federal Court resigns and joins a law firm - a lot of questions arise like whether he was biased in favour of that firm in the last days/weeks/months/years of his service as a Judge. It also opens the possibility that Judges (especially those close to retirement) may be biased in favour of the "bigger" firms who can afford to employ them after their term of office as Consultants or Lawyers.

Judges should NEVER join law firms and/or Private Companies immediately after retirement. They should also not be accepting offers from the Government to become Chairpersons and/or sit in some Commissions and/or Government bodies/agencies. Is the government "rewarding" 'good' judges who "listened" and/or who "behaved"? We must not forget that the Government is also many a time made a party in suits before the court - and JUDGES who sit and hear these cases must never (and also never be seen to be) Pro-Government and/or Anti-Government but must mete out Justice as an INDEPENDENT JUDGE.

Judges must be independent - be seen to be independent when they are sitting on the bench and therefore what they do after retirement also matters.

What do many people think when a law-firm employs a CJ or Federal Court Judge or other Judges as a Consultant/Lawyer ---- well, the message that goes out is that this "law firm" will have a greater advantage when it comes to a court battle - because after all our ex-Judge was the "boss" or the "senior" or the "buddy" of the sitting judges and all the court staff/Registrars did serve under him/her or will definitely not say "NO" to our ex-Judges request for speedy dates, etc - TRUE or NOT TRUE is not the issue but the issue is the perception of people. When law firms appoint these "ex-Judges" as their employees, they may unwittingly undermine the principle of the Independence of the Judiciary.

Alas, the matter was raised in Parliament recently, and according to the report that appeared in Harakah Online, NOTHING is being done or has been done about this serious matter even though the then MINISTER did give the assurance that something will be done.

Now, apparently the conduct of Judges after retirement is left to their own "wisdom" - so the ball is at the feet of ex-Judges and soon-to-be retiring Judges, and my only hope is that until some rules of conduct are in place, Judges will do the right thing by not joining law-firms and/or private companies and/or accepting certain government appointments in the interest of preserving the public perception that the Malaysian judiciary is independent.