Zahid Hamidi seems confused - he seems to forget that he(and UMNO) is part of coalition government - and it is NOT A PN GOVERNMENT - but a coalition government - and UMNO has the 2nd most number of seats.
If UMNO says convene Parliament - Muhyiddin Yasin has really no choice ...so, what is Zahid and UMNO doing ...just 'pretending' to be an Opposition alternative to PN. [Pemember in PN Bersatu has 31 seats and PAS has 18 seats > that makes the BN with its 42 seats, the strongest in the coalition that rules Malaysia.
ALL MISTAKES AND FAULTS BY THE PRESENT GOVERNMENT - THE BN-PN Plus coalition - who is to be blamed?

PN(Perikatan Nasional) does not govern Malaysia - what we have is a COALITION GOVERNMENT - made up of PN, BN, PAS, GPS, PBS, and STAR.
PN itself, which comprises of mainly Malaysian United Indigenous Party(BERSATU), Malaysian Islamic Party(PAS), Homeland Solidarity Party, Sabah Progressive Party and Parti Gerakan Rakyat Malaysia(GERAKAN).- They have about 50 seats in the Dewan Rakyat. The PN was registered in

Then, there are the 4 Independents.
In the 2018 General Elections, BN won about 79 seats, and then by reason of 'party hopping' and also a mass exodus of BN member parties, sees BN now just having 4 member parties - UMNO, MCA, MIC and Parti Bersatu Rakyat Sabah. There are several allied members too - but not members.

The BN today has only 42 seats in the Dewan Rakyat - all UMNO, save 2 from MCA and 1 from MIC.
BERSATU after the 2018 elections won 13 seats - but today it has 31 seats thanks primarily to 'party hopping'
REMEMBER THE MOMENT MUHYIDDIN YASIN NO LONGER ENJOYS THE MAJORITY SUPPORT FROM THE MPs, HE HAS NO CHOICE BUT TO RESIGN, AND THEN THE KING WILL APPOINT A NEW PRIME MINISTER...OR CALL FOR ELECTIONS. At this time, most likely the King will choose another PM rather than go for General Elections...
BN, with its about 42 seats can play a significant role in who the next PM will be...
Sitting in the current BN-PN Plus Coalition government and lamenting government failures is a JOKE when the BN has the power to do more...
Zahid Hamidi is a government back-bencher, and so he has a duty to be an effective check and balance to Muhyiddin and his Cabinet ...but here, he is talking as President of UMNO.
Will all UMNO MPs pull out of Cabinet to pressure Muhyiddin to advice the King to re-convene Parliament...or lift the Emergency ...
Or is UMNO and Zahid simply trying to 'confuse' the people - in preparation for the next General Elections?
Will the Perikatan Nasional( a political party) survive? Will PAS continue to be a member of PN? Or will it soon crumble...BERSATU maybe the most vulnerable if the PN collapse....after all, many wonders whether BERSATU candidates would have won any seats if not for the fact that it was part of the PH coalition.
Either way, people are getting fed up with all these 'political plays' - when rightfully all these political parties must be focused on better governance and policy in Malaysia during this Covid-19 pandemic, where so many are suffering loss or jobs and income...
Sadly, some media is just giving too much space to all these 'political party' stories - many simply do not care about party in-fighting or comments.
If not happy with the way the present government is doing things - THEN tell the people what different should be done...for the benefit of Malaysia and its people. If you have no better alternatives or suggestions, my proposal is that you simply keep quiet.
PH got the peoples' support because they told us what they would do differently ...and what they would do to correct bad laws and policies > BUT sadly, after they came into power - many of these promises seems to have been forgotten. Some say, that they(the PH) was going to do but suddenly they got ousted too soon - I do not know.
But, was not the PH Plus ouster caused by its own members' party hopping or member parties leaving the PH coalition?
Next General Election will be most confusing...
BN will still be suffering the consequences of exposed and/or charged/convicted kleptocracy, corruption. UMNO may have had a better chance, if it had excluded allegedly tainted leaders and had a new set of leaders - not happening as elections there will be postponed, it seems.

PAS will suffer for 'its new relationship' with UMNO - are they OK with a relationship with a party having already convicted leader, and many others facing trials now - let us not even suggest that all these cases are 'political' - I would like to believe our prosecutors and judges are INDEPENDENT...PAS also will have difficulties justifying to its grass-roots supporters the new 'friendship' with UMNO - its almost 4 decades or more primary political foe...
and there is more to be said of many of the other parties too...(maybe later)

After Zahid's 'mistake', Umno formally calls to reconvene Parliament
Umno today formally called on the Perikatan Nasional government, which it is part of, to lift the suspension on Parliament.
This came more than a month after Umno president Ahmad Zahid Hamidi (above) made the call in his capacity as BN chairperson, which led to confused reactions as his statement was highly similar to the statement issued by Pakatan Harapan on the same topic.
The BN secretariat later withdrew Zahid's statement, claiming that it was a "mistake".
The call by Umno today, however, was endorsed by the party's supreme council.
Umno secretary-general Ahmad Maslan, in a statement, said the party supreme council decided to demand the government to allow Parliament and all state assemblies to reconvene.
He said this was in line with Yang Di-Pertuan Agong's comment that the legislature can still convene even during the emergency, which came into force on Jan 11.
The Agong had said this was possible if Prime Minister Muhyiddin Yassin advised him to reconvene Parliament but his government is refusing to do so.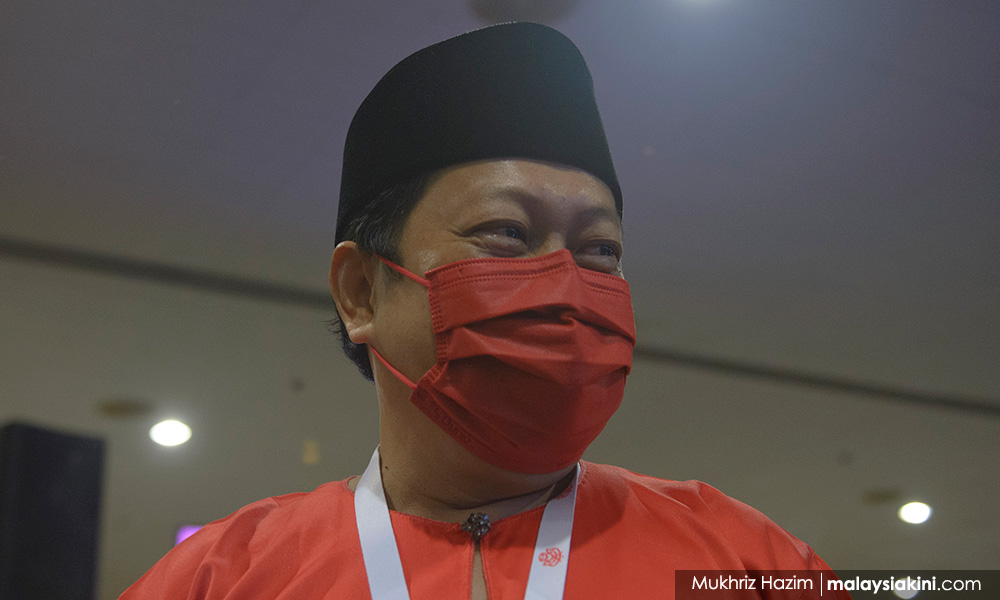 "The government cannot be seen to be emasculating parliamentary democracy.
"Parliament and the state assemblies are where elected representatives conduct checks and balances to ensure the government does not act on a whim at the expense of the people's welfare," Ahmad said.
More so at a time when the people are struggling due to economic conditions, unemployment and the rising price of goods, he added.
Ahmad said there must be accountability in the way the government spends public funds.
He noted that the government had invoked emergency powers to dip into the National Trust Fund to purchase vaccines.
Prior to that, the government had also invoked emergency powers to spend from the consolidated fund and come up with supplementary budgets without Parliament's approval.
"Investor confidence will continue to be eroded if parliamentary democracy is suspended that there is no longer good governance and checks and balances on the government," Ahmad said.
He added that standard operating procedures (SOP) should be set to allow Parliament to convene like democracies across the world. - Malaysiakini, 25/4/2021

PETALING JAYA: Umno president Datuk Seri Ahmad Zahid Hamidi wants the Parliament to reconvene immediately, saying it can do so using "science and data".
He said it has been 25 days since the Yang di-Pertuan Agong had given his royal decree, allowing Parliament to reconvene during the state of emergency.
"However, until now, no dates have been set by the government to enable Parliament to reconvene," he said in a Facebook post Sunday (March 21).
The Cabinet on March 3 had advised the Yang di-Pertuan Agong that the Parliament sitting will not be convened during the Emergency, says Minister in the Prime Minister's Department Datuk Seri Takiyuddin Hassan.
The de facto law minister said the statement made by the Palace was to explain that there will be no Parliament sitting, and any decision to convene a sitting must be made by the Cabinet.
Ahmad Zahid said the function of Parliament was to act as a check and balance as part of the country's democratic system but was suspended based on the excuse of "science and data".
"It must be reminded that Parliament is the highest function in the democratic system.
"Parliament is also a forum for the rakyat to express their grouses via their representatives that are chosen during the general election.
"It is also a federal legislative body that checks on all the government's policies in the interests of the country," said the Bagan Datuk MP.
"Protecting the separation of powers between the executive, legislative and judiciary will avoid abuse due to centralisation of power," said the former deputy prime minister, who is currently facing graft charges.
"So, I believe that it is time for the democratic practices to be reinstated based on the evidence of science and data," he added.
He listed several suggestions on how Parliament can reconvene including through virtual platforms that are practised in other countries.
"Many lawmakers have already received their Covid-19 vaccine since the roll out of the National Covid-19 vaccination programme.
"Many social activities including schools have reopened and are operating as usual, so there is no reason for Parliament to remain closed," he added.
He also said that the Dewan Rakyat Deputy Speaker had posted on Facebook that he had a "run around" the Parliament building.
"This means Parliament is a safe area and will remain safe when everyone attends and adheres to the standard operating procedures (SOP), " he said.- Star, 21/3/2021