When the King decided that all 220 MPs are supposed to affirm a Statutory Declaration, indicating choice of MP for Prime Minister, without any conditions - it finally broke political party 'CONTROL' of their party MPs to vote as party directs - hence violating MPs rights to free choice and free expression. MPs can now freely exercise the right to choose - but will they, will they still simply vote as their party directs???

After the votes are in, the King, I believe, should announce the results - and then call for another round of votes vide SDs (akin a secret ballot) again if no individual MPs manage to secure the needed 111 plus votes. This process continues until one emerges with a majority.
If after the 3rd round, no one emerges with the needed majority - then maybe the top 3 candidates will continue with the 4th round. Thereafter, just the top 2, and then, we will have one MP victor who can be appointed PM.
This REFORMASI by the KING will be difficult for many MPs for they are used to the old ways where they will 'sell' their support for some benefit/post/etc

This move is positive as it prevents any party or MPs. For example, they cannot demand Cabinet position, Chief Ministership of States, discontinuation of investigation, cases or 'pardons', monies or other positions as CONDITIONS for their support.
POLITICAL Party decisions are usually never unanimous

Are POLITICAL Party decisions - the decisions of all of its executive committee, let alone its members? Or just the decision of the President and/or principal office bearers?
One may win the election and become President today, but tomorrow members may think differently ... if elections were held in a year, the incumbent may be defeated.
Now, PH Parties came out with a statement that they choose ANWAR IBRAHIM as their Prime Ministrial candidate. Well, was it a UNANIMOUS decision of PH leadership? Was it a unanimous decision of PKR? of DAP? of Amanah? Or was it a win by majority votes - maybe even 1 or 2 votes? This is the reality in many societies, including political parties... so should the individual MPs(some maybe not even in the decision making process of parties) simply do as the party directs even if that decision was nothing but a simple majority. [Yes - remember some parties like PKR bestow great powers on its President to nominate many others into its Central Committee - usually, the power rests with the elected members of the party executive bodies)
PRIME MINISTER free to chose his team - the Cabinet

The PRIME MINISTER then should freely choose amongst the best qualified MPs or Senators persons to be in his/her TEAM - i.e. the Cabinet. After all, all blame caused by failings of any Ministries at the end of the day falls on the head of the Prime Minister...
Prime Minister can still be removed anytime thereafter if loses majority support

Any PRIME MINISTER can at any time thereafter lose the 'majority support', and the withdrawal of support really should be based on good principles, values, etc - not simply because I was not appointed into Cabinet, or my 'people' not get a political appointment,...or my case/investigation was not dropped.
What are the principle issues like - if MP believes that Detention Without Trial laws must be abolished, and everyone should deserve a right to a FAIR TRIAL - and the government denies to even table a Bill, or want to extend the use of DWT laws, then that is a fundamental issue.
Another may be demands that State sovereignty be enhanced, not just Sabah/Sarawak - and the PM refuses to even table a BILL.
Another could be the abolition of SEDITION ACT - now, all that is required by the PM and his Cabinet is the tabling of a BILL
At the end of the day, it is the MPs that will debate and decide whether something is passed or not. So, all that the PM and Cabinet(Executive) need do is to put it to Parliament - if voted down, then the PM cannot be faulted.
PARLIAMENT RESTRUCTURED - Abolition of Opposition and 'Government' distinction.
Currently, some call them 'GOVERNMENT MPs' simply because they come from same political parties of the PM or his Cabinet - If not in Cabinet, they are supposed to be a 'check and balance' - but they normally end up being government supporters - more so when those in the Cabinet are also their political parties.
We, the people, elect individual persons to be our MPs - we do not vote for the political party. Or maybe, next GE, no candidates, just pick the party you support - and then party places its candidate????
REFORM - On one side will sit the Government MPs - this will only be MPs who are in the Cabinet...Full Stop.
All other MPs will be on the other side - even MPs from parties whose members are the Prime Minister, Minister or Deputy Minister.
Remember, non-Cabinet MPs are supposed to be the 'check and balance' to the Cabinet/Executive[PM and his Cabinet].
All MPs treated EQUALLY - not be discriminated in terms of allowances/salaries and even any other additional allocations. [Of course, I believe that other government allocations are just for the MPs offices and staff, plus additional matters like utilities, transportation, etc.. MPs should not be receiving monies to carry out government responsibilities which should be done by the respective Ministries/Departments - MPs, like any other peoples' representatives can simply bring to the notice of the relevant government departments, or HIGHLIGHT their failings pushing for these responsible departments to do the needed.
PM Selection in the Future - people vote, not MPs

- Maybe the people should be given the right to VOTE on who will be the Prime Minister, and the King will then appoint the one with the highest vote. [Many simply are not very happy with the choices of MPs or 'political parties'
- A party President may be a good political party President - but he/she may NOT be the best choice for Prime Minister. It is very sad that in Malaysia, it is always a 'Party President' who is advanced as the Prime Minister candidate...this must stop.
- In my opinion, Party Presidents(supreme leaders) should best stay away from holding Cabinet positions. This is to ensure that political parties also can play a much needed role of 'check and balance'. If in Cabinet, he/she is expected to be loyal to the PM or rather the Cabinet - after all, PM cannot decide on his own - all decisions are decisions of the Cabinet. Hence, a party President simply loses his independence to act as Party President. The other option, is that once any in party leadership accepts appointment into Cabinet, he/she abdicates his party position - could be also 'leave of absence', and this restores the political parties independence to speak out and act as a 'check and balance'.
WHO ARE THE CANDIDATES OF THE NEXT PRIME MINISTER?
Media is making speculations - they simply do not know who the MPs named in their SDs submitted to the King.
MUHYIDDIN may very likely also be a candidate - in fact a rather strong candidate, as he comes from BERSATU and PN, and has publicly taken a position that he will not interfere in investigation/cases of alleged kleptocrats, etc of any MPs.
Mahathir also cannot be discounted...

Accepting anyone from UMNO, especially those with pending investigations/cases may not be an option. Interestingly, Ismail Sabri and Hishamuddin stands apart from these persons in recent support for Muhyiddin - but evaluation of just recent behaviour may just not suffice.
Anwar Ibrahim from PH - well, he has tried and tried before and failed. His party also lost too many MPs, an indication that his in-party support may also have declined. Do all the remaining PKR MPs even support him?

DAP faces the problem of not having a 'Malay/Bumiputra' candidate - and are the MPs ready to choose a non-Malay Prime Minister - the people may, but maybe not the sitting MPs. Guan Eng's case is also a problem. If Anwar becomes PM, i just hope that he will not discontinue investigation/cases against PH party members. PH's failure to deliver on its past GE promises also angers many. Sedition Act still there. Peaceful Assembly Act still there - which even made the recent Opposition MPs 'peaceful gathering' at Dataran Merdeka a violation of the PH amended Act, that still requires 5 DAYS NOTICE to police before the assembly...funny, is it not?
East Malaysian PM, also a possibility - or will the Peninsular Malaysian parties be open? Will the religious based party be able to advance a candidate?

A new 'untarnished' by being in past governments MP should also be considered - maybe MPs like Hassan Karim, Fahmi, Barubian, Charles Santiago, Nurul Izzah, Nazri Aziz... The fact that one was in the BN, PH or PN Cabinet is prejudicial as they also take the blame of those government failures, don't they?
So, let's wait and see what the King announces tomorrow - I hope that this voting process be repeated(as each time voting happens, it takes a day - when MPs have to send their votes fast, by 4 pm today as an example). So several votings may take a few days - and we can wait.
Hope is that any PM will not interfere in any investigations/cases of MPs or politicians when they come into power. No interference in the administration of justice please. The relevant law enforcement authorities must be free to even investigate sitting Prime Minister, and charge him/her in court...

Factbox - Possible candidates for new Malaysia PM
Reuters
Ogos 17, 2021 03:23 MYT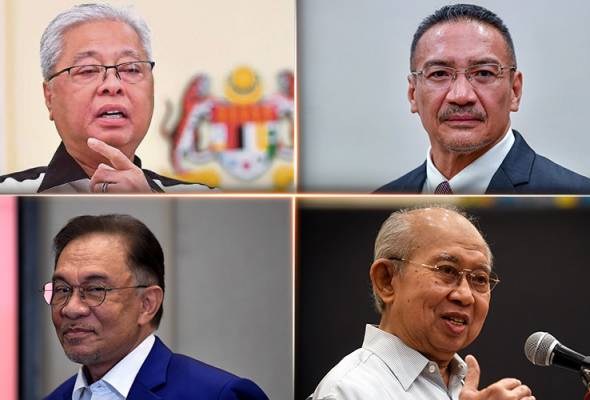 KUALA LUMPUR: Malaysia's Prime Minister Muhyiddin Yassin resigned on Monday but agreed to stay on as a caretaker until a new government can be formed.
Much remains uncertain, with no other politician holding a clear majority in the 222-member Parliament. King Al-Sultan Abdullah has the power to appoint a premier on the basis of who he thinks can command a majority.
Here are some possible candidates.
ISMAIL SABRI YAAKOB
Malaysia's deputy prime minister with a key role in tackling the COVID-19 crisis, Ismail Sabri was appointed to his position in July in a bid by Muhyiddin to ease tension with key ally, the United Malays National Organisation (UMNO) party.
He could get support from the majority of Muhyiddin's coalition, backed by about 100 lawmakers. But it is unclear if he has UMNO's full support. Ismail Sabri went against the party's call to withdraw support for Muhyiddin.
UMNO lost a 2018 election over widespread graft accusations, but political instability has prevailed since its defeat and it is now key to the formation of any new government.
TENGKU RAZALEIGH HAMZAH
A veteran lawmaker of 47 years who held various ministerial positions. Popularly known as Ku Li, he was the founding chairman of state energy firm Petronas.
The 84-year-old UMNO politician is seen as a compromise candidate for the party's different factions.
It is unclear which UMNO candidate would be backed by former premier Najib Razak and party president Ahmad Zahid Hamidi, both influential figures who supported the move against Muhyiddin.
Both face criminal corruption charges, which they deny, and have slim chances themselves of getting the top job, but may have the power to influence who does.
ANWAR IBRAHIM
The 74-year-old opposition leader has repeatedly made a play for the top job, but has failed to show he can command a majority.
Anwar's Pakatan Harapan coalition has 88 lawmakers, well short of the simple majority needed to form a government. His old foe, former prime minister Mahathir Mohamad, and some other opposition lawmakers, do not support his leadership bid.
HISHAMMUDDIN HUSSEIN
The senior foreign minister in Muhyiddin's Cabinet, Hishammuddin has been a lawmaker for 26 years and is a cousin of controversial former leader Najib.
He leads another faction in UMNO and has held portfolios in several administrations. He was prominent internationally as the embattled transport minister after the 2014 disappearance of Malaysia Airlines flight MH370.
MUHYIDDIN YASSIN
The king opted to retain Muhyiddin as caretaker in the absence of an obvious successor with sufficient parliamentary backing. But there are no rules to keep him from seeking the post again, should he manage to secure the numbers.
Muhyiddin's rise to prime minister followed similar circumstances in Malaysia as those now. But he was clear in citing parliament's lack of confidence in him as grounds to resign, as well as vowing not to work with those he called "kleptocrats". -
Astro Awani