MANY CHOSE TO STAY INDIFFERENT OR SILENT IN THE FACE OF INJUSTICE, BUT THANKFULLY THERE ARE SOME WOULD NOT - AND WILL SPEAK UP OR ACT IN UPHOLDING THE CAUSE OF JUSTICE WITHOUT FEAR OR FAVOUR...
Despite the risks and hurdles, first we had the Doctors come out and protest, and today another PROTEST - not an offence but an exercise of one fundamental human right - the right to peaceful assembly, freedom of expression...

When Opposition MPs speak up, many in government turn around that all done with a political motive... so, what do you to say when the people turn up themselves and speak up?????

The right and the ability of the people themself to come out and tell the government their views, opinions and demands is still VERY DIFFICULT in Malaysia, thanks also to some of those draconian laws that the previous PH Plus government promised to get rid off if elected but still remains law in Malaysia today by reason of 'procrastination', unkept promises, or .... Would you vote for BERSATU, PKR, DAP, Amanah or Warisan again because they promise to get rid of the many bad laws that exist?

We still have the draconian Peaceful Assembly Act that does not make it easy for people to exercise this right, but makes it even more difficult. That Act created all kinds of new offences, and this RIGHT can be exercised ONLY if the Police gives permission....? Before that Act, there were none of the other offences - just one - participation/organization of an illegal assembly
In any event, this Saturday(30/7/2021), it is said about 2,000 persons came out despite the added restrictions of SOPs, etc - despite the fact that some leaders were even investigated/arrested before the event...
Will the government and also the them other 'wakil rakyat's listen to voices of the people...or will they simply not listen and respond to the grievances and issues raised. It would have been good if PM Muhyiddin would come out with a Statement responding to the various points raised by those who bravely exercised their Human Rights..
Hoping too much - well, we all saw or know what happened in Parliament. Rather than electing to provide an answer, avoidance was the preferred option.
Government should speedily respond to questions and issues raised at all times - but when the government is slow to respond or clarify, then the belief or the perception generated is that what is raised is TRUE - Our government now and in the future must really reform in terms of how it practices transparency and accountability in a democracy...
Hundreds of #Lawan protesters in KL demand PM's resignation
Hundreds of protesters dressed in black marched to Dataran Merdeka in Kuala Lumpur this morning to demand the resignation of Prime Minister Muhyiddin Yassin.
Organisers Sekretariat Solidariti Rakyat (SSR) cited a crowd estimated of around 2,000 people while the police capped the number at 400.
Many brought banners and placards that read "Kerajaan Gagal" (failed government) while others were carrying black flags.
The crowd of mostly youths started gathering at around 10.30am and started moving nearly an hour later, under close observation by the Kuala Lumpur police.
Upon reaching the Kuala Lumpur City Hall intersection, organisers ordered the crowd to sit on the road.
SSR spokesperson Mohd Asraf Sarafi led the group in a series of chants and protest songs, with some in the crowd noting it has been a long time since they felt this fired up.
As he stood by the junction, Asraf announced that the gathered youths are at an important juncture in history.
"We the youths are at an intersection where we are faced with a decision to make.
"When we see destruction, do we remain silent or do we fight?" he said to cries of "lawan!" (fight) from the seated crowd.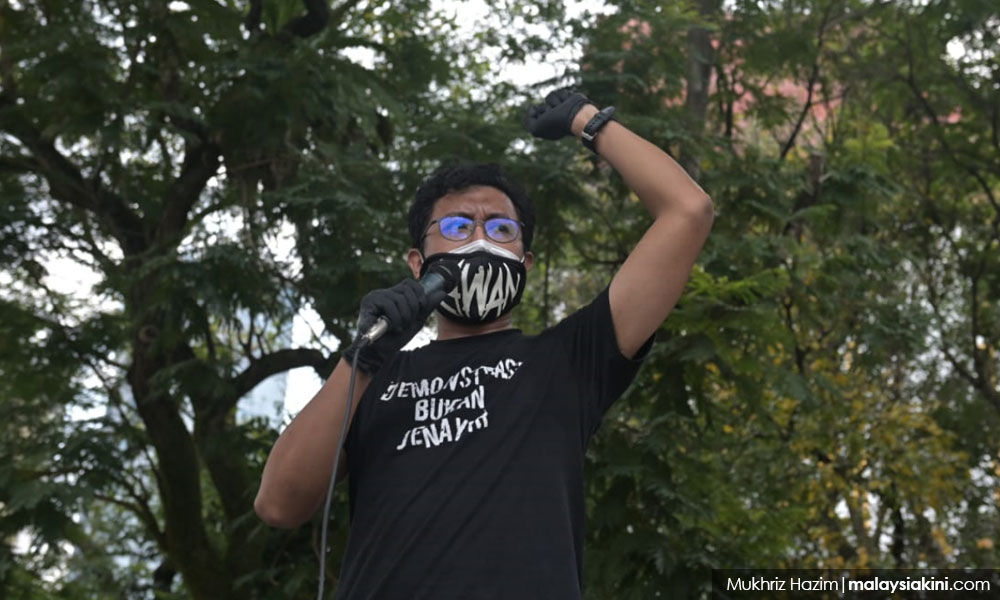 Others from the organising committee included Muda co-founder Amir Abdul Hadi, Undi-18 co-founder Qyira Yusri, and Suaram coordinator Muhammad Abdullah Al Syatry.
The protesters largely accused the government of mismanaging the Covid-19 pandemic.
Some also displayed mock corpses wrapped in shrouds to symbolise the mounting Covid-19 deaths in the country.
At one corner, a group of eight held individual signs spelling out M-A-T-I (death) and 8-8-5-9 - the latest Covid-19 death toll - a reminder of the impact of the government's alleged incompetence to manage the pandemic.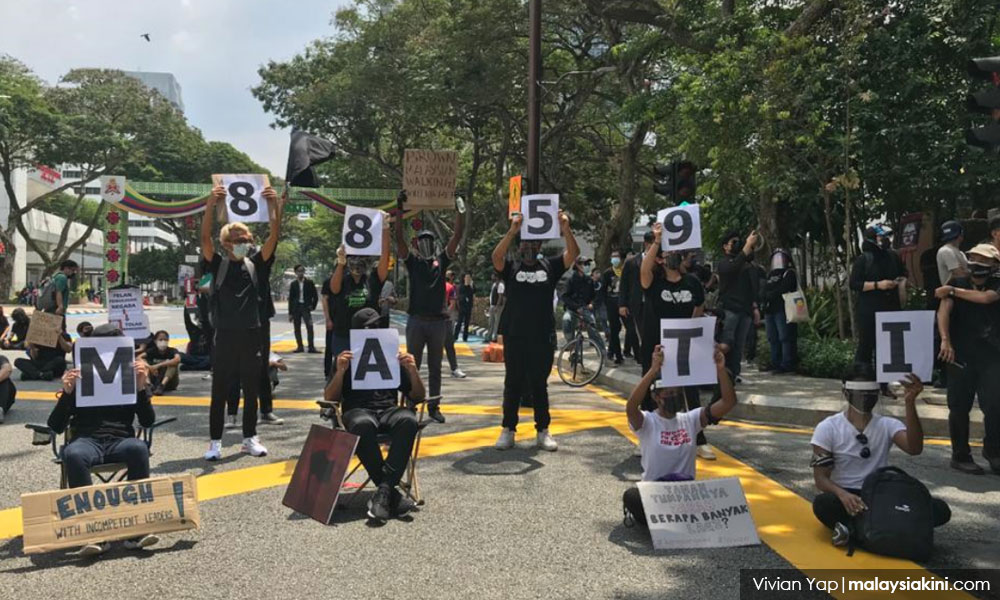 Several protesters met by Malaysiakini said they saw the protest as a final hope for change.
Wan* said he was left jobless since last year.
"This protest is my lifeline. It would be more difficult without a change.
"I also have friends who were infected with Covid-19," he told Malaysiakini.
"I hope the government can hear the people's voices as there are those who want to see a change in government.
"This is our way to express ourselves," he said.
Liyana Madihah Zakaria, 32, said she came with her husband to show that the people are tired of the current situation.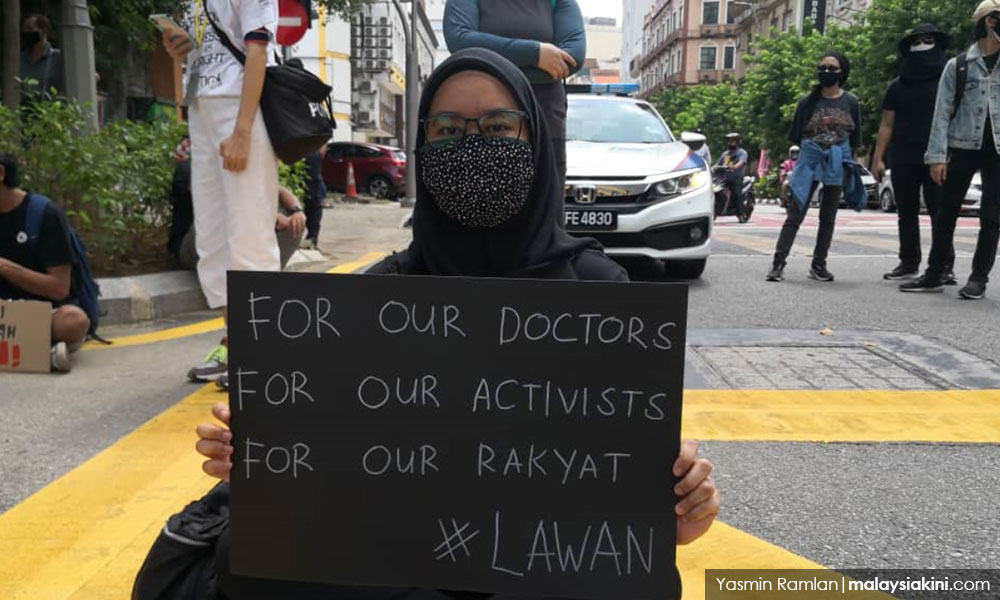 "There is no more democracy, so we will fight!
"In times of the pandemic, there are people who said don't go, it's dangerous, but everyone has their limits," she said.
The youthful crowd was joined by some notable figures including PKR vice president Tian Chua.
In solidarity with the organisers, Tian Chua said the peaceful protest was evidence that people can gather to express their rights if facilitated by the authorities.
"I hope this will inspire more people not only to rise but to speak up against injustices," he said.
The rally also saw several teams of observers including from the Bar Council, National Human Rights Commission (Suhakam), and several organisations in support of freedom of expression.
Police earlier cordoned off multiple roads into Dataran Merdeka but did not stop people from walking towards the location.
The blocked roads included Jalan Tuanku Abdul Rahman, Jalan Sultan Hishamuddin, and an intersection from Jalan Kinabalu to Jalan Sultan Hishammuddin.
The square itself was barricaded to prevent anyone from entering.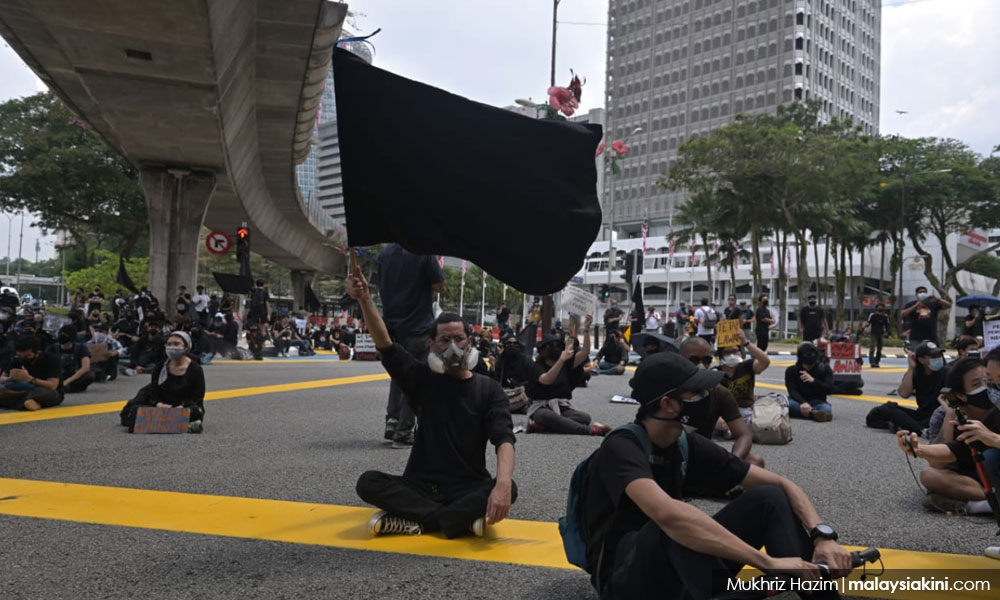 There was also heavy police presence with personnel constantly reminding participants to observe physical distancing.
Organisers also advised participants to abide by standard operating procedures against Covid-19 including taking their body temperature and masking up.
Police issued a call to disperse at 12.35pm, after allowing one final sit-down protest to go on for about 30 minutes, with protestors spanning the distance from the KL City Hall building towards Masjid Jamek LRT station where the march started.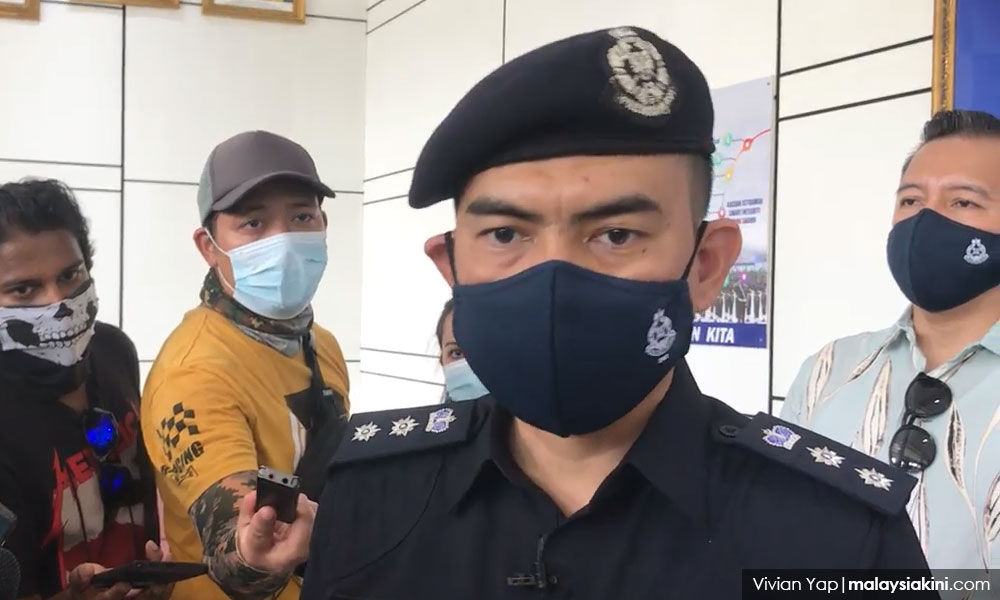 The organisers followed dispersal orders issued by the authorities and similarly called for protestors to leave peacefully.
The areas around Dataran Merdeka were fully vacated at around 1pm.
At a press conference later, Dang Wangi district police chief Zainal Abdullah said actions will be taken as although the rally went on without any problems, it remains a violation of the current movement control order rules. - Malaysiakini, 30/7/2021

Press Release from BERSIH 2.0 (30 July 2021): Sarah Released: Stop Intimidating Our Youths
The Coalition for Clean and Fair Elections (Bersih 2.0) is extremely concerned that the Perikatan Nasional (PN) government and the Malaysian police (PDRM) is resorting to their failed tactics of harassing and intimidating citizens who are expressing their extreme disappointment with the failure of the PN government over the handling of the pandemic and the economy. Such intimidations has served to strengthen the resolve of not only those targeted but also fair-minded Malaysians outraged by such bully tactics.
The PDRM has arrested 20 year-old Sarah Irdina, founder of Misi Solidariti yesterday under the Sedition Act for a tweet she posted on 1 July, calling people to support the #Lawan protest by displaying a black flag if they agree with their demands for the PM to resign, the reconvening of Parliament, and the ending of the Emergency. She was held at the Jinjang Detention Centre (KL) but has been released early this morning.
Earlier, three young activists were also called in for questioning at IPD Dang Wangi over the upcoming #Lawan protest on Saturday, 31 July at Dataran Merdeka. The trio are Tharma Pillai, Afiq Adib, and Muhammad Alshatri. They were not detained after their statements were taken.
Bersih 2.0 calls on all Malaysians to stand in solidarity with these young people who are exercising their constitutional rights to express and assemble peacefully. They are staking their claim in this country and their voices and aspirations should be heard.
For those who are in Kuala Lumpur and want to support the #Lawan peaceful protest, it will be on 31 July at 11:00 AM this coming Saturday at Dataran Merdeka. Please ensure that you are properly masked, observe social distancing and follow the instructions of the organiser.
If you are unable to participate in-person in KL, you may show your solidarity by wearing black or putting up a black flag on Saturday.
Meanwhile, we urge the PDRM to immediately release Sarah Irdina from detention and not treat our patriotic youths like criminals. The PDRM should carry out their duties in ensuring that the protest on Saturday is carried out smoothly and safely.
Statement issued by:
The Steering Committee of BERSIH 2.0
BERSIH 2.0 Secretariat

A-2-8, 8 Avenue Business Centre,
46050 Petaling Jaya, Selangor, Malaysia.
Cops must allow peaceful assemblies, says Suhakam
PETALING JAYA: Suhakam has reminded police that they have an "obligation" to protect freedom of expression and allow peaceful assemblies.
It said while it understands the complexity in balancing public health, in view of surging Covid-19 cases, and the right to gather peacefully, it was concerned over the arrest of an activist under the Sedition Act as well as action against organisers of a rally planned for tomorrow.
"Suhakam advises the authorities, in particular the police, that they have an obligation both legally and morally to facilitate peaceful assemblies and to protect freedom of expression," it said in a statement today.
Putrajaya, it added, had previously accepted all recommendations to revise the Peaceful Assembly Act to eliminate discrimination and hindrance to a peaceful gathering.
The authorities should allocate adequate space to enable social distancing and health screening of the participants to be conducted safely, Suhakam said.
While organisers should observe and strictly comply with SOPs at all times, those who have Covid-19 symptoms or comorbidities should not take part in the gathering, it added.
"Suhakam hopes that all parties, including the police and the organisers, are able to collaborate in order to achieve a win-win solution."
Yesterday, activist Sarah Irdina Mohamad Ariff was arrested while giving her statement at the Dang Wangi police station.
According to the rally's organiser Sekretariat Solidariti Rakyat, police also confiscated her phone and issued a search warrant to raid her home.
She was released at 1am today.
Earlier, three young activists — Tharma Pillai, Afiq Adib, and Muhammad Alshatri — were called in for police questioning over tomorrow's #Lawan protest at Dataran Merdeka. - FMT, 30/7/2021