Azmin unhappy with who Anwar(the President) appointed into PKR Central Leadership Council? Well, the problem really is with undemocratic provisions in the PKR Constitution - it could have been amended, but sadly no member tabled an amendment in the past.
President in PKR has just too much power - he can personally choose and appoint 3 Vice-Presidents, Secretary General, additional members into the PKR Central Leadership Council..
looking at the PKR Constitution, the President has TOO MUCH POWER…He can pick and appoint the 14 State Chiefs (All of whom will be in the Central Leadership Council (Majlis Pimpinan Pusat)), and the President can appoint a further 7 persons into the Central Leadership Committee. In brief, Anwar will be able to choose and insert 21 members of the Central Leadership Council.
PKR Constitution gives the power to the President to appoint from amongst the 20 elected Central Leadership Council members:-

3 additional Vice Presidents




Secretary General(Setiausaha Agung)




Communication Chief(Ketua Penerangan)




Treasurer General(Bendahari Agung)




Chief Executive Secretary(Ketua Setiausaha Pengelola)
The President also chooses and appoints State Chiefs..
Normally, all this power will be with the Elected members of the Leadership Council - not just the President.
Then, in PKR, there is that POLITICAL BUREAU -

the POLITICAL BUREAU – here again the President can appoint 7, and the others will include all office bearers, and State Chief of Sabah and State Chief of Sarawak…ODD again…Given the role played by President in choosing and appointing the 3 additional Vice Presidents plus all lesser office bearers, the Political Bureau looks very much President controlled…
VERY GOOD and democratic that PKR gives all its members the right to vote the President, Deputy President, 4 Vice President and 20 Central Leadership Council members - many political party members do not have this basic right - there, only selected delegates have the right to vote..I hope all political parties will give all members right to choose the President and Central Leadership.
APPOINTMENT is OK but really it must be limited, and the power should rest with the entire elected Council and not just the President..
State Chiefs - well, really this should be the choice of ALL members in a particular state.
POLITICAL APPOINTMENT is a culture that should be done away with - everywhere democratic elections should be practiced even in Local Councils, Kampung/Taman/Kampung Baru...
Azmin unhappy with the people Anwar appointed. Would Azmin be unhappy if he was the President and he choose and appointed?
As MB of Selangor, was he not happy with the political appointment of the Local Council members, leaders of kampung/taman/kampung baru/kampung orang asli...them JKKKKs...
Worried of democratically people-elected persons must end ...TRUE Democracy at every level...
How a political party is governed is indicative of how leaders of these political parties will govern the nation, State and local governments when they come into power...
UMNO-BN preferred 'political appointed' leaders rather than democratically elected chosen by people leaders ...Will PH also want to hold on to power and control vide their political appointees - or rather return true democracy to the Malaysian people...?
Azmin upset over new PKR appointments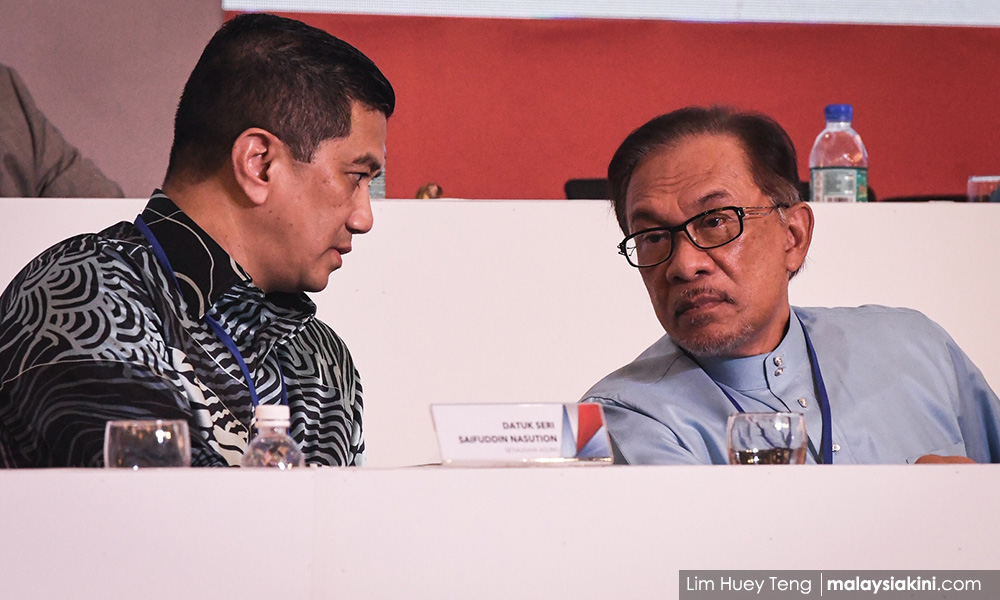 PKR deputy president Mohamed Azmin Ali has urged party president Anwar Ibrahim to reconsider the fresh appointments to key party positions made yesterday.
"The appointments do not reflect the principle of fair and just representation of the party member's aspirations, and will not help to bring the party forward," he wrote on his Facebook page.
Azmin said co-opting members into the new party leadership after a keenly contested election must take into account the views of the grassroots.
Yesterday, Anwar had chaired the central leadership council meeting and co-opted individuals who are mostly
aligned
to Rafizi Ramli.
Rafizi himself was appointed as a vice-president, while Saifuddin Nasution Ismail was retained as secretary-general.
It is understood that only three individuals who are clearly aligned to Azmin attended the meeting, which was called on short notice.
Azmin and many leadership council members aligned to him were believed to be on their year-end break.
'Not based on merit'
In his statement, Azmin said some of the appointments do not appear to be made based on merit, and that some of the appointees were involved in problems related to the party elections.
"The secretary-general's post should be helmed by a professional who has skills in management and administration.
"That person must carry out his or her task through party consensus and not consider the interest of any individuals.
"The same goes for the central leadership council appointments which should be made based on merit, and not as a form of reward for (campaigning during the) council (election)," he said.
Azmin added that his views, as well as those of the majority of elected council members, on how the new members would be appointed had been made known to Anwar several weeks ago. -
Malaysiakini, 29/12/2018