Malaysian government must care about all Malaysians and ensure that justice be done. The fact that Malaysian Prime Minister asked come out for a Malaysian on death row is a breath of fresh air - a caring Prime Minister.
Prime Minister Datuk Seri Ismail Sabri Yaakob has written to his Singapore counterpart Lee Hsien Loong seeking leniency in the case of a Malaysian scheduled to be hanged for drug trafficking, it was learned today.

Bernama understands that Ismail Sabri has asked the Singapore government to look into staying the execution and is seeking a fresh application for presidential clemency in the case of D. Nagaenthran.
Apart from the conviction, other issued have recently been raised - (1) The intellectual disability of the convicted scheduled to be hung on 10th November, and (2) The rights of the family and friends to have a last opportunity to meet with a soon to be hung - noting a 2 week notice of execution during this Covid-19 pandemic and all its restriction to travel, and there are other issues..
Then, there is the issue of whether DEATH is just for 'mules' or ... by reason of being caught in possession of small quantities of drugs...
Now, that PM has led the way, will other political parties like DAP, PKR, Amanah, PAS, MCA, Bersatu, MIC, IPF, ... also call that this Malaysian not be executed...

See earlier relevant posts:-

PM Ismail Sabri seeks leniency in case of intellectually-disabled Malaysian on death row in Singapore
---
KUALA LUMPUR, Nov 7 — Prime Minister Datuk Seri Ismail Sabri Yaakob has written to his Singapore counterpart Lee Hsien Loong seeking leniency in the case of a Malaysian scheduled to be hanged for drug trafficking, it was learned today.
Bernama understands that Ismail Sabri has asked the Singapore government to look into staying the execution and is seeking a fresh application for presidential clemency in the case of D. Nagaenthran.
Nagaenthran, 33, claimed by his lawyers to be intellectually disabled, was arrested by Singaporean authorities on April 22, 2009, and charged with smuggling 42.72 grams of diamorphine. He was sentenced to death by the High Court of Singapore on Nov 22, 2010.
The process of appeal went through to the final stage, and his application for presidential clemency was rejected on June 1, 2020. - Malay Mail, 7/11/2021







News
PM personally appeals to Singapore to save Nagaenthran
Annabelle Lee
Published: Nov 7, 2021 12:17 PM
⋅
Prime Minister Ismail Sabri Yaakob has personally appealed to his Singaporean counterpart Lee Hsien Loong for Nagaenthran K Dharmalingam to be spared the gallows.
This is to allow for a fresh clemency petition to be filed.
The Malaysian - who has a mild intellectual disability - is set to be executed in the city-state on Wednesday (Nov 10) for a drug trafficking conviction.
In a letter sighted by Malaysiakini, Ismail Sabri stressed he had no intention to interfere in the city state's laws but appealed for leniency on "humanitarian grounds".
"While I note that the legal process has been exhausted, I submit this appeal for leniency purely on humanitarian ground (sic), without any intention to interfere in Singapore's judicial process.
"As a lawyer myself, I know that the legal and judicial systems of Malaysia and Singapore share many similarities.
"I believe there is still room for the government of Singapore to consider granting a stay of execution and allowing a new petition for Presidential Clemency in the case of Mr Nagaenthran.
"I sincerely hope you would give this appeal due consideration," read his Nov 3 letter to Lee.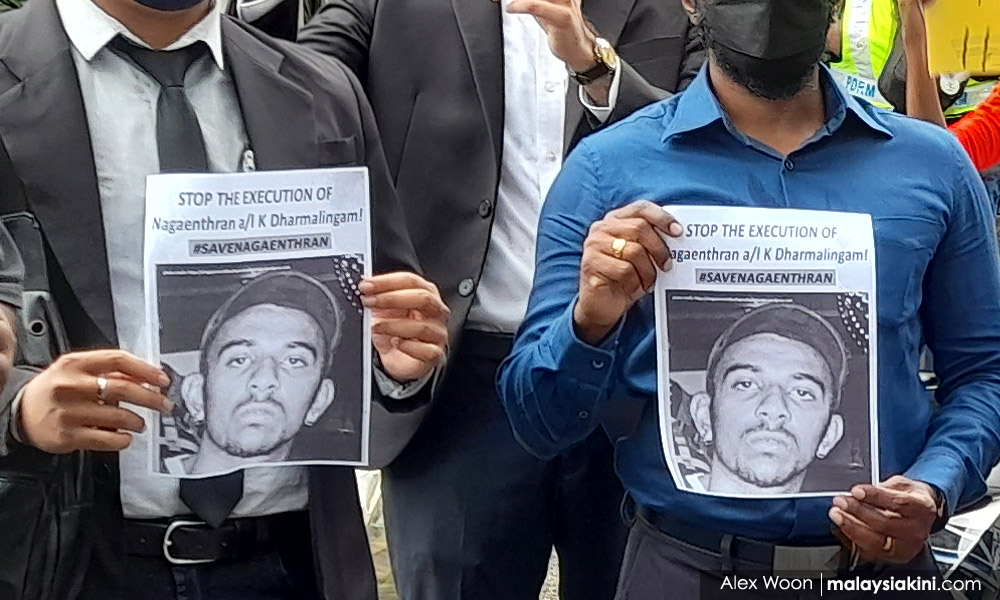 Nagaenthran's lawyers mounted a constitutional challenge in an eleventh-hour bid to halt his execution. The case will be heard at the Singapore High Court at 2:30pm tomorrow.
Wisma Putra previously wrote to Singapore Foreign Minister Vivian Balakrishnan about the case but stopped short of asking for the execution to be halted.
Public outcry, international headlines
Back in 2011, Nagaenthran was sentenced to death for trafficking 42.72g of diamorphine into Singapore two years prior. Heroin is made from diamorphine.
Previous appeals and clemency petitions have failed.
Since the execution date became known, his case has sparked public outcry with particular attention on his lower-than-average IQ of 69 and other mental health issues.
An online petition calling on Singapore president Halimah Yacob to pardon him has garnered more than 59,000 signatures at the time of writing.
Anti-death penalty and lawyer groups have launched a #SaveNagaenthran campaign, urging the republic to commute his death sentence to a life sentence.
Aside from those in Malaysia and Singapore, news outlets like the Sydney Morning Herald, Vice, The Washington Post and global newswire Associated Press have reported on the case.
In response, Singapore's Home Affairs Ministry (MHA) cited the courts and said Nagaenthran's mental responsibility for his offence was "not substantially impaired" and he "clearly understood" that transporting drugs was a crime.
As pressure and media queries mounted, the MHA again disputed his mental condition yesterday. It said several psychiatrists had told the court he was "not intellectually disabled" and "knew what he was doing".
Nagaenthran's lawyers have disputed these claims and criticised the MHA for going ahead with the execution. - Malaysiakini, 7/11/2021
Singapore steadfast on execution of Malaysian despite public outrage
Activists remain dissatisfied with govt explanation that Nagaenthran Dharmalingam was fully aware of nature of his acts
Updated 11 hours ago · Published on 07 Nov 2021 8:00AM · 0 Comments
KUALA LUMPUR – With Singapore's Home Affairs Ministry (MHA) dismissing an online petition to pardon Nagaenthran Dharmalingam, who is on death row, it seems like the island republic is set on its decision.
On Thursday, in response to the online petition that has now garnered more than 50,000 signatures, MHA said Nagaenthran had fabricated his defence that he had committed the act under coercion.
A report by Singapore news portal TODAYonline said that was the finding by the high court in sentencing the intellectually disabled Malaysian man to death in 2010 for importing drugs into the neighbouring country.
This was subsequently upheld by the Court of Appeal, which flatly rejected his account of being coerced under duress.
On Wednesday, MHA said both courts held that his mental responsibility for his offence was not substantially impaired.
"Nagaenthran was found to have clearly understood the nature of his acts, and he did not lose his sense of judgment of the rightness or wrongness of what he was doing," MHA said.
Although there have been pleas and requests by international non-governmental organisations (NGO) and human rights groups to save the 33-year-old from the gallows, the Singapore government has remained steadfast.
This means Nagaenthran will be executed on Wednesday, unless the Singapore government grants him clemency at the eleventh hour.
While Nagaenthran's mother Panchalai Supermaniam spends her Deepavali leave to reunite with her son for what possibly may be the last time, this issue will continue to be in the headlines as the "uncompromising" laws in Singapore are often seen to be a curse on the poor and unfortunate.

Mandatory death penalty: to stay or to go?
Meanwhile, NGOs campaigning the cause cannot seem to agree on the best course of action to take and whether mandatory death sentencing should stay or be abolished completely.
Speaking to The Vibes, Malaysians Against Death Penalty & Torture coordinator Charles Hector said all mandatory sentences, including the death penalty, must be abolished.
"It is the judiciary's duty and responsibility to sentence justly based on all relevant facts and the circumstances of each case.
"Parliament should never encroach over, or remove judicial authority and responsibilities. Remember that democracy is divided into three branches – the executive, legislative, and judiciary.
"Malaysia is one of very few countries that maintain the mandatory death penalty. In other countries, death may be just an option in terms of penalty."
He is of the view that there must be a complete review and overhaul of the death penalty, particularly on drugs.
"The point we want to make is that a person found in possession of 50g of drugs should receive a different punishment compared to those found in possession of 1kg, 10kg, or 10 tonnes.
Punishment for mere possession must differ with punishment for smuggling or transporting, production, active selling, recruitment of mules, and organised distribution.
"To lump it all as drug trafficking, with the death penalty, is just so wrong and unjust."
He said judges should be free to consider all mitigating and aggravating factors when it comes to sentencing.
Anti-Death Penalty Asia Network Executive Coordinator (Adpan) Dobby Chew had a different sentiment.
Although Chew echoed Hector's comments on doing away with mandatory death sentences, he said it would put a lot more burden on the judiciary should a discretionary system be implemented.
"The idea of having a judge (a person or a panel of them) in control of the sentence and under pressure to decide on life or death, I think, creates a whole new set of concerns.
"If we leave it to be too broad, it may end up becoming too arbitrary. If you tie it down too much, what is the point of discretion?
"If we leave it for lawyers and judges to argue and work out a decision, there is another set of problems behind all that."
Therefore, Chew said, he is of the opinion that placing another person in control of another's life and giving them the liberty to decide whether the other person would live or die would not work without major concerns.
Singapore's 'misleading assertions'
In a statement on Thursday, Lawyers for Liberty (LFL) expressed dismay by "misleading assertions" in MHA's statement.
"MHA deliberately sidesteps the fact that the court also found that Nagaenthran suffers from borderline intellectual functioning and ADHD, has an FSIQ score of 69, and that his executive functioning skills are impaired.
"Executing a person with any kind of mental or intellectual disability is in breach of customary international law. It is also inhumane and sickens everyone who hears about it.
"This is the real objection and concern of right-minded people, both Malaysian and Singaporean, to the planned execution of Nagaenthran. This is why Singaporeans have been raising funds for the family and Malaysians have been carrying out public protests in recent days," said LFL adviser N. Surendran.
Surendran said MHA's "robotic response" that the court and clemency process have been exhausted does not answer these concerns.
"Throughout their statement, nowhere does MHA respond to or address the above mental and intellectual disabilities of Nagaenthran.
Instead, they try to paint this man with a child's intellect as a calculating and deliberate criminal, in a desperate bid to defuse public outrage on both sides of the causeway, as well as rising international disgust."
Nagaenthran was arrested in Singapore on April 22, 2010 for trafficking 42.72g of diamorphine and was handed the death penalty by the high court on November 22, 2010.
He has exhausted his appeal options after his presidential clemency application was rejected on June 1, 2020.
In the meantime, Wisma Putra said it will continue to monitor developments on the death penalty case.
On Wednesday, Malaysian Foreign Affairs Minister Datuk Seri Saifuddin Abdullah said the ministry will also provide consular aid to him and his family.
He added that he wrote to his Singaporean counterpart on the matter, and has received a letter from Adpan via Petaling Jaya MP Maria Chin Abdullah.
Similarly, in 2017, Malaysian drug trafficker Abd Helmi Ab Halim was given the mandatory death penalty after he was caught trafficking 16.56g of diamorphine, or pure heroin.
According to a report by Channel News Asia, the amount of diamorphine Helmi trafficked was equivalent to about 1,380 straws of heroin, enough to feed the addiction of close to 200 abusers for a week, said the two Singapore ministries.
Helmi was executed at Changi Prison Complex on November 21, 2019, after an unsuccessful petition to the Singaporean president for clemency.
He was accorded full due process under the law, and was represented by legal counsel throughout the process, the ministries said. – The Vibes, November 7, 2021