How much is Arul Kanda's salary? RM1 million per month...odd that when he leaves, he will be getting ex-gratia payment of RM5 million?
Some of Pakatan Harapan members/supporters may be SAD - they may have been hoping to simply reap the 'benefits' of winning GE14 - be appointed to high paying jobs, get many lucrative government and/or GLC contracts, get appointed as Directors getting large allowances, get land...get houses...etc ...WORRIED they are now, that Dr Mahathir and this new PH government may not just doing a 'little clean up job' ...must maybe cleaning up all things including chances of 'getting money/advantage' by politicians and their cronies..
...the Prime Minister has directed the Chief Secretary to the Government (Tan Sri Ali Hamsa) to

review all salaries – not just of the Mavcom chairman, but also chairmen of other statutory bodies and GLCs,"

said Loke.
The issue now is the high salary of Government agencies/commissions, and government owned companies and GLCs? How much a private corporation pays its CEO or upper management is up to them....
These high salaries and allowances is one of the ways to bring about 'kleptocracy' - tenrich not just oneself, but also sometimes one's party members and party...see earlier post that discuss some of the ways of 'taking money from the people' for the benefit of certain people, and also suggested reforms
....Place

your people(crony) as an Employee and pay him a very high salary

? Then this 'party member' may be expect

ed

to pay other party members...or maybe the 'crony' appointee

may

find a way to give some money

to the political party or maybe some politician or party members - a share from his rather high salary? This will, in law, be considered as personal donations...Is it right?...
Loke: Mavcom chief earns RM85k monthly from flight passengers

---

PUTRAJAYA: Transport Minister Anthony Loke revealed that the

Malaysian Aviation Commission (Mavcom) executive chairman earns about RM85,000 a month

- and it comes from money paid by flight passengers.

He said that this is over four times what the Prime Minister himself earns.

The Government will be reviewing the salaries of all chairmen of statutory bodies and government-linked companies.

Loke said Prime Minister Tun Dr Mahathir Mohamad instructed the salary review after it was revealed that the Mavcom chief's monthly salary and allowance totalled RM78,300 in 2016.

"There was a 3% increment in 2017, and a further 5% increment in 2018, so he is earning about RM85,000 a month," said Loke at a press conference Wednesday (May 30).

"That is more than what the prime minister earns. His basic salary is just about RM20,000 (a month).

"I raised this in the Cabinet meeting this morning and the Prime Minister has directed the Chief Secretary to the Government (Tan Sri Ali Hamsa) to review all salaries – not just of the Mavcom chairman, but also chairmen of other statutory bodies and GLCs," said Loke.

Mavcom's current executive chairman is Gen (R) Tan Sri Abdullah Ahmad.

Loke said the Trnasport Ministry has no immediate plans to abolish Mavcom, which was set up in 2016.

"Mavcom is funded by passengers, not the Government.

"It received an initial funding of RM90mil from the Government, but no additional grant was given after that.

"Their estimated collection – RM1 from each passenger – is RM35mil per annum. Their operational cost is RM25mil a year," said Loke. -

Star, 30/5/2018

https://www.thestar.com.my/news/nation/2018/05/30/loke-mavcom-chief-earns-rm85k-monthly-from-flight-passengers/#1eFIeRrfmFC2UYbC.99
In 2011, it was disclosed that some of the GLC CEOs were over paid ...but why?
CEO of Maybank Banking Bhd, who drew between RM1.4 million to RM4.9 million yearly in bonuses and salaries.




CEO of government-linked Tenaga Nasional Bhd (GLC) earned between RM800,000 to RM1.4 million.




Malaysian Airline System Bhd CEO withdrew between RM900,000 and RM1.5 million in bonuses and salaries a year




the government-owned Proton Holdings Bhd's CEO earned between RM500,000 to RM1 million a year between the years 2006-2009
Salaries even in GLCs should not exceed salary of a Minister ... and, if the CEO and the staff manages to make a large profits, then a percentage of the profits will serve as bonus...But if the company is not making 'profits'...the fact that there is still 'salary increments' and 'bonuses' for the CEO, upper management, etc is ABSURD.


MOF under Najib agreed to RM5m ex-gratia for Arul Kanda?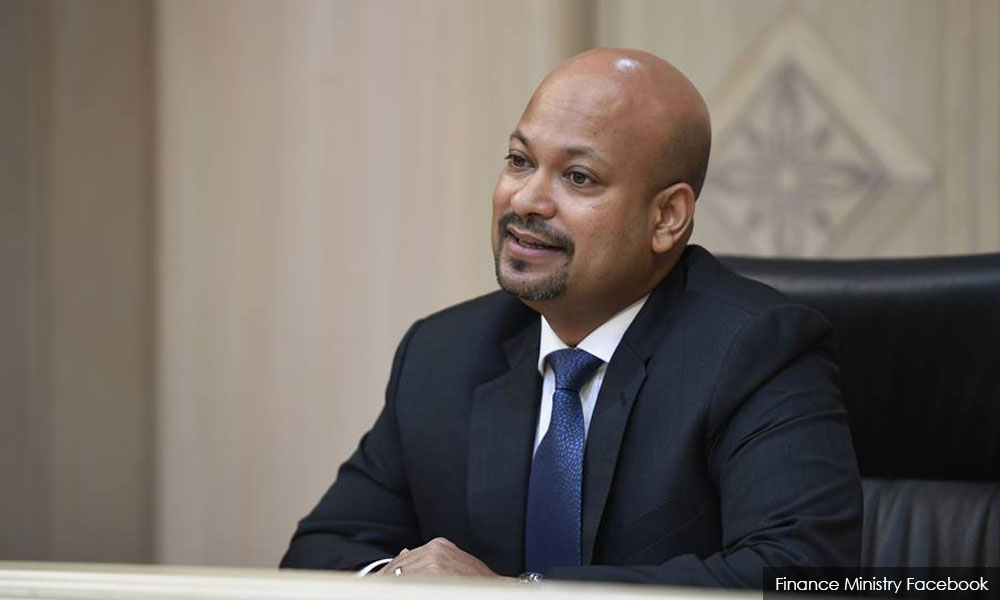 EXCLUSIVE
| The Finance Ministry, under the previous administration, agreed to an RM5 million ex-gratia payment for 1MDB president Arul Kanda Kandasamy and to place him on garden leave until his contract expired on June 30, according to sources.
Malaysiakini also sighted a correspondence between then finance minister Najib Abdul Razak and then treasury secretary-general Irwan Serigar Abdullah.
According to sources, half of the amount – RM2.5 million – is to be paid after Arul Kanda's contract expires. Malaysiakini could not confirm if the first instalment had been paid.
Malaysiakini could not reach Najib, his aides or Irwan for confirmation whereas Arul Kanda has not responded to requests for comments as well.
Last Wednesday, Arul Kanda, who is on a six-month contract, told Finance Minister Lim Guan Eng that he was on garden leave.
This implies he is in the process of leaving the firm but has been instructed not to come to the office. However, he still receives his salary.
Arul Kanda was among several key 1MDB officials to brief Lim on the status of the firm.
The Finance Ministry is the 100 percent shareholder of 1MDB.
Arul Kanda was brought into 1MDB in January 2015 when the company faced cashflow problems.
He was the chief architect of the "rationalisation" exercise to strip the company of assets and meet debt obligations.
Despite this, the new Pakatan Harapan administration revealed that Putrajaya had in fact
paid RM6.98 billion
on behalf of 1MDB to various creditors.
It has been confirmed that RM1.199 billion was
redeemed
from Khazanah Nasional Bhd in last August and a plot of federal government land was
sold
Bank Negara Malaysia last December to raise the necessary funds.
Najib has
defended
how his administration handled the servicing of 1MDB's debt.
Najib argued that the Finance Ministry was now in possession of 1MDB's assets - including prime real estate - and had to assume the company's debt obligations as well. -
Malaysiakini, 1/6/2018